Remember Measles? It's Back!
In AAPC News
June 19, 2014
Comments Off

on Remember Measles? It's Back!
Measles is making a comeback. The Centers for Disease Control and Prevention (CDC) recently reported 477 confirmed cases of the measles (rubeola) in the first six months of 2014. A graph created by the CDC shows the rapid increase in cases and outbreaks this year compared to past years.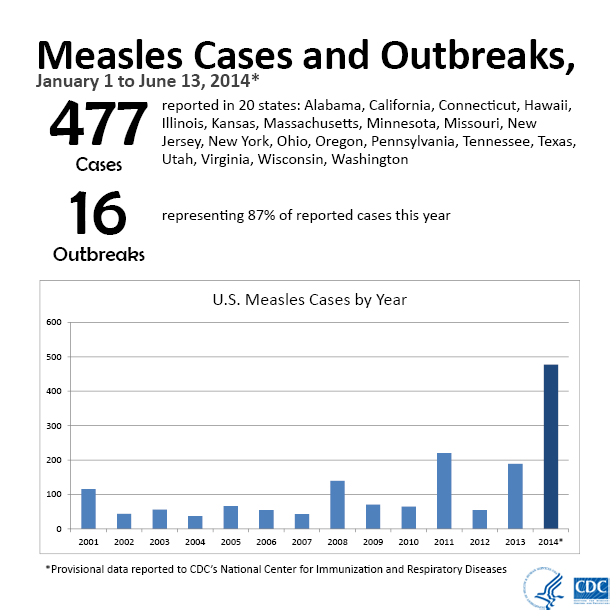 Measles was deemed "eliminated" in the United States in 2000, but remains vulnerable because the disease is still prevalent in many parts of the world, and travelers continue to bring it into the country. The Philippines, for example, is experiencing a large, ongoing measles outbreak, which has led the CDC to issue a Travelers' Health Notice.
Look for the Signs
Providers should be on the lookout for measles, the CDC advises. Measles is an acute viral respiratory illness. Indications include:
Fever
Malaise
Cough
Coryza (rhinitis)
Conjunctivitis (pink eye)
Pathognomonic enanthema (Koplick's spots) –  Little spots inside the mouth that are surrounded by a red ring.
Maculopapular rash – A combination of both macules (flat, discolored areas) and papules (small, raised bumps).
Complications of measles may  include:
Otitis media (middle ear infection)
Bronchopneumonia
Laryngotracheobronchitis (croup)
Diarrhea
Procedure Coding
There is no treatment for measles, but the provider may treat the symptoms, for which an appropriate evaluation and management code can be reported.
The majority of reported cases occurred in unvaccinated people. The CDC recommends the Measles-Mumps-Rubella (MMR) and Varicella (VAR) vaccines, or the combination Measles-Mumps-Rubella-Varicella (MMRV) vaccine, for children 1-12 years of age, given in two separate doses: the first dose at 12-15 months of age and the second dose at 4-6 years of age.
For this service, you would report the appropriate CPT® vaccine product code:
90705 Measles virus vaccine, live, for subcutaneous use
90707 Measles, mumps and rubella virus vaccine (MMR), live, for subcutaneous use
90708 Measles and rubella virus vaccine, live, for subcutaneous use
90710 Measles, mumps, rubella, and varicella vaccine (MMRV), live, for subcutaneous use
Remember to also code the administration of the vaccine (90460-90474).
Diagnosis Coding
Measles is classified to ICD-9-CM category 055. The fourth digit depends on whether the patient experienced a complication, such as:
055.0 Postmeasles encephalitis
055.1  Postmeasles pneumonia
055.2  Postmeasles otitis media

055.71  Measles keratoconjunctivitis
055.79  Measles with other specified complications

055.8  Measles with unspecified complication
Assign 055.9 for measles without mention of complication.
ICD-10-CM coding is similar, but with a few more options:
B05.0 Measles complicated by encephalitis
B05.1  Measles complicated by meningitis
B05.2  Measles complicated by pneumonia
B05.3  Measles complicated by otitis media
B05.4  Measles with intestinal complications

B05.81 Measles keratitis and keratoconjunctivitis
B05.89  Other measles complications
Assign B05.9  for measles without mention of complication.
Latest posts by Renee Dustman
(see all)