96372 Done Right: Dodge Injection Denials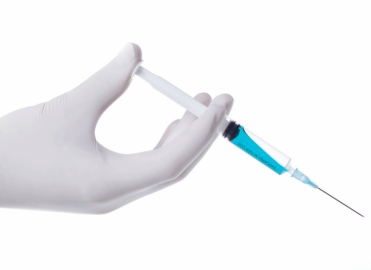 Across the country, in offices and facilities, coders are having trouble with CPT® 96372 Therapueutic, prophylactic, or diagnostic injection, specify substance, or drug; subcutaneous or intramuscular. Providers are not being paid for this injection administration code because it is being applied incorrectly, insurance companies say. Here's why.
The primary intent of an injection as described by 96372 is generally to deliver a small volume of medication in a single shot. The substance is given directly by subcutaneous (sub-Q), intramuscular (IM), or intra-arterial (IA) routes, as opposed to an intravenous (IV) injection/push that requires a commitment of time.
The injection codes (96372 and 96373 Therapeutic, prophylactic, or diagnostic injection (specify substance or drug); intra-arterial) may be reported with any hydration therapy, IV drug administration, or chemotherapy administration during the same encounter.
Follow this guidance, as well:
Code assignment for sub-Q, IM, or IA injection procedures does not affect the primary or secondary intent of the encounter.
Each medically necessary injection can be billed separately, regardless of whether the injection is subsequent, or not for a new drug. The exception to this rule is the single preparation of the sub-Q or IM dose that exceeds the volume safely injected at a single site. When the volume of an injected dose requires it to be split into two or more syringes, you may bill only a single unit of service for 96372. For example, if you administer two separate drugs, but use three injections to administer them, you would report two injections (96372, 96372-59 Distinct procedural service, and the drug supply codes).
Sub-Q infusions lasting 15 minutes or less are reported with the sub-Q/IM injection code for drug administration, 96372.
Injection (including 96372) with Separate E/M
All procedures are valued for reimbursement to include an assessment of the patient at the encounter (vital signs, appearance of the patient, etc.). If a procedure is scheduled in advance of the encounter, the medical necessity for that procedure has already been determined and the treatment has already been decided. This was the purpose of the previous evaluation and management (E/M) service, and you cannot charge again for an E/M service for the identical problem on the day of a pre-planned injection.
To bill an E/M service with a minor office procedure (such as an injection), you must have documentation supporting the need for an additional assessment beyond that for the injection. This is not possible with a scheduled injection performed by a nurse. The nurse is only following physician orders; if anything is out of the ordinary, the physician is called in, the injection is abandoned, and a higher level E/M is reported.
For example, in an obstetric/gynecology office setting, a Depo-Provera® (Depo) injection would be a scheduled visit reported with 96372 only. Reporting an additional E/M service code (e.g., 99211 Office or other outpatient visit for the evaluation and management of an established patient, that may not require the presence of a physician or other qualified health care professional. Usually, the presenting problem(s) are minimal. Typically, 5 minutes are spent performing or supervising these services) for this visit would be inappropriate.
Bottom Line: Insurance payers are not paying 99211 when reported on the same date of service as 96372. If you report these codes in combination, the payer will deny the claim.
But if you report any other E/M code on the same day of service, and properly append modifier 25 Significant, separately identifiable evaluation and management service by the same physician or other qualified health care professional on the same day of the procedure or other service to indicate a significant, separately identifiable E/M service was provided, the claim may be paid.
For example, a patient presents for an office visit for pelvic pain. During the visit, the physician notices the patient is due for a Depo shot. The physician gives the patient her Depo injection at the end of the office visit. The office visit is billable as 99214-25 Office or other outpatient visit for the evaluation and management of an established patient, which requires at least 2 of these 3 key components: A detailed history; A detailed examination; Medical decision making of moderate complexity, along with the injection, 96372.
Facility Reporting
When reporting injections in the facility setting, consider the following:
You may report 96372 in the facility without the physician present.
Injections for allergen immunotherapy have their own administration codes, 95115-95117.
Do not report 96365-96379 with any codes that describe a procedure of which IV push or infusion are a part.
Hospitals may not report an E/M code in addition to 96372 or 96373 when the sole purpose of the visit is drug administration.
This guidance should resolve any problems you were having with 96372. The rules for IV push, infusions, and hydrations are more complex, however. Refer to the Medicine section of the CPT® codebook to find the "Hydration, Therapeutic, and Chemotherapy" section for the guidelines. There is a hierarchy for the injection and infusion therapy, with which you must be familiar.
Susan M. Edwards, CPC, CEDC, is a member of the 2013-2015 AAPC National Advisory Board, representing the Northeast Region. She has also served on the AAPC Chapter Association, Northeast Region, from 2010-2013, and the AAPC Ethics Committee. Edwards has held office as president, vice-president, education officer, and secretary of the Newport, Vt., local chapter. She works at Copley Hospital in Morrisville, Vt.
Latest posts by Guest Contributor
(see all)
25 Responses to "96372 Done Right: Dodge Injection Denials"