2009 Salary Survey Results
Certification Protects Members from Recession
RECOGNIZED AS PROFESSIONALS, CODERS WEATHER ECONOMIC STORM
By Brad Ericson, CPC, COSC, and Jennifer Rothlisberger
View the entire 2009 Medical Coding Salary Survey.pdf
Credentialed coders prove recession-proof in this year's AAPC Salary Survey, which shows your salaries rose 4 percent to an average of $44,750. And even non-certified coders benefited from their affiliation with AAPC, with a 2 percent average salary gain to $37,290.
And this, mind you, in the midst of bank failures, foreclosures, layoffs, and a housing bust.
"It appears certified coders are more recession proof than others, that multiple specialty credentials improve your career, and that education, of course, adds to that benefit," Reed Pew, AAPC president/CEO, told Coding Edge. The type of credential makes a difference, too, when paired with work venue. Those who work in the insurance industry or facilities are naturally more likely to make more than those in a smaller physician practices. But the results of this and another study are encouraging not only for those who are certified but for all those who are AAPC members.
More than 10,000 members responded to the annual salary survey, which was conducted this summer over the Internet.
Being certified adds more than $7,000 to the average salary over being noncertified. CPC-As, many of whom are just entering the workforce, have a lower average income, and there is no underestimating the effect experience has on one's career. Coders with more than 21 years of experience averaged $54,477 this year.
Education is the other part of the equation: This year, more of us report having been to college: 73.5 percent compared to 69 percent last year. There are 17.5 percent of the respondents who completed their bachelor's degrees. Your education level, not surprisingly, has a significant impact on salary level.
This is the second survey of coders this year indicating we are being recognized for our professional skills and that our coding community is relatively immune to downturns. "Not only do certified coders show a jump in salary and opportunity in this data, but paired with an earlier study published in the March 25 journal For the Record, we find coders with an AAPC certification fared positively while those with other credentials suffered during the downturn," Pew said. "In the earlier study, 17 percent more CPCs than CCSs said they had not been negatively impacted by the economy."
Coders who work for physicians, groups, ambulatory surgery centers (ASC), outpatient departments, and payers are seeing their careers blossom, according to the For the Record study.
The bottom line for AAPC coders at a time when bottom lines are looking pretty bleak is simple, Pew said. "It is clear we are increasingly recognized for who we are and how our skills add value to our employers."
This is especially true of those who have specialty certification. While it's difficult to accurately determine what specialty credentials are most financially advantageous, we can look at the salaries of those who indicated they work in a specialty for a hint. Those who work in radiology, cardiovascular and thoracic, plastic and reconstructive, and rheumatology specialties report the highest average salaries this year. While little has changed this year in the order of specialties, we note that last year's highest paid specialty, neurology, fell off the list because too few responded to the survey.
Coders have a lot of roles, carry a lot of titles, and present a number of responsibilities founded on our professional skills. This data is interesting enough that we present it in two ways: by salary and by title. Those whose professional titles are consultants, managers, and administrators do better, not surprisingly. Consultants historically are at the top of the list, but we see those working in physician groups and practices moving up.
More Interesting Tidbits
31-40 hours per week. Those reporting they worked an average of 41 to 71 hours per week amount to 38 percent. Those who are part-time, working 30 or fewer hours, amounted to only 5 percent. Coders work hard for their employers.
A significant 81 percent don't have productivity standards in your offices and work at the office each day. A third may work from home some days of the week. Half of the respondents say they work flex-time schedules.
More than 91 percent of you receive health insurance, 89 percent receive paid holidays, 82 percent receive paid sick time, and 78 percent receive dental insurance as benefits. Slightly over half who do have health insurance as a benefit said their employer help pay for coverage.
Almost 9 percent work with physicians who have coder certification. New information, this is something we look forward to
watching in subsequent studies.
Who's doing the coding and how? Are they using documentation and electronic medical records (EMRs)? Here's a breakdown directly from the study:

The majority of coders code all procedures from the documentation.
The next largest group codes all procedures from a paper billing form.
Only 8 percent code only a part of the claim on an EMR program.
How do you fare compared to your state average? Again, you'll notice that location affects the salary, considering cost of living, urban vs. rural setting, and regional economic pressures.
Where is Key, Too
Location, location, location makes a difference in how much respondents say they are paid. Here is the breakdown of those who work in the cities, suburbs, and in rural areas:
While salaries in the New England, Southwest, and Mountain regions grew by at least 4 percent, it appears cost of living helps mould average salaries. The economy, no doubt, had an impact this year as downturns in other industries impacted coders in the Great Lakes and Mid-Atlantic region.
The Good News
It appears we are being recognized for our professional skills and our certifications not only helped protect us from the economic downturn, they are helping us in addition to our titles, roles, and locations. Paired with results from an earlier survey, we find being a coder is a pretty good gig with possibilities and opportunities, and that your CPC® credential gives you a pretty beneficial professional and personal network with which to be associated.
View the entire 2009 Medical Coding Salary Survey.pdf
====================================================================
Brad Ericson, CPC, COSC, is AAPC's director of publications
Jennifer Rothlisberger is a marketing communications specialist and statistician for the AAPC
Latest posts by admin aapc
(see all)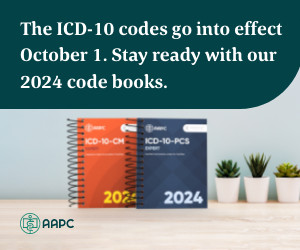 No Responses to "2009 Salary Survey Results"