Physician Groups: Stay Independent Using Intellectual Property
September 1, 2014
Comments Off

on Physician Groups: Stay Independent Using Intellectual Property
With a shift to pay for performance, you need a care management strategy to keep your practice thriving.
By  Warren Skea, PhD, and Kenneth Larson, MHA
The Affordable Care Act (ACA) and "pay for performance" methodology are transforming healthcare. To succeed financially in the new health economy, your physician practices will have to rely on patient data to identify your most at-risk patients.
Rewards Come with Responsibility
As medical management (or care management) becomes the new, preferred treatment model, your organization must develop treatment strategies specific to your patient population. This requires:
Taking responsibility for the total cost and quality of patient care
Coordinating care across all healthcare settings
Accepting financial risk for patient outcomes
If you are a specialty provider group, you may prefer to be responsible only for costs rendered within your specialty (e.g., low back pain), and for the services you can control directly (e.g., inpatient, outpatient, and rehabilitation). But the greater your group's responsibility, in terms of patient population care costs and care coordination, the more value and wealth your physician group can create.
Know Your Care
Management Models
There are many different care management models adopted across the healthcare industry. Five highly tested models are summarized in Table 1, which highlights the differences in their focus, target population, and staffing.
Your physician group can use these models with great success if you can identify patients for whom clinical outreach would reap the greatest short- and long-term benefits.



Critical Elements for Success
The most important element of a care management strategy is having a detailed understanding of patient population to identify opportunities for cost improvement. To accomplish this, your physician group should create a care management plan and analyze attributed patients' total cost of care and opportunities through two lenses:
Site of service (e.g., home care, rehabilitation, pharmacy, acute care, etc.)
Types of services by diagnosis/disease state (e.g., hospitalizations for congestive heart failure patients)
By understanding a patient population at this level of detail, your physician group may successfully manage populations at lower utilization and overall per member per month (PMPM) costs, compared to peers and competitors, through your care management infrastructure.
Site-of-service Costs
Your physician group can more effectively manage its patient population if you identify total site-of-service costs. Common cost avoidance approaches often include:
Transitioning aspects of care from an inpatient to an outpatient setting
Increasing use of rehabilitation and outpatient services to reduce inpatient admissions
Eliminating unnecessary diagnostic and imaging services
The site-of-service analyses are often categorized into the following areas:
Inpatient hospital
Skilled nursing
Hospice
Outpatient hospital (e.g., emergency room (ER), surgery, radiology, pathology, etc.)
Prescription drugs
Professional services (e.g., primary care provider/specialist visits, psychiatry/psychology, physical therapy, etc.)
Other (e.g., home health, ambulance, etc.)
Table 2 is an example of a PMPM site-of-service analysis for a Medicare population in a Northeast market. This analysis shows an 8.12 percent total cost savings opportunity compared to a well-managed population. A significant portion of the cost savings is attributed to lower utilization of inpatient and professional services.
Table 2: Northeast Market Total Medicare Population site-of-service PMPM Costs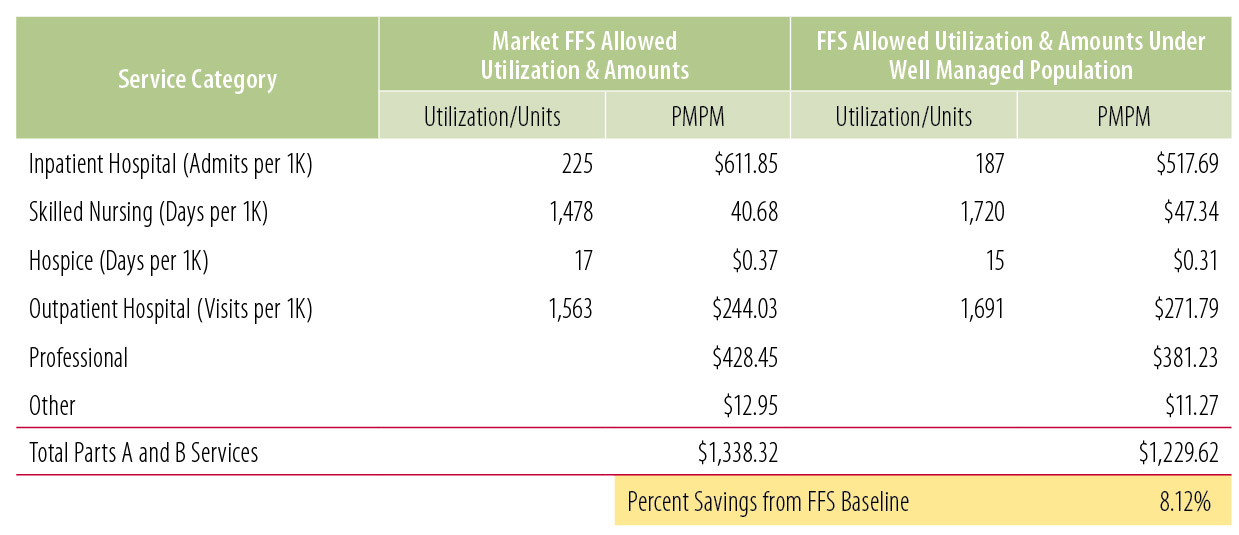 Source: PwC market analysis for Medicare population; costs are held constant for utilization PMPM comparison.
Disease-state Costs
Identifying total disease-state costs will help your physician group track and analyze expenditures by patient-diagnosed health condition. With a significant amount of expenditures and cost saving opportunities for high-risk populations with multiple chronic conditions, targeting one or more diseases may show you specific opportunities to implement protocols geared toward medically managing patients with the targeted disease states more effectively.
A disease-state analysis is very similar to the site-of-service analysis shown in Table 2, except the analysis is done according to disease state. These analyses are conducted for prevalent conditions in the patient population, which often include:
Asthma
Congestive heart failure
Chronic obstructive pulmonary disease
Coronary artery disease
Depression
Diabetes
Low back pain
Capitalize on Care Management/
Population Health Opportunities
To succeed in the new health economy, your physician group must develop several required care management and information technology capabilities, which will transform how your physicians deliver care to patients, as well as how your group operates as a business. Table 3 shows highlighted capabilities that you'll need to develop for a successful care management strategy.




Initiate "Pay for Performance"
Create compensation models that align with your physician group's new strategy to help physicians change their way of thinking. For example, if your group relies solely on net collections compensation models, you may be unsuccessful because that model fosters a culture of individualism across physicians and sites within your medical group.
Instead, include a variety of performance incentives in your compensation model. Your group will also need to develop a plan to adjust your compensation model, as more revenue is based on fixed monthly fees (e.g., PMPM care management fee) and quality bonuses (e.g., shared savings). These plans should be designed to reflect the type of risk your physician group will be taking in your contracts to promote and reward desired behaviors of the physicians. It's critical for these compensation plans to identify and adjust behaviors that were once profitable, but now negatively affect risk-based payment contracts (e.g., duplicate/unnecessary laboratory and imaging tests).
Physician compensation model and performance incentive designs should be informed by key principles, including:
Transparency and inclusion as part of a program that relates medical cost to marketplace premium level
Simple and easy implementation, with the capability to monitor quality
Reward for consistent, high-quality, cost-effective patient care
An important aspect of any physician compensation plan is its ability to evolve as the physician group's care management strategy matures. This means, stage your operational approach through changes in your compensation model and develop appropriate incentives, from basic operational implementation of plans/protocols to managing the total cost of care for your patients.
Example measures to track success might include:
Develop information technology capabilities
Implement disease based programs
Target patients for disease management program enrollment
Implement call centers
Percent of diabetic patients on lipid management
Percent of mammograms performed
Length of stay (LOS) and LOS variability
Bed days per 1,000
ER visits per 1,000
Percent of physician services with accountable care organization
True total cost of care
Typically, your physician group can begin by paying for new performance-based incentives with revenue from pay-for-performance contracts or government incentive programs, such as Medicare's Physician Quality Reporting System (PQRS). You may, however, need to start this process by withholding a portion of fee-for-service collections to create incentives large enough to support significant physician behavior change (up to 20 percent of total compensation).
What Can Your Group
Expect if Successful?
If you have a properly developed and implemented care management strategy built around your group's priorities, and use risk-based opportunities, you have the potential to:
Improve market share
Increase financial gains from risk contracts (new sources of revenue)
Generate wealth for physician owners
In the new health economy, if your physician group creates and implements successful care management strategies, you will command higher compensation because you've demonstrated value to payers and populations.
Takeaways
Physicians have to change how they practice in today's healthcare environment. There are few options left to remain an independent practice. Fortunately, not only does developing a care management strategy allow you to remain independent, it can also increase the value of your organization and generate wealth for physician owners because it improves health, while reducing the cost of the populations you manage.
Learn more about the new health economy.
---

Warren Skea, PhD, is a principal in PwC's Health Industries Advisory Practice. He is a published researcher on the topics of hospital process/quality improvement and healthcare reform. Before joining PwC, Warren was the national director of Performance and Quality Improvement Initiatives for the American Heart Association. He received his Ph.D. in health policy and quantitative methodology.
Kenneth Larson, MHA, is a manager in PwC's Health Industries Advisory Practice. His experience includes ACO/population health assessments and strategies, system/service line market and growth strategies, system integration such as hospital/physician alignment, joint ventures such as co-management companies, and consultation on governance, organizational structure, and healthcare policy. Larson received his Master of Health Administration from Pennsylvania State University and his Bachelor of Arts from Baylor University.

© 2014 PricewaterhouseCoopers LLP, a Delaware limited liability partnership. All rights reserved.
PwC refers to the United States member firm, and may sometimes refer to the PwC network. Each member firm is a separate legal entity. Please see www.pwc.com/structure for further details.
This content is for general information purposes only, and should not be used as a substitute for consultation with professional advisors.
Latest posts by Renee Dustman
(see all)