Reviewing for Fraud: The Role of ZPICs
September 1, 2014
Comments Off

on Reviewing for Fraud: The Role of ZPICs
Healthcare fraud significantly affects federal expenditures, and ZPICs are here to investigate potential fraud and protect the Medicare trust funds.
Kay Rankin, MD, MBA, CFE, AHFI, CPC, CPC-H
Zone Program Integrity Contractors (ZPICs) are the Centers for Medicare & Medicaid Services' (CMS) contractors that have the primary focus of investigating potential healthcare fraud and ensuring that Medicare trust funds monies are appropriately paid out. ZPICs take action to ensure mistaken or improper payments are recouped.
Each ZPIC is responsible for a particular geographic region (see Chart A) and performs integrity functions for:
Medicare Parts A and B (fee for service)
Durable medical equipment, prosthetics, orthotics, and supplies (DMEPOS)
Home health and hospice
Dual eligibles
Chart A: Breakdown of ZPIC Geographic Region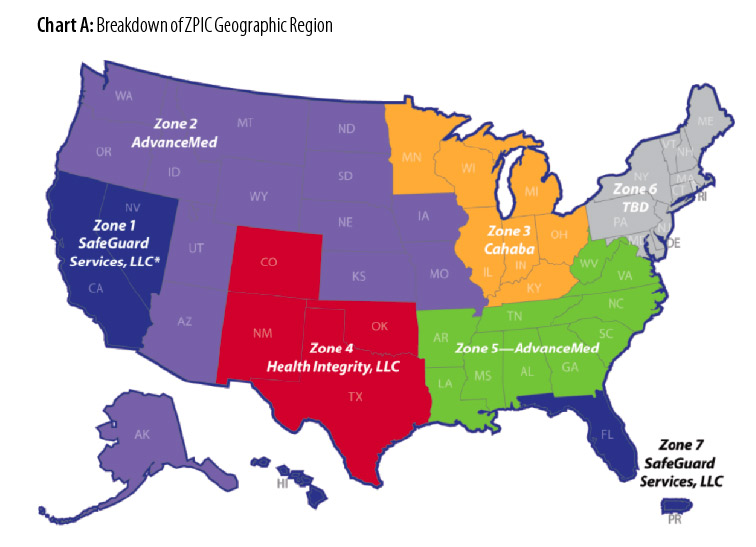 We should all be concerned about improper payments in our healthcare system. The National Health Care Anti-Fraud Association (NHCAA) estimates that at least 3 percent of healthcare expenditures are lost to fraud each year in the United States. The RAND Corporation estimates that fraud and abuse added as much as $98 billion to Medicare and Medicaid spending in 2011. Each of us can play a role in supporting our compliance program and ensuring that we are properly coding and billing services.
Understand Fraud, Waste, and Abuse
Fraud is the intentional deception or misrepresentation made by a person with the knowledge that the deception can result in an unauthorized benefit or payment to the person filing the claim or some other person. The key word is intentional. Examples of fraud include:
Knowingly billing for services not provided or not ordered
Knowingly falsifying claims or medical records
Knowingly misrepresenting dates, frequency, duration, or description of services rendered
Knowingly billing for a time period greater than that actually spent with the beneficiary
Waste is the over-utilization of services or other practices that, directly or indirectly, result in unnecessary costs to the healthcare system, and is typically not a criminal or intentional act. A common example of waste occurs when a beneficiary is transferred from one hospital to another and all laboratory and radiologic tests are immediately repeated.
Abuse includes actions that may, directly or indirectly, result in: unnecessary costs to the Medicare program; improper payment; payment for services that fail to meet professionally recognized standards of care; or medically unnecessary services. Abuse involves payment for items or services when there is no legal entitlement to that payment and the provider has not knowingly and/or intentionally misrepresented facts to obtain payment.
Basis for a ZPIC Review
ZPIC reviews are never random. Leads for ZPIC reviews come from numerous sources, including the Fraud Prevention System utilized by CMS, information from third parties, and data analysis and predictive modeling performed by ZPICs. Third-party sources may include current and former employees of the suspect provider/supplier, beneficiaries, and Medicare Administrative Contractors (MACs). ZPICs also develop leads based on analyses of billing patterns to identify suspicious claim patterns, such as billing a high frequency of particular codes compared to local and national patterns. ZPICs also use predictive modeling to capture the relationship between variables such as providers, suppliers, billing patterns, and beneficiary utilization to estimate the likelihood of fraud.
ZPICs perform two types of review: prepay and postpay.
Prepay Review
There are two types of prepay review: full and partial. When a provider is placed on prepay review, he or she receives a notification letter from the ZPIC. During a full prepay review, a provider does not receive payment for any item or service until the ZPIC reviews the supporting documentation and finds the claim to be medically necessary and properly payable. Under partial prepay review, a provider does not receive payment for particular items or services until the supporting documentation has been reviewed by the ZPIC and the claim has been found to be medically necessary and properly payable.
The purpose of a prepay review is to determine the accuracy of a claim before it is paid. This is important because it stops the flow of money when evidence of a potential billing aberrancy is present. When a provider is placed on prepayment review, the provider may continue to care for patients and provide services for beneficiaries. When the claim is submitted for payment, an edit (flag) in the claims processing system prevents the claim from being paid. Instead, an Additional Development Request (ADR) letter is generated and sent to the provider, requesting the records that support the service billed.
Depending on the type of service, each claim may require several pages of documentation — as in the case of an office visit — or several hundred pages of documentation — as in the case of skilled nursing facility (because of the 60-day benefit period). The documentation required to support the service will vary considerably, and may include, for example: prescriptions, lab and radiology reports, physician progress notes, nurses' notes, and certificates of medical necessity.
Until the provider is released from review, the provider will receive an ADR letter each time a claim is submitted for payment. For example, if the ZPIC has an edit for a level 5 office visit of an established patient (99215 Office or other outpatient visit for the evaluation and management of an established patient, which requires at least 2 of these 3 key components: A comprehensive history; A comprehensive examination; Medical decision making of high complexity) and the provider submits 20 claims for this code in one day, the provider will receive 20 ADR letters for that day. The ZPIC does not reimburse for staff time or the copying expense involved in responding to ADRs.
Know Your Time Frames
The provider has 30 days to submit the records to the ZPIC, and the ZPIC has 60 days to review the documentation and make an initial determination. The ZPIC will down-code or deny, in whole or in part, if the medical records do not support the services billed.
It is common for a provider to remain on prepay review for three to six months. The provider receives a remittance advice for each claim within approximately 60 days indicating whether the claim was paid, reduced, or denied. If the ZPIC down coded or denied any part of the claim, the provider must decide whether to appeal the determination.
During a partial prepay review, ADR letters are generated for only those claims that match the edit in the system. The provider will not be reimbursed for these services until the ZPIC reviews the supporting documentation and makes a determination.
Understand the Impact on Cash Flow
Prepay review can have a significant impact on provider cash flow. When a provider is not under review, his or her claims are processed by the MAC and paid within approximately two to three weeks. However, when a provider is on prepay review, the claims payment is delayed because the provider needs an opportunity to gather and send the required documentation to the ZPIC, and the ZPIC needs time to review the information submitted. Typically, payment for claims that are approved (or partially approved) will take at least 60 days.
Because ZPIC reviews are not random, denial rates can be quite high: A 70 percent denial rate is common. This can result in a significant long-term disruption in revenue, during which the provider continues to incur all the usual expenses associated with running a business, including payroll, rent, and insurance. Chart B shows a flow chart for a prepay review of a claim.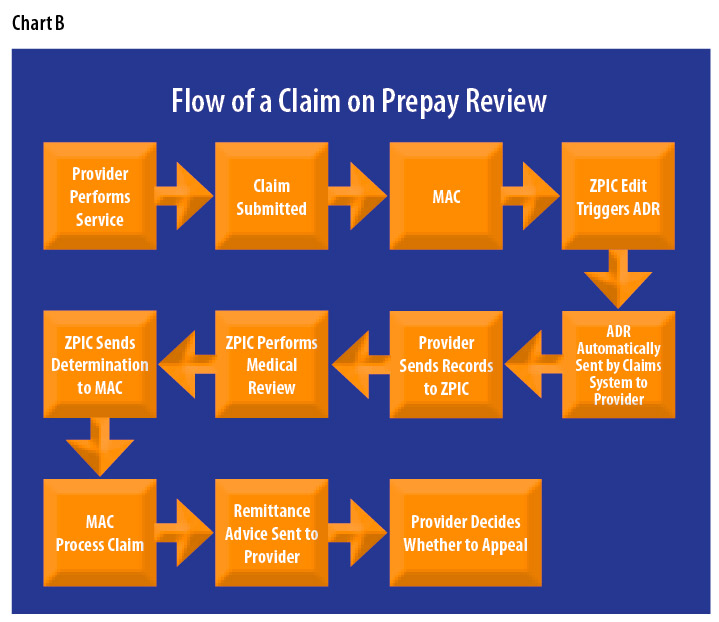 Postpay Review
A postpay review determines the accuracy of a claim after it has been paid, and whether an overpayment or underpayment occurred and is due to the Medicare trust funds. ZPICs can reopen a claim up to four years following the initial claims paid date (initial determination) for good cause. Law enforcement can go back further than four years.
Typically, for a postpay review, a sample of claims is obtained from the provider's claims history and a statistically valid random sample (SVRS) is determined. The records for the SVRS are requested and a review of the records is performed. If it is determined that some of the claims were improperly paid, an error rate is determined. This can be extrapolated to the universe from which the SVRS was obtained. The result of the review is sent to the provider in a letter from the ZPIC, along with the estimated amount of the overpayment. The MAC will then send the provider a demand letter that communicates the final overpayment amount due to the government.
The provider must then decide whether to pay the demand letter, or to appeal the findings in the review. Chart C shows a flow chart for postpay review of a claim.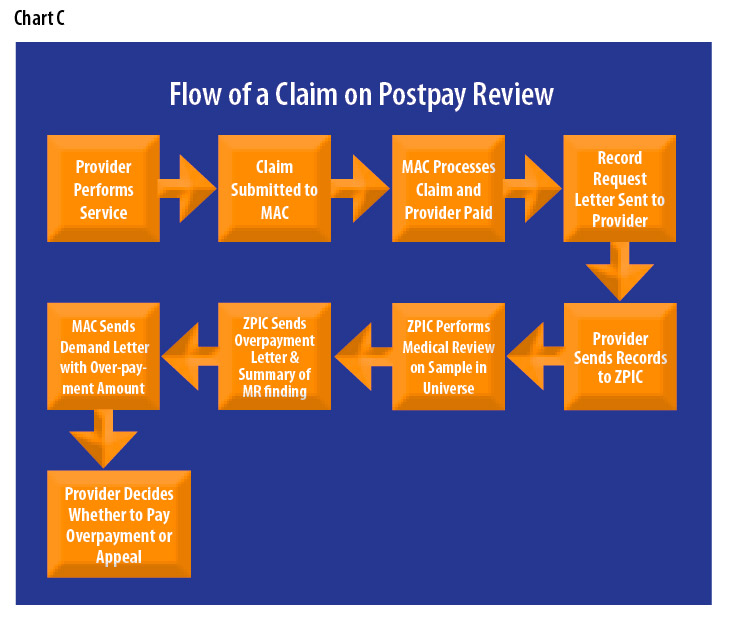 Documentation Challenges and EHR
Most of us are familiar with the phrase, "not documented, not done." Particularly in this age of electronic health records (EHRs), it's important to understand that just because a service was documented, doesn't mean it was reasonable and necessary. Cloned documentation may leave a reviewer questioning if the service was even provided.
Example 1:
An established patient presents to the office with a one-day history of a sore throat. The medical record documents a comprehensive history, comprehensive exam, and a low level of medical decision-making. This level of history and examination would not be reasonable and necessary for such a straightforward condition.
Example 2:
Dr. Smith used an EHR. All 12 beneficiaries he saw on June 8 had the exact same history and physical exam findings, including a 2 cm ulcer on the left ankle. Only the vitals, assessment, and plan varied between beneficiaries.
Example 3:
A podiatrist billed for nail debridement involving 10 toenails on every beneficiary in the nursing facility. Two beneficiaries who had amputated legs were among those billed for debridement involving 10 toenails.
Medical Review Decisions
The basis for medical review decisions includes the Social Security Act (SSA), the Code of Federal Regulations (CFR), National Coverage Determinations (NCDs), the Internet-only manuals (IOMs), and Local Coverage Determinations (LCDs), as well as CPT®, ICD-9-CM, and HCPCS Level II code books. Common reasons for denial include:
Insufficient documentation to support a service provided or provided at the level billed.
Illegible documentation
Services that are not reasonable and necessary
Up-coded services, including E/M codes
Service that do not meet applicable coverage guidelines (LCDs and NCDs)
No proof of delivery for DME
Potential Adverse Outcomes
A range of adverse outcomes may result from a ZPIC audit, including denial of payment for services rendered, postpayment review, or referral to CMS, the Office of Inspector General (OIG), or law enforcement. These referrals may result in further investigation, payment suspension, exclusion from Medicare and Medicaid, civil monetary penalties, corporate integrity agreements, or criminal sanctions.
A False Claims Act violation includes knowingly submitting or causing to be submitted a false or fraudulent claim, such as an up-coded claim, to a federal healthcare program. The False Claims Act can result in significant penalties, including up to $11,000 per false claim, plus treble (i.e., three times the amount) damages, in addition to criminal liability under the criminal False Claims Act.
For example, if one knowingly submits twenty up-coded claims, and the increased payment from the higher code was $30 per claim, the penalty could be:
Overpayment: $11,000 x 20 claims = $220,000
$30 x 20 claims x 3 = $1,800
$221,800
You Can Make a Difference
As a certified coder, you can be part of the solution. Does your organization have an effective compliance program? Does it conduct internal and external audits on an annual basis? Does it denounce the attitude of "just get it paid?" Do your providers understand that causing a false claim to be submitted to Medicare may be a crime punishable under both the civil and criminal False Claims Act statutes?
Consider showing one of the OIG YouTube videos at your next staff meeting. The videos on the False Claims Act, Importance of Documentation, Physician Self-Referral Law, or the Federal Anti-Kickback Statute would be a good place to start.
---

Kay Rankin, MD, MBA, CFE, AHFI, CPC, CPC-H, is a medical director for Health Integrity, LLC. She is a board-certified family physician and the medical director for Zone Program Integrity Contractor (ZPIC) Zone 4. Rankin is a member of the Richmond, Va. local chapter.
Latest posts by Renee Dustman
(see all)