What Auditors Wish You Knew
November 1, 2014
Comments Off

on What Auditors Wish You Knew
Missing records are devastating, and surprisingly common audit findings.
By Lisa Jensen, MHBL, FACMPE, CPC
You've heard it a million times: Misusing modifiers will lead to trouble. Article after article enumerate the pitfalls of "outlier" status (i.e., reporting too many high-level evaluation and management (E/M) services). Coders are warned repeatedly against charging separately for services that are part of the global surgical package (unbundling). With all the emphasis on proper coding, you might be surprised to learn the most common audit finding isn't coding related at all.
To be considered valid for Medicare medical review purposes, an attestation statement must be signed and dated by the author of the medical record entry and must contain sufficient information to identify the patient. CMS provides a sample statement from the Medicare Program Integrity Manual 100-08, Section 3.4.1.1:
I, [print full name of the physician/practitioner], hereby attest that the medical record entry for [date of service] accurately reflects signatures/notations that I made in my capacity as [insert provider credentials, e.g., M.D.] when I treated/diagnosed the above listed Medicare beneficiary. I do hereby attest that this information is true, accurate, and complete to the best of my knowledge and I understand that any falsification, omission, or concealment of material fact may subject me to administrative, civil, or criminal liability.
Although this is an acceptable format, CMS is neither requiring nor instructing providers to use a certain form or format.
Overcome Insufficiency
The Medicare Fee-for-Service 2013 Improper Payment Report shows that insufficient documentation errors account for a significant portion of improper payments from the Centers for Medicare & Medicaid Services (CMS), as shown in Table B1.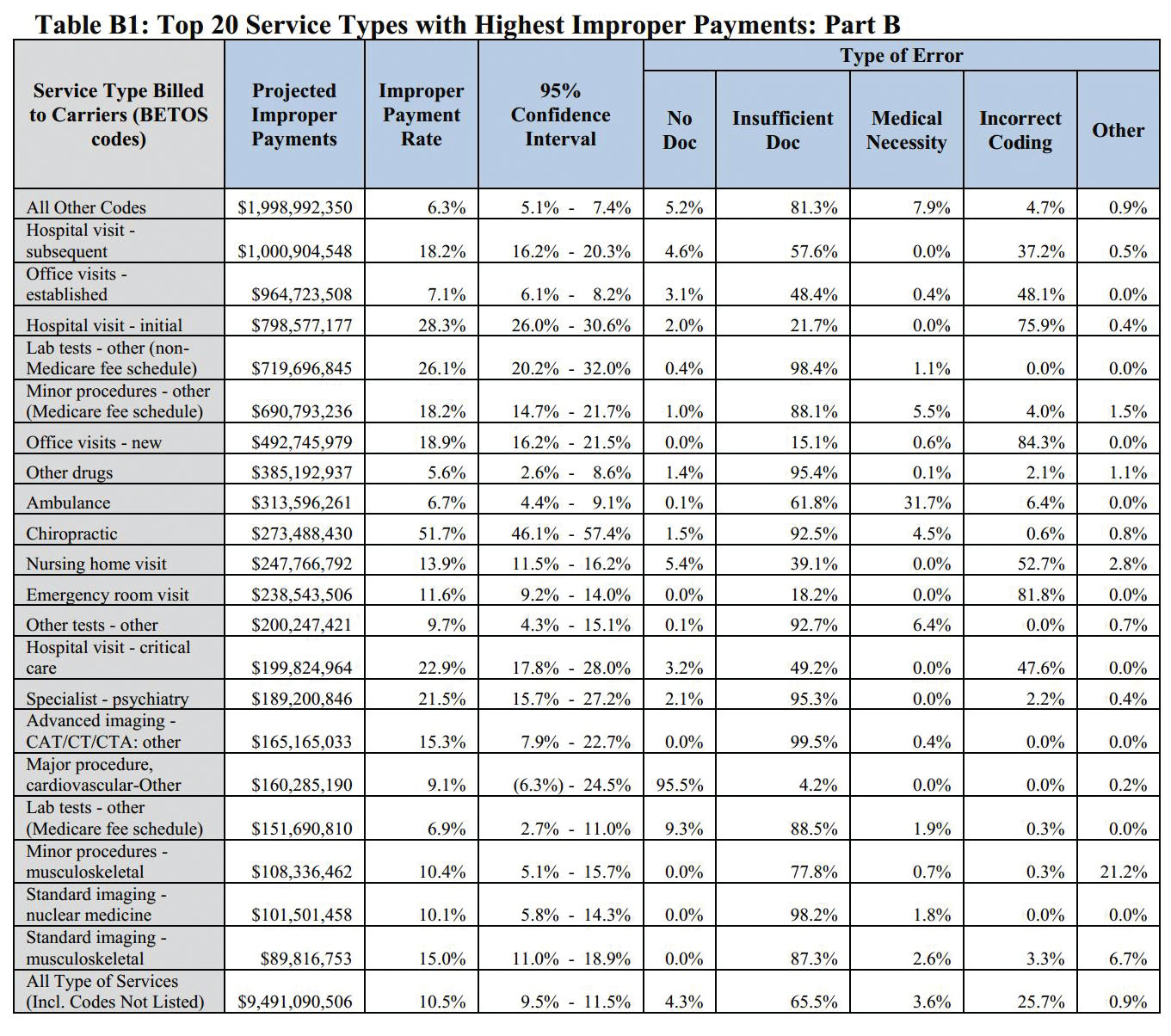 Insufficient documentation may be found when submitted medical documentation is inadequate to support payment for the billed services, or a specific documentation element required for payment is missing. Other potential problems may be that the medical documents submitted do not contain pertinent patient facts (e.g., patient's condition, diagnosis, etc.), or the medical documentation is illegible, has no date, is improperly signed, etc.
The number one reason for insufficient documentation is a missing signature. If you aren't auditing 100 percent of your practice notes in all locations, you may not know if this deficiency applies to you. However, I am consistently surprised by the number of chart notes I review that lack a legible signature (or any signature at all).
Payers and CMS require the medical chart documentation supporting a claim contain a legible and timely signature. For medical review purposes, Medicare requires the author, using a handwritten or a valid electronic signature, to authenticate the services provided and ordered. Regardless of how accurate the coding is, if the document lacks a legible signature, the entire note will be disregarded.
Tip: Auditors will appreciate if you include a signature log listing the typed or printed name of the author associated with initials or an illegible signature. The signature log can be included on the actual page where the initials or illegible signature are used, or in a separate document.
You may ask, "If an auditor notices a note is missing a signature, can I just have the provider add it?" The answer is: Probably not. Providers should not add late signatures to the medical record (beyond the short delay that occurs during the transcription process). If the document is missing a signature, you must include an attestation statement. If you have a valid signature attestation statement and signature log, completed and provided with the medical records request, auditors will have one less concern to audit (see the preceding page for an attestation statement sample).
A note of caution: Auditors will not accept a single attestation to cover several chart notes or a length of time. A generic statement will not suffice. For instance, "I, Dr. X hereby attest that all medical record entries for any patients I've ever seen accurately reflect my observations," would not be accepted, nor inspire confidence.
AWOL Documentation = AWOL Payments
Insufficient documentation and lack of signatures is one thing, but over half the providers I audit have issues with missing medical records. My experience is not unique. For instance, in the breakdown of Medicare Part B billing's top 20 service types with highest improper payments (Table B1), "Major Procedure Cardiovascular-Other" clocks in with a 95.5 percent finding related to missing documentation.
In Table B3, Part A services of "Clinic OPT" (outpatient therapy) clock in at 44.6 percent missing documentation, and in Table B2, "LSO" (lumbar support orthotics) tops the "DME" (durable medical equipment) category with a 5 percent rate of missing documentation.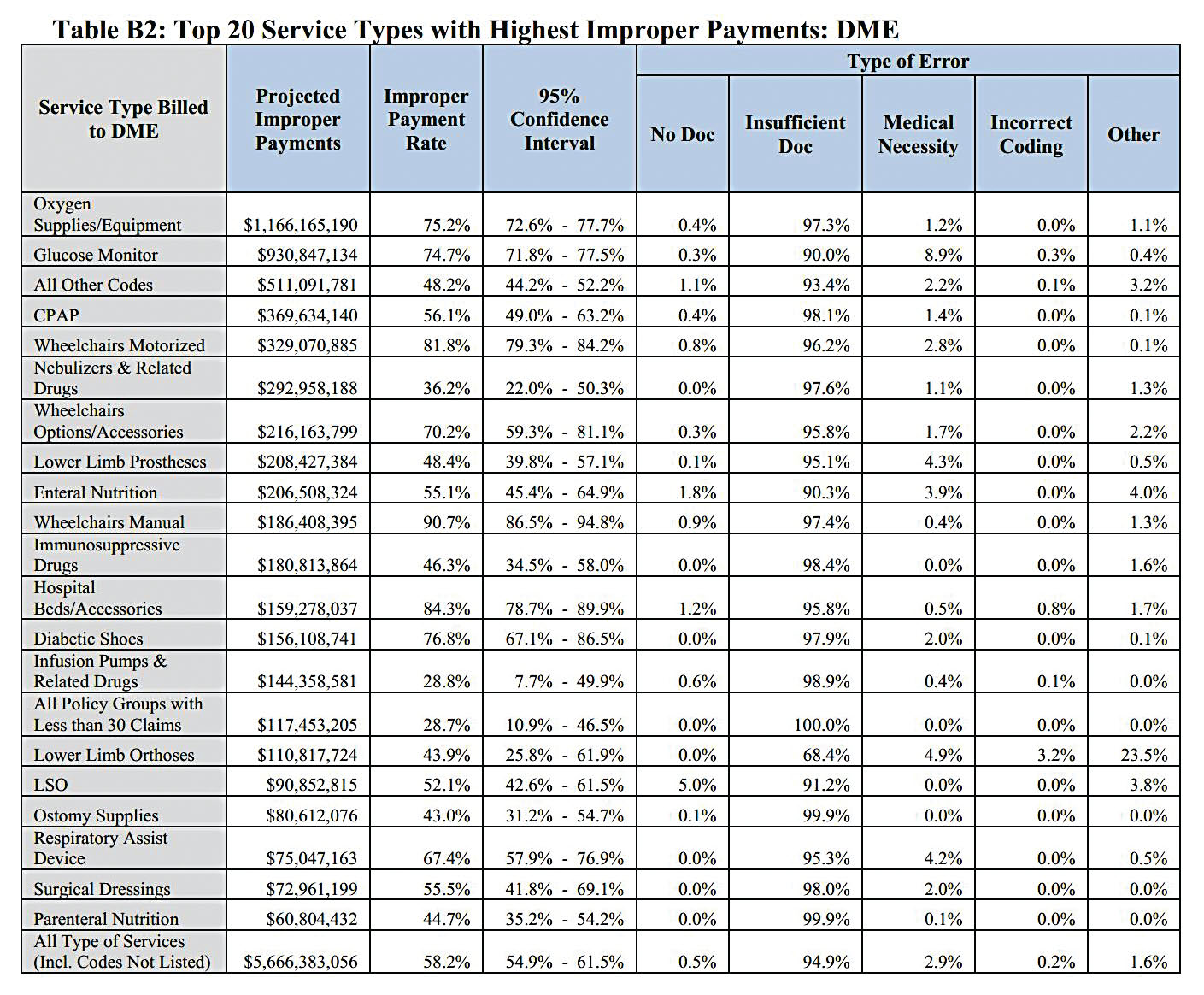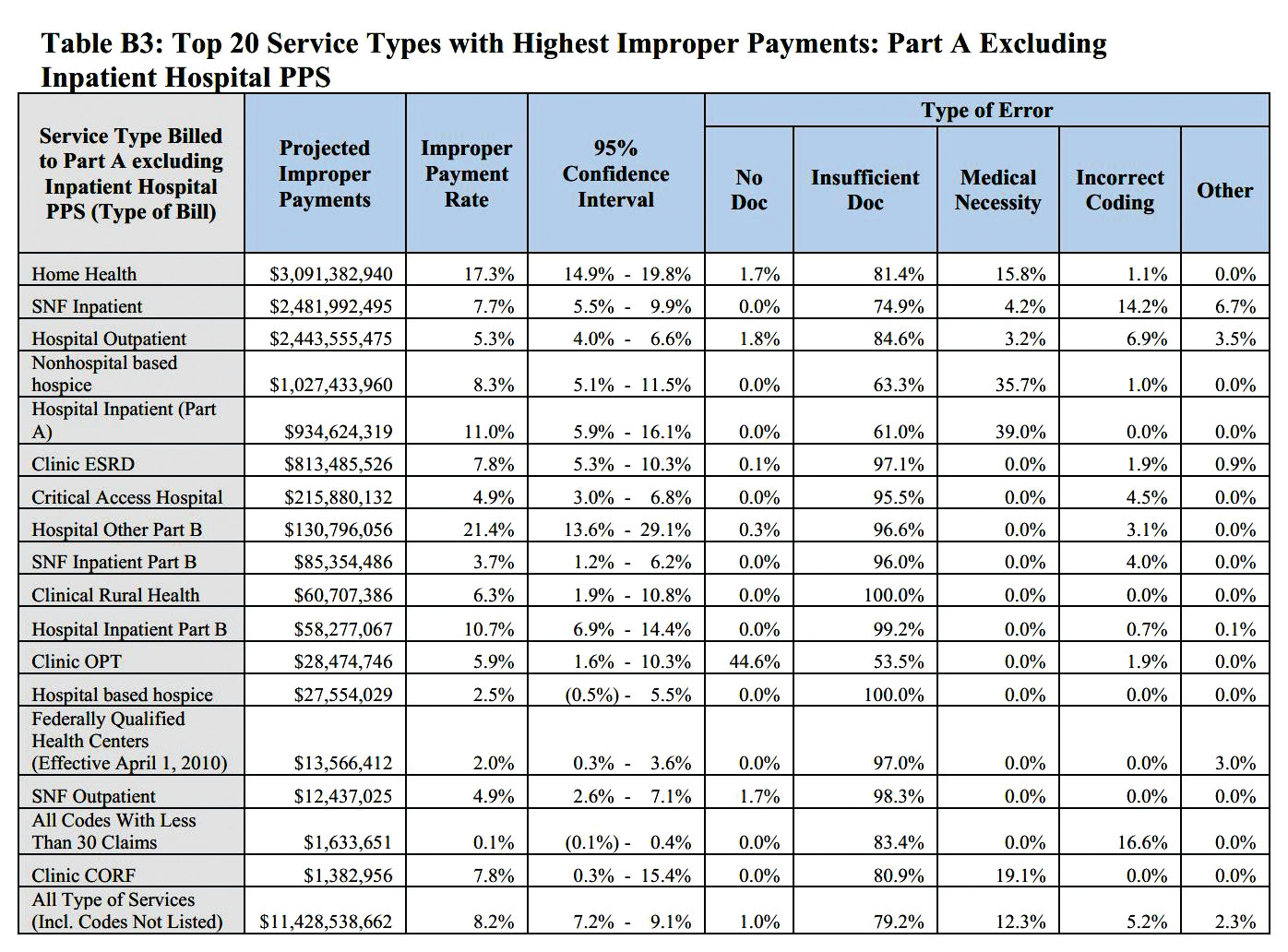 Woody Allen said, "Eighty percent of success is showing up." During my 19-year career as an auditor, I've realized a similar truth applies to audits: Eighty percent of success is the requested records showing up for audit.
It's frustrating for both the provider and the auditor when there is a bill for a date of service, but the documentation for that date of service doesn't seem to exist. Perhaps such documents end up in an alternative dimension with lost car keys, misplaced remote control units, and vanished socks from the dryer? One practice discovered a medical assistant stationed at a counter-high desk to relieve her leg and back pain using a box of chart notes to bolster the height of her footrest. In another situation, a provider was having difficulty keeping up with paperwork. The charts found their way into his trunk, never to return.
How do you know if this is a problem for you? Pick 10 patients, at random, from the last two week's schedules. Now, go on safari in your practice or facility. Is documentation for all 10 visits accounted for? If not, where are they?
Because you're probably very diligent and aware of the nooks and crannies in your office, the above task probably wasn't much of a challenge for you; but chart requests from health plans and other providers most likely come to someone else in your practice or facility. Would the average employee know where to find these charts, and would the folks who manage medical records know who to ask if they couldn't find a chart?
What about chart notes from visits six years ago? Are they accessible? If you've converted from paper charts to an electronic health record (EHR), or from one EHR to another, would you know how to find (and access) the old records?
Make Records Access a Priority
Many times, finding a missing chart isn't a priority: The office staff member was busy, or didn't understand the implications of a missing chart note. Those implications are serious: If the chart note isn't present, the entire service must be refunded, and some auditors may not give you a second chance to provide missing documentation — an expensive lesson to learn.
Practices should provide training for medical record staff, and perhaps should require someone in leadership to review medical record requests from Medicare Advantage payers, Medicare contractors, and state/government agencies before a response is sent to the requestor. However you make it work, ensure all medical record requests are fulfilled completely. If there are missing records, communicate it to the appropriate leadership/compliance personnel in the practice.
Requested Records Could Be Elsewhere
You may run into trouble when requesting documentation outside of the office visit note. If the medical record request seeks "all supporting documentation" of the claims billed, this is auditor-speak for, "You might find some of this elsewhere!" Here's what this means for you:
If the claims audited are for inpatient services, does your staff know how to access and recognize a history and physical examination, a daily encounter note, and a bedside procedure note from the facility?
If the claims audited involved diagnostics, does your record include the visit where the diagnostic was discussed, the physical order of the diagnostic, the results, and the report?
If the claims audited are for vaccines or injectables, are these logs kept separately from the office visits?
If the claims audited are for initial office visits or complete physicals, are the patient medical history and review of system questionnaires stored in separate locations, such as scanned document folders?
These are examples of items that may not be contained in a single location, but must be gathered to fully satisfy the record request. If medical records staff do not know coding, they may need training to recognize record requests that will require documents from another location or another healthcare entity.
Coding Is Only Part of the Battle
It's unfortunate when the very best codes have been expertly applied — and perhaps the claim has already been paid — only to undergo an audit that leads to overpayment recovery. By contrast, if all of the requested chart notes show up for audit, with a timely, legible signature of the performing professional, the excellent coding you applied is allowed to shine.
To avoid the stress of a poor audit outcome, take a peek at your practice's documentation. A great place to start is the Medicare Claim Review Programs Guide for MR, NCCI Edits, MUEs, CERT, and Recovery Audit Program. This guide can give you pointers for auditing your practice and assist you in addressing documentation concerns, before a regulator addresses them for you.
---

Lisa Jensen, MHBL, FACMPE, CPC, is the senior manager of External Audit at Providence Health Plans in Beaverton, Oregon. She has a master's degree in Healthcare Business Leadership and is a charter member of the Columbia River local chapter and credentialed since 1996. Jensen also is a member of the Medical Group Managers Association (MGMA) and attained Fellowship status in the American College of Medical Practice Executives in 2008.
Latest posts by Renee Dustman
(see all)