Turn Your Supply Cabinet into a Profit Center
December 1, 2014
Comments Off

on Turn Your Supply Cabinet into a Profit Center
Bolster HCPCS Level II revenue with an nine-step supply chain management process.
By Chris Varani, MBA, MS Finance, CPC-A
As your practice cares for patients throughout the day, you probably use many drug, medical, and surgical supplies. For instance, in orthopaedics, you place an ankle brace on Jim after he "showed" his daughter how to skateboard. In family medicine, you give two-year-old Eva her vaccinations, and use a sterile tray to remove Marcus's stitches. In oncology, you use a new chemotherapy drug to treat Cathy. Such supplies are necessary to help your patients, but many of the practices that we work with don't realize that they can bill for them.
Not all supplies may be billed using HCPCS codes, but it is important for your practice to recognize those you can bill. This article will cover how an outpatient practice might change their supply closet from a cost, to a source of profit.
It's Worth the Effort to Bill Supplies
Capturing all supply use and proper billing of HCPCS Level II codes can have a positive effect on a practice's bottom line. According to survey data from the Medical Group Management Association (MGMA), the median expense for multi-specialty practices is 5.6 percent of revenues for drug, medical, and surgical supplies (Source: MGMA DataDive 2013: Cost and Revenue Module). If your practice captures these charges and bills them with only a 20 percent margin, you will realize a meaningful revenue increase.
Benefits of Supply Chain Management
Every outpatient practice can benefit from supply chain management. Even a small practice can start with a supply tracking spreadsheet.
There are nine steps in the process of obtaining, using, and being reimbursed for a needed supply. In Figure 1, follow the arrows, starting with green, to step out your team's responsibilities for supply reimbursement. Consider who on your team is responsible for each step and how everyone can make improvements.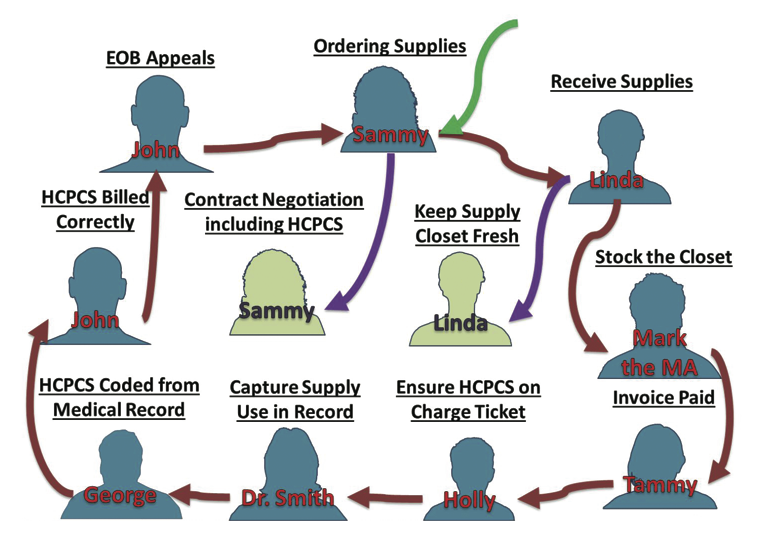 Step 1: Ordering Supplies
A nurse practitioner might need to order a patient an air splint for a sprained wrist, triggering a manual order. An oncology practice might use supply-tracking software that flags when a common drug has reached a minimum level, triggering an automatic reorder. Either way, the first step is ordering. This includes shopping around for the best price from manufacturers, vendors, or purchasing groups. It means keeping up with product and price changes to get the best deal.
A supply spreadsheet can be helpful: List necessary supplies in one column and the prices from your favorite sources in the next columns for comparison. Look at how much of that supply you used over the previous year to determine how much to order. You might be able to find bulk discounts, but be careful not to lose money on expired injectables or outdated supplies. The table below shows a sample supply spreadsheet.
| | | | | | | | | | | | |
| --- | --- | --- | --- | --- | --- | --- | --- | --- | --- | --- | --- |
| Drug | MFG | HCPCS | NDC | Dose | Bottle Size | Acq. Cost | AWP | Doses/Bottle | Cost/Dose | Charge | Units |
| Hydrogen Peroxide 3% 16 oz | | | | | | | | | | | |
Step 2: Receiving Supplies
Just like when you're shopping on Amazon.com, you want to make sure the order that arrives is the right one. This step might be easy, but it's important to make sure someone verifies the order against the delivery, and that it's not damaged.
Some supplies are custom ordered for a patient. To provide excellent customer service, the provider needs to know his or her patient's supply has arrived as ordered.
Step 3: Stocking the Closet
Providers don't want to spend time looking for the right supply. Organizing the supply closet with old stock at the front and common items on a designated shelf can save time. It gives your practice a chance to make sure old supplies aren't hidden or expired, and it's also a good opportunity to update the expected quantities on your spreadsheet. Stocking and organizing will ensure your practice doesn't run out of something and will bring to light spoilage.
Step 4: Paying the Invoice
It can be difficult to produce invoices for billable supplies, and even harder to determine the cost of a single item in a large purchase. As you pay an invoice, place the actual cost per supply used on your tracking spreadsheet. This will enable you to show how much each item costs your practice. These invoices and true costs are critical to the entire supply closet charge capture process.
In a small practice, the assistant at the front desk might receive and stock the orders and pay the invoices. In a large practice, more than one person might fulfill these tasks. Whatever the case, make sure your team is working together to track supplies.
Step 5: HCPCS Level II on the Charge Ticket
This is probably the hardest step in the process. Every supply should be converted or crosswalked to a HCPCS Level II code. This means spending some afternoons in the HCPCS Level II book and on Google looking up codes.
The invoice may say, "Bioventus Supartz Sodium HA 25 mg Syringe." The first trick to finding a code is to recognize that "HA" means "hyaluronate." A common error is not recognizing the correct dosage. This shipment might be five syringes of 5 mg, each, but the proper code of J7321 Hyaluronan or derivative, hyalgan or supartz, for intra-articular injection, per dose is "per dose," meaning there are two doses per syringe. Your vendors might be able to help you with the crosswalk, and can alert you when items warrant a new code.
This step is a big challenge to coders up front, but the great news is that once it's completed for the supplies you use regularly, it only needs to be updated periodically. A typical orthopaedic practice might verify its list of HCPCS Level II codes once a year.
Step 6: Capturing Supply Use
Here's a favorite quote I heard from a nurse administrator in a busy oncology practice, "The physicians bought the groceries, now it's up to the whole team to make sure we get reimbursed for them!"
To bill for a supply, it must be marked on the charge master or in the medical record when used. Ideally, the provider will recognize he or she has pulled a supply from the shelf and add it to the record every time. This is a team sport: The medical assistant can check off G0008 Administration of influenza virus vaccine when he administers the influenza vaccination, and the casting technician can write down the supplies used for the splint. The key to this step is ensuring your practice has a culture of recording all supplies used, and backing each other up.
Step 7: Coding from the Medical Record
This should be a simple step if coders are involved in getting the HCPCS Level II listed on the charge masters, and your team captures all supplies. The coder can be a final check to ensure that supplies are billed. If no HCPCS Level II supplies are indicated in the provider's notes, it might be worth verifying with the provider.
Coders also need to ensure they are continuing education. I know of one practice that lost thousands of dollars over three years because their coder did not realize she could bill for surgical trays (A4550 Surgical trays).
Step 8: Billing HCPCS Level II Correctly
So far, your practice has done a great job of getting the supply to the patient and capturing the coded charge. How much do you charge for it? Take a look at your contracts.
What do your payers allow for HCPCS Level II? At a minimum, you should charge what the supply cost you, which you now can easily find on your supply tracking spreadsheet. Preferably, you should charge the most a payer will cover.
Step 9: Explanation of Benefits (EOB) Appeals
Unfortunately, billing for supplies doesn't always go through smoothly. Don't give up. Contracting — or at least coordinating with payers for the HCPCS Level II supplies that your practice uses — will really help. Ask your payers if there is a preferred way to document supplies. A best practice is to tell patients up front what their new knee brace or durable medical equipment costs. Explain that the practice will bill the insurance company, but the patient might be responsible for the balance. This reduces surprise and improves customer satisfaction.
Hopefully, these steps are similar to what your practice is doing now, and you already have a person responsible for each area. If not, focus first on adding your most common supplies to your charge master, and then on building a culture of teamwork in capturing all charges. The rest can be improved as time permits. Remember that supplies shouldn't just be an expense. Your practice will be better equipped to help its patients if it's making money, rather than losing it, on medical supplies.
---

Chris Varani, MBA, MS Finance, CPC-A, is enrolled in medical school at the University of Colorado. He is a project manager at Physicians' Ally, Inc., a healthcare consulting firm in Denver, Colorado. A former Air Force officer and pilot, Varani's experience and education bridge the gap between business, leadership, finance, and medicine. In addition to AAPC, he is a member of the American College of Healthcare Executives, Medical Group Management Association, American Medical Association, Healthcare Financial Management Association, and is a candidate Chartered Financial Analyst. Varani is a member of the Denver, Colorado, local chapter.
Latest posts by Renee Dustman
(see all)