Coding Low-Frequency Ultrasound Wound Care Management
In Coding
January 2, 2015
Comments Off

on Coding Low-Frequency Ultrasound Wound Care Management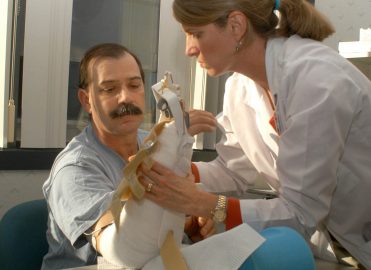 Low-frequency ultrasound (LFU) (e.g., MIST® Therapy), is a type of therapeutic, noncontact ultrasound used to treat chronic wounds. Per CPT Assistant (June 2014), such wounds may include:
Recalcitrant wounds
Pressure ulcers
Diabetic foot ulcers
Arterial ulcers
Venous insufficiency ulcers
Post surgical wounds
Sickle cell ulcers
Colonized wounds
Burns
LFU is used when there may not be an option to restore adequate blood flow alternatives via alternative percutaneous or surgical revascularization procedures.
Proper coding for LFU is 97610 Low frequency, non-contact, non-thermal ultrasound, including topical application(s), when performed, wound assessment, and instruction(s) for ongoing care, per day. Report the once, per day, for the duration of treatment. Complete provider documentation should include wound assessment and ongoing instructions, if provided. Additional, payer specific documentation elements may include:
Wound size and depth
Presence or absence of obvious signs of infection
Presence or absence of necrotic or devitalized tissue
State of the patient's nutrition
Be careful not to confuse LFU with other wound care services (e.g., negative wound pressure therapy, surgical debridement). "For example, the selective debridement codes (97597, 97598) describe invasive procedures that remove devitalized tissue from the wound," advises CPT Assistant. "Another example is the nonselective debridement code (97602), which addresses the application of dressings, enzymes, and abrasive procedures to remove devitalized tissue." The AMA also provides the following coding/documentation tips relative to 97610:
 The site of service for LFU wound therapy is typically an office or other outpatient setting, inpatient or outpatient hospital setting, nursing facility, or wound-care center.
Although LFU wound therapy uses a noncontact approach, continuous attendance by a qualified health care professional is required. The ultrasound used in LFU wound therapy stimulates the cells within and below the wound bed, which is proposed as the mechanism that accelerates the healing process. [CPT guidelines clarify: "The work of the physician or other qualified health care professional consists of face-to-face time with the patient (and caregiver, if applicable) delivering skilled services."]
Other wound-care services (eg, sharp debridement, negative pressure–wound therapy, skin substitutes) may be provided before or after the LFU treatment and may be reported separately. [Per CPT® guidelines, "Do not report 97597-97602 in conjunction with 11042-11047 for the same wound."]
Be aware that Centers for Medicare & Medicaid Services (CMS) designates 97610 to be a "sometimes therapy" code. Items on the sometimes therapy services list are paid under the outpatient prospective payment system (OPPS) if they are not furnished under a therapy plan of care. When furnished under a therapy plan of care, they are considered to be a physical or occupational therapy service and paid under the appropriate fee schedule.
Billing requirements for sometimes therapy codes differ depending on the professional who provides the service, and/or the circumstances under which the service is delivered.
Any sometimes therapy service provided by a qualified rehabilitation therapist is considered to be an "always therapy" service and must be delivered under a rehabilitation plan of care (POC) and billed with the appropriate therapy modifier. For example, if a qualified therapist provides the service, coders must report the service under a therapy revenue code with modifier GP Services delivered under an outpatient physical therapy plan of care for physical therapist.
Any sometimes therapy service that is provided as an integral part of a therapy POC must be billed with a therapy modifier regardless of the providing professional's credentials, including physician, non-physician practitioner (NPP), or psychologist.
Any sometimes therapy service that is not appropriately part of a therapy POC and is provided by a non-therapist (i.e. physician, NPP, psychologist, or therapist working incident-to the physician/NPP) should not be billed with the therapy modifier.
Latest posts by John Verhovshek
(see all)
No Responses to "Coding Low-Frequency Ultrasound Wound Care Management"