Navigate Adult Pneumonia Vaccine Billing Discrepancies
By Susan Theuns
January 1, 2015
Comments Off

on Navigate Adult Pneumonia Vaccine Billing Discrepancies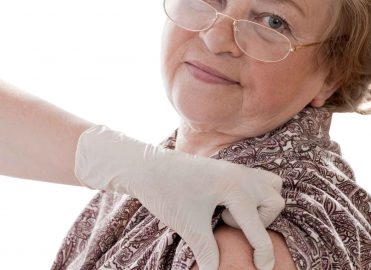 Conflict arises in 2015 when Medicare coverage doesn't align with CDC recommendations.
Coding pneumonia vaccine immunization for Medicare beneficiaries age 65 and over is tricky. Recent Centers for Disease Control and Prevention (CDC) recommendations and Medicare coverage guidelines do not align, causing discrepancy between what the healthcare provider may order and the allowed benefit.
Available Vaccines
There are two vaccines for pneumococcal immunization in adults: 23-valent pneumococcal polysaccharide vaccine (PPSV23) and 13-valent pneumococcal conjugate vaccine (PCV13). The brand names for these vaccines are Pneumovax® 23 (Merck & Co.) and Prevnar 13® (Wyeth Pharmaceuticals, a subsidiary of Pfizer). PPSV23 has been used in adults age 65 and older for years; PCV13 has been approved for adults age 50 and older only since December 30, 2011.
Recommended Immunization Schedule
According to the CDC and the Advisory Committee on Immunization Practices (ACIP), both PPSV23 and PCV13 should be given routinely as a series to all adults age 65 and older. If a patient 65 or older has not been previously immunized against pneumonia, or his or her immunization history for a pneumonia vaccine is unknown, ACIP recommends a dose of PCV13 first; followed by PPSV23 in six to 12 months. The two vaccines should not be given at the same visit: The shortest acceptable interval between the two vaccines is eight weeks.
Patients 65 or older previously immunized with PPSV23 (one or more doses) should receive one dose of PCV13, 12 months or more after the most recent PPSV23, according to recommendations. High-risk patients, for whom an additional dose of PPSV23 is indicated, should receive the dose in another six to 12 months after the PSV13, and again at the five-year mark or later.
Medicare Coverage
Medicare follows its own guidelines for immunization, as outlined in the Medicare Claims Processing Manual, chapter 18, "Preventive and Screening Services." The most recent revision to this chapter was released on November 22, 2013. Section 10.1.1, regarding pneumococcal vaccines, was last revised in 2008.
Medicare describes the pneumonia vaccine benefit as a "once in a lifetime" benefit. Copayments and deductibles are waived for this service. Claims are paid for beneficiaries who are at high risk for the disease and who have not received a pneumonia vaccine in the past five years. Per the Centers for Medicare & Medicaid Services (CMS), if vaccine status is unknown, the patient may be given the vaccine; but there is no guidance on how to convey the unknown status when billing.
CMS recommends initial pneumococcal vaccines for high-risk individuals, including:
All persons age 65 and older
Immunocompetent adults due to chronic illness
Immunocompromised beneficiaries
Examples of chronic diseases warranting vaccination include cardiovascular disease, diabetes, pulmonary disease (such as chronic obstructive pulmonary disease), alcoholism, cirrhosis of the liver, and patients with spinal cord leakage. Examples of immunocompromised individuals include asplenia, splenic dysfunction, lymphoma, Hodgkin's disease, chronic renal failure, HIV, sickle cell disease, those receiving immunosuppressive chemotherapy, malignancies, nephrotic syndrome, and organ transplant recipients.
Note that many Medicare beneficiaries are under 65, which is when many of these high-risk conditions normally develop. These beneficiaries are often deemed disabled and eligible for Medicare coverage due to their conditions.
Medicare states, "Routine revaccinations of people age 65 or older that are not at highest risk are not appropriate." Revaccination will be denied unless there is a diagnosis to substantiate a patient is at a higher risk than what is normally covered.
To establish whether a patient has received a pneumonia vaccine previously, the manual states to ask the patient, provided that he or she is deemed competent. Medicare further states there is no need to obtain previous records if they are not readily available. If a patient cannot remember whether he or she received the pneumonia vaccine in the past five years, the vaccine should be given to the patient.
This situation creates a tight spot for the provider. Pneumonia vaccines are expensive, so providers want to make sure they are reimbursed. Medicare knows when a beneficiary has received the once-in-a-lifetime benefit from claims history, but the provider may not have this information if the patient received the vaccine elsewhere.
How to Code: Now and Later
For Medicare, the vaccine and administration codes are shown in Table A.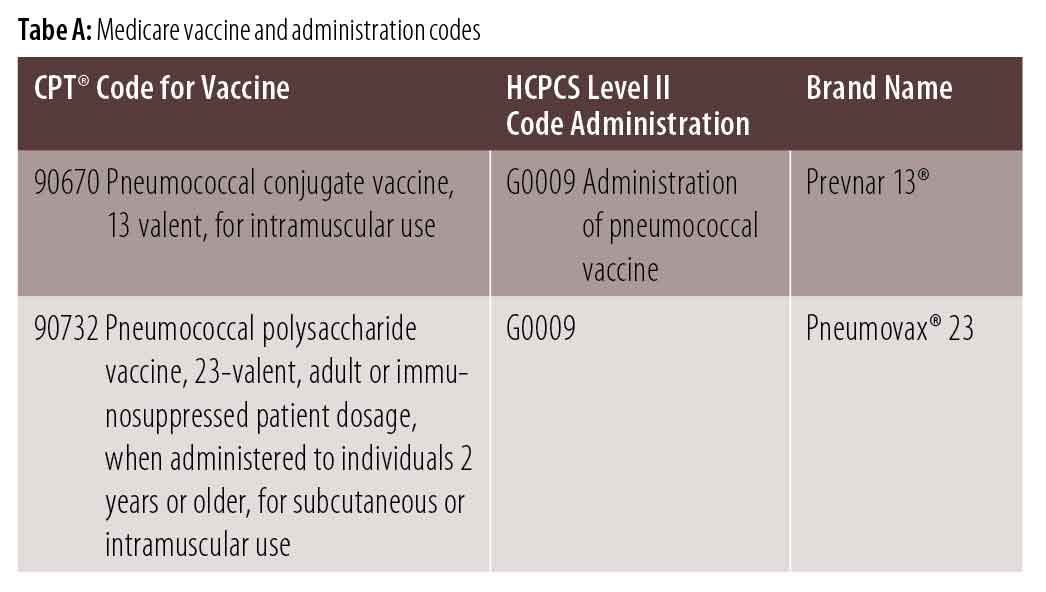 Prevnar 7 valent (PCV7) (CPT® 90669 Pneumococcal conjugate vaccine, 7 valent, for intramuscular use) is a pediatric vaccine that was replaced by PCV13 in 2011; however, Medicare still lists this as an option on their current literature and Medicare billing information sheets, and 90669 is a valid CPT® code in 2015.
Diagnosis codes for ICD-9-CM pneumonia vaccine prophylaxis are V03.82 Other specified vaccinations against streptococcus pneumoniae [pneumococcus] and V06.6 Need for prophylactic vaccination and inoculation against streptococcus pneumoniae [pneumococcus] and influenza, when given at the same visit as the influenza vaccine.
A secondary and/or tertiary diagnosis of a chronic disease must be listed to substantiate the higher-risk condition(s) that may warrant revaccination (as aforementioned): for example, hypertension (401.X Essential hypertension) or acquired absence of the spleen V45.79 Other acquired absence of organ.
As shown in Table B, the codes and coding conventions change when we convert to ICD-10.
In ICD-9, the reason for the immunization varies, and there is a separate V code for each type of vaccine; whereas, in ICD-10, the type of immunization is determined by the CPT® code(s) billed on the claim. In ICD-10, all immunization encounters will specify Z23 as the primary diagnosis.




Using the ABN and VIS
Providers and facilities offering pneumonia vaccines should ask Medicare patients to sign an Advance Beneficiary Notice (ABN) prior to receiving the vaccine. Use ABNs when Medicare may not cover a vaccine, depending on frequency or unknown prior vaccine status. The ABN allows a provider to recoup the cost of the vaccine if Medicare denies the claim by balance-billing the patient.
Patients should also receive the Vaccine Information Sheet (VIS). There is a different VIS for each of the two pneumonia vaccines.
Both the ABN and VIS forms must be presented to the patient prior to receiving the vaccine. Explain the forms so the patient and/or guardian can make an informed decision about the vaccine.
Additional Considerations
In addition to the codes for billing, there are roster options for pharmacies providing vaccine services to Medicare beneficiaries. Many of the vaccine recipients are walk-ins to retail pharmacies and clinics, and do not require a physician order. Establishments such as this need to make sure they protect against financial loss when supplying and administering these vaccines.
There are also several HCPCS Level II modifiers you should use when billing for the pneumonia vaccines because they convey important information about coverage and non-coverage. Appropriate use of these modifiers is beyond the scope of this article, but consider them for the billing process. They are:
GA – Waiver of liability statement issued as required by payer policy, individual case, when an ABN has been issued
GZ – Item or service expected to be denied as not reasonable and necessary, when the claim may be expected to be denied as reasonable or necessary
GK – Reasonable and necessary item/service associated with a GA or GZ modifier, when modifier GA or GZ is associated with a reasonably necessary service
Consider Patient Risk, Correct Coding, and Cost
As long as the ACIP and CMS recommendations conflict, it's imperative for healthcare providers to document and bill in accordance with their clinical judgment based on patient history, need, chronic conditions, and degree of risk. Until the oversight agencies that provide guidance can align, providers and patients must share the risk and cost of doing what is in the best interest of the patient.
Latest posts by Susan Theuns
(see all)