Streamline Your Revenue Cycle: Part 4
January 1, 2015
Comments Off

on Streamline Your Revenue Cycle: Part 4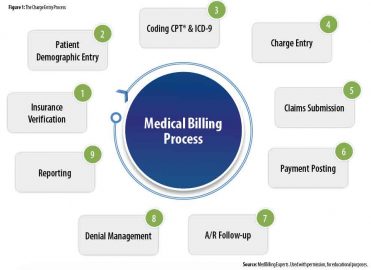 Part 4: Establish complete and accurate charge capture and remittance advice.
By Linda Martien, CPC, COC, CPMA
Charge capture is critical to your overall revenue cycle and it's important for you have an understanding of how it relates to the livelihood of your practice. Very simply, it's the acquiring of information for use in a medical claim document. Without a reliable charge capture process, poor coding and lost charges can cost providers a lot of money.
Charge Entry
Charge capture starts with the superbill or charge ticket, which can be on paper or generated from your electronic health record (EHR). Although the medical practice may have coded thoroughly and correctly, reimbursement hinges on the charge entry process being completed accurately and in a timely manner. Something as basic as verifying demographic information and insurance numbers could make the difference between payment and denial.
Tip: For more information on verifying patient information, see "Streamline Your Revenue Cycle," Part 2, pages 40-43, in the September 2014 issue of Healthcare Business Monthly.
With electronic billing, practice management systems may include a front-end edit capability to check for required data elements and coding edits. When errors are identified, immediately correct and share the information with those entering the data. This will help to prevent similar errors in the future.
The Charge Master Listing in the system should allow you to make changes to the listing as codes change, new technology or procedures are implemented in the practice, and providers develop their own particular practices.
Claims Transmission
Clearinghouses are often used to electronically transmit claims to third-party payers. Generated reports alert the practice if payers reject their claims. Rejections should be dealt with immediately. If errors are the result of data entry or there are trends in the errors, inform staff members and take steps to implement processes that will prevent similar errors from reoccurring.
Notify your clearinghouse when submitting claims for unusual services or claims for payment methods requiring certain information or modifiers, or when you are participating in clinical trials or studies. Clearinghouses sometimes unknowingly strip claims of crucial information for these types of services, which can lead to lengthy delays or outright denials.
Payment Posting
Set up electronic remittance with payers, when feasible. With such a remittance process, staff members only need to work the exception report. It's crucial that payer contracts and fee schedules are built into the system, so payment posting can be more accurate.
Medical practices and facilities should establish an automatic small balance write-off amount. This saves time cleaning up small balance accounts, and may actually save money by avoiding re-billing, postage, staff time, etc. Many hospitals use a guideline of $40-$100, while physician practices are lower, at $10-$20. Don't set your amount too high or too low. In today's economy, it's important that practice income isn't left on the table.
Match the total payments received to the total payments posted per batch in the system. Identify zero payments, partial pays, and low pays to determine if they're a result of incorrect payments or denials. Resolve such accounts using a denial management process.
Denial Management
Denial management can encompass any aspect of the revenue cycle that may result in no or low reimbursement. The reasons for the denials can include incomplete or inaccurate insurance information, lack of pre-certification or prior authorization, not capturing all of the tests or procedures, diagnoses and procedure coding errors or omissions, past filing limits claims submission, or a denial due to not meeting medical necessity.
Best practice is to trend and track the denials when posting the payments. Track denials by payer, type of denial, and provider. Staff members must be assigned to work denials on a regular basis — daily for a large medical practice, and at least weekly for smaller practices. When trends in the denials are identified, providers and staff members should be informed and processes put in place to avoid similar denials in the future. By working the denials in a timely manner, processes likewise can be corrected on a timely basis.
Third-party payers have specific instructions for appealing denials. Follow the instructions; do not haphazardly retransmit claims because this can result in duplicate claims. Medical practice staff members who are responsible for denial management should develop a first-name relationship with provider representatives at high-volume payers. Reimbursement generated from successful appeals can be tracked to demonstrate the value of monitoring and working denials.
To prevent denials, specific staff members should be assigned to monitor correspondence, instructions, bulletins, etc., from high-volume payers. Share information with the appropriate providers and staff members so claims can be completed and transmitted according to payers' specifications.
Remittance Advices
The Centers for Medicare & Medicaid Services (CMS) provides Health Care Payment and Remittance Advice guidance on its website. You can apply this to other payers, as well. CMS describes the remittance advice as the document sent to the provider (facility, physician, or non-physician provider) explaining how the claim was processed and pertinent payment information, such as whether the patient has met his or her deductible and if co-payment or co-insurance is due from the patient. The term "remittance advice" often is confused with "explanation of benefits" (EOB). Remittance advice and EOB are not the same thing. Remittance advice is sent to the provider and EOB is sent to the patient.
According to CMS, after a claim is sent to Medicare (or another payer processing a claim), either an electronic remittance advice (ERA) or a standard paper remit (SPR) is sent with final claim adjudication and payment information for multiple claims. ERA or SPR information is itemized for each claim and/or line, showing the provider associated adjudication decisions (each adjustment, and its value) with the claims/lines he or she submitted. Adjustments are at line, claim, or provider level.
Line or Claim ERAs
ERA adjustment reasons are reported with standard codes. For a line or claim level adjustment, three sets of codes are used:
Claim Adjustment Goup Codes (Group codes)
Claim Adjustment Reason Codes (CARC)
Remittance Advice Remark Codes (RARC)
Group codes CO (contractual obligation) and PR (patient responsibility) assign financial responsibility for the unpaid portion of the claim balance. Medicare may be billed only when Group Code PR accompanies an adjustment.
CARCs summarize the reason for financial adjustment, and may be supplemented with RARCs, which provide an additional, more specific explanation. Medicare Summary Notices indicate the patient's financial responsibility.
Provider Level Adjustments
Provider level adjustments, reported with Provider Level Balance codes, typically are not related to a specific claim in the remittance advice. Examples of provider level adjustment include, according to CMS' Health Care Payment and Remittance Advice guidance:
a) An increase in payment for interest due as result of the late payment of a clean claim by Medicare;
b) A deduction from payment as result of a prior overpayment; and
c) An increase in payment for any provider incentive plan.
SPR also uses these standard codes for reporting and provides the code text. A check or electronic funds transfer is issued when payment is due for the claims itemized in that ERA or SPR.
ERA Advantages
ERA has advantages over SPR, according to CMS. The payment for each line and/or claim and each line or claim adjustment can be posted automatically to accounting/billing applications from an ERA, eliminating SPR manual posting time and cost for staff. Typically, ERAs have more detailed information than the SPR.
All Medicare contractor ERAs are formatted as the Accredited Standards Committee (ASC) X12N 835 version 5010, the national HIPAA ERA standard. For the 4010 to 5010 conversion, see "Remittance 835 4010A1 to 5010 Side by Side" on the CMS website.
Medicare provides free software to read the ERA and print an SPR equivalent. PC Print and Medicare Easy Print versions are available from contractors, as well. These software products let providers view and print remittance advice and eliminate the time needed to request or to deliver SPRs.
Read the Medicare Claims Processing Manual, Pub. 100-04, chapters 22 and 24, for further remittance advice information.
More on CARCs and RARCs
RARCs provide additional explanation and are used with an adjustment already described by a CARC, or they convey information about remittance processing. Each RARC identifies a specific message: supplemental or informational. The majority of the RARCs are supplemental and generally are referred to as "RARCs without further distinction."
Informational RARCs are preceded with "alert," and often are referred to as "Alerts." Alerts convey information about remittance processing and never relate to a specific adjustment or CARC (see Figure 3 for an example from Noridian).
Examine each remittance advice carefully (whether electronic or paper). Investigate non-payment items to determine the reason for non-payment and the next actions necessary to procure payment. Assign a staff member this task and incorporate it into a performance measurement tool. Your work process might look like that in Table A.
Table A: Example work process
Best Practice Application
Results
Capture remittance advice details electronically, when possible
Eliminates costs to pay internal staff or bank to key and generate information files
Automatically enter data in practice management system to create payment advice note document or other type of clearing document
Provides greater accuracy and efficiency from integrating data
Provides complete visibility and audit trail of transaction
Automate the matching of the payment advice to the customers' open items
Faster, more accurate processing:
Eliminates time-consuming and error-prone manual reconciliation
Automate the cash application post process (matching payment to invoices):
Matches
No matches
Reduces manual intervention to small percentage of exception handling
Maximizes revenue by reducing the amount of unapplied cash at period end
Enhances customer service through the timely clearing of payments
Generate performance reports
Enables increased efficiency, and higher productivity levels and system functionality
Enables quick and accurate troubleshooting
Identifies master data (customer record) issues
Remember:
Assure charge master is complete and accurate.
Complete charge capture timely and accurately.
Work with your practice management software and clearinghouse to assure essential information and changes are communicated.
Assign staff to review remittance advices and work small balances, rejected claims, and claims not paid.
Work denials in a timely manner to collect all monies due.
---

Linda Martien, CPC, COC, CPMA, is associate director of reimbursement at Nuo Therapeutics, formerly Cytomedix, and brings her 30-plus years of experience in coding, billing, auditing, management, and consulting. She is a member of the AAPC Chapter Association board of directors for 2014-2017, and is a past member and officer of the National Advisory Board. She also has held various officer positions for the Columbia and Jefferson City, Missouri, local chapters.
Latest posts by Renee Dustman
(see all)