Conference Calls for Free? How Can that Be?
January 1, 2015
Comments Off

on Conference Calls for Free? How Can that Be?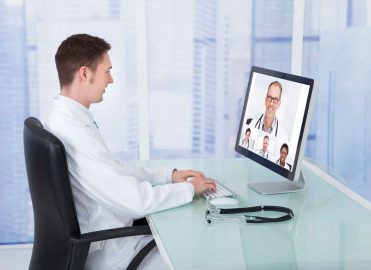 Online meeting services don't have to be costly to be good.
By Jose "Joe" Ascensio
Physician offices are hip to the various forms of telecommunication that are so prevalent in today's business world. The average group practice might have several employees who work remotely, even more physicians who meet with other healthcare professionals from remote locations, and several patients who require telehealth services. These are great services for a practice to offer its staff and patients. The only downside is that the technology to accomplish it is very costly — that is, if you buy all of the necessary equipment and maintain it in-house. A more affordable solution is to use one of the many Web conferencing services — some of which are free.
Make the Connection
There are a number of Web conferencing services available (see Table A for a small sample). FreeConferenceCall.com, for example, makes it simple (and free) to set up your own private account, with however many conference phone numbers you need. Individuals calling into the conference line do not need an account, and you can use your assigned conference call number over and over again. When your conference call is complete, you receive an email with statistical information about the call, including the number of callers and the duration of the call. Calls can be scheduled with email notification or they can be on demand.
Table A: A comparison of free Web conferencing services
| | |
| --- | --- |
| Name/Website | Main Services Offered |
| FreeConferenceCall.com | Conference calls, online meetings with up to 25 attendees, record and share calls, available on demand |
| Anymeeting.com | Online meetings with up to 200 people, upload and share PowerPoint and PDF documents, video conferencing, file sharing |
| UberConference | Unlimited conferences, up to 10 callers, call recording |
| totallyfreeconferencecalls.com | Up to 250 participants per call, record conferences, call detail reports, 24/7 replay, moderator dashboard |
Hold a Meeting, Complete with a Presentation
You can also use FreeConferenceCall.com to conduct online meetings. During an online meeting, you can share your computer screen (all of your screen or just specific windows) with remote attendees. Everyone at the meeting can use the chat feature to type a question, and everyone can see a list of attendees (if you set the meeting preferences to allow this). The entire session can be recorded; and a link can be sent to attendees, allowing them to review the recording up to six months later. People attending via telephone can listen in and ask questions, even during a screen-sharing meeting.
Great news: With FreeConferenceCall.com, there are no advertisements, no hidden fees, no sales pitches, and no unwanted surprises.
Get What You Pay For
Of course, there are limits to what you can do when using a free Web conferencing service. For example, FreeConferenceCall.com allows a maximum of 1,000 callers on one telephone conference call, and a limit of 25 online attendees on a screen-sharing conference. Meetings are limited to six hours.
For any online service, be sure to read the company's terms before registering. FreeConferenceCall.com also has a FAQ page, which answers questions such as, "Is this a free trial?" (no), and "Will you sell my email address?" (no).
Talk Is Cheap
The next time you need to communicate with someone who is not in the same room with you — before going out and spending a lot of money on a conferencing system — consider using a Web conferencing service. Regardless of which online service you choose, it's an efficient and cost-effective way to bring your office into the 21st century.
---

Jose "Joe" Ascensio lives in Kansas City, Missouri, where he is a technology coach, consultant, author, and speaker on topics related to self-improvement and technology. He has a master's degree in education with an emphasis in adult education. Ascensio holds multiple bachelor's degrees in computer information systems. His passions in life are family, technology, and training.
Latest posts by Guest Contributor
(see all)