Smart Strategies for Handling Tough Situations
February 1, 2015
Comments Off

on Smart Strategies for Handling Tough Situations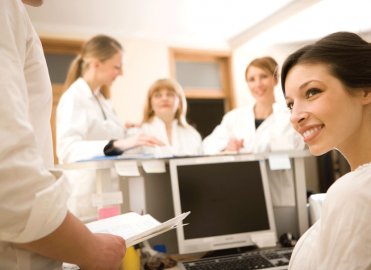 Composure and proper reaction is key to positive outcome.
By Erin Andersen, CPC, CHC
Regardless of your job title or healthcare setting you work in, handling difficult people in delicate situations is often an unwritten responsibility of your job. Challenges of this nature require a high level of maturity and professionalism. Here are strategies you can use to navigate through a few tough situations with tact and grace.
Difficult Situation No. 1
You work in a cubicle farm, where there is zero privacy. Your co-worker is angry that you are often on the phone or talking with another co-worker because it's disruptive to her.
Your initial reaction to her will have the greatest impact on the outcome of this interaction. It's most important to resolve the issue rather than to prove your actions were appropriate. Maybe they were and maybe they weren't, but that isn't as important as deflating the situation. What should you do?
Pause. Take a moment to breathe. Is this a good time to talk? Are you feeling like you could listen to this person and respond with understanding? If not, it's okay to delay the conversation. Let her know you're sorry your work habits are disruptive to her, that you want to talk with her about it, and ask if she'd like to go for coffee later to discuss it.
Compose yourself. It's upsetting to find out someone doesn't like how you behave at work. It can make you feel ashamed, angry, embarrassed, or indignant. It's OK to feel this way, but it's imperative your words and your tone are polite and kind when you respond.
Listen. When you're mad at someone, the first thing you want is to be heard. You want the person to listen to why you're upset. Let your co-worker tell you her side of the story, without interrupting or defending your actions.
Keep calm. Her story and her tone might be hurtful and accusatory. It's easy to respond in the same manner, but remember your goal is to resolve this issue peacefully.
Apologize. Regardless of whether your co-worker is right, and regardless of your side of the story, a sincere apology is crucial in settling this issue amicably.
Don't defend yourself. Resist the temptation to make her feel wrong about how she sees the situation. She doesn't want to be wrong because she feels you have wronged her. If you defend yourself and share your side of the story, she will likely feel the need to reiterate her side and the conversation could become an argument.
Create a solution or offer a compromise. Ask her what you can do differently to be less distracting to her. Maybe you can speak more quietly on the phone or move lengthy impromptu conversations with other co-workers into another room or hallway.
Difficult Situation No. 2
You're the treasurer in your local AAPC chapter. One of the other officers, Jane Doe, often misses officer meetings and you feel she is shirking her duties as the chapter secretary. What should you do?
Ask yourself: Is her absence directly affecting your ability to perform your duties as treasurer?
Maybe the secretary is getting the attendance sheets to you, but you feel that it isn't fair she isn't attending officer meetings when the rest of you do. If that's the case, try to understand that her continued absence may have an explanation. Perhaps she has been sick, is going through a difficult time, or some other good explanation. If you're concerned about her, contact her to check to see if she is OK, and offer support if needed.
For example: "Hi, Jane. I noticed you haven't been to the last couple of meetings. I've missed you! Is everything OK? Let me know if you need anything."
Maybe she really is shirking her duties and not taking her officer commitment seriously, but if it isn't directly affecting your ability to carry out your officer duties, you need to let it go — even if you think the situation is unfair. It's the president's responsibility to oversee the secretary. You need to trust and have faith in the president's ability to manage the situation properly and discretely.
Avoid engaging in discussions with other officers or chapter members about the secretary's behavior. When you hear people have been talking behind your back, you feel betrayed, angry, and hurt. Don't make others feel that way. Talking about other people in a negative manner or gossiping never reflects well on anyone. If someone brings up the secretary's absence, simply nod and wonder aloud if she is OK.
If, however, she isn't sending you the meeting attendance sheets, which is preventing you from uploading them to AAPC for reimbursement, this directly affects your duties and chapter finances.  In that case, you should contact the secretary and ask if she has the meeting attendance sheets. Let her know you need them to receive quarterly reimbursement for the chapter. If she supplies them before the deadline, no further action is needed.
If the deadline looms close and you haven't heard from her, then it's appropriate to notify the chapter president. The focus should be on how many attendance sheets are missing and her lack of response. Keep your report factual, not accusatory.
For example: "Hi [president]. I haven't received the attendance sheets from [secretary] yet. The deadline for submission is next week. I sent her an email last week, but I haven't heard back yet. Can you help? Thank you!"
Difficult Situation No. 3
It's month-end and you're holding charges from one of your physicians because you don't believe the documentation supports the code(s) being billed. Your supervisor has told you to bill them anyway. She isn't sure if the documentation is correct, but she feels it can be corrected later, if needed. What should you do?
Determine whether the documentation is truly and egregiously insufficient, or if the documentation is simply not best-practice. There is a big difference. If the documentation meets the minimum acceptable documentation requirements for the code(s) in question, it might be fine to bill the services now, and educate the physician later to improve future documentation for such services.
If the documentation is blatantly insufficient to support the code(s), provide your supervisor with guidelines from credible sources to prove the service should not be billed as is. You also might show her one of the chart notes, so she can see the problem for herself.
If she still does not agree with your determination, ask her to help you understand her point of view. Be open to the possibility that she may provide additional guidelines or information in support of her stance. She may have a valid reason for believing the services are fine as is.
If you still don't agree with her determination, and if she continues to insist that you bill the services, you'll have to make a decision. It's important to weigh the benefits and consequences of honoring her request. Is this a battle worth picking? It may not be. Regardless of which option you choose, rather than endlessly debating it in your head, consider enlisting a third party to look at the guidelines and documentation in hopes of shedding new light on the situation.
Keep Calm and Resolve
There are countless examples of difficult situations we're all faced with at work, but the way in which we should respond to them is the same. Keeping a calm demeanor, and not jumping to conclusions, is critical to successfully and respectfully settling disagreements. Because you enter into a difficult situation with only your perspective, remember to seek the perspectives of others involved. In return, you'll gain a better understanding of the circumstances that led to their actions. Resist the urge to defend and be right. Make it your goal to resolve any situation with kindness and integrity.
---

Erin Andersen, CPC, CHC, is an assistant integrity officer at Oregon Health & Science University. She has worked in coding and compliance since 2003, performing chart audits and educating providers, coders, and staff on coding and billing. Andersen seizes opportunity to expand her coding knowledge, and is an active member of the Rose City chapter in Portland, Oregon. She is an AAPC Chapter Association board of directors Region 8 representative for 2012-2015, and is the treasurer for the executive board.
Latest posts by Renee Dustman
(see all)