Removal of Foreign Body Included in Wound Explorations
In Coding
February 24, 2015
Comments Off

on Removal of Foreign Body Included in Wound Explorations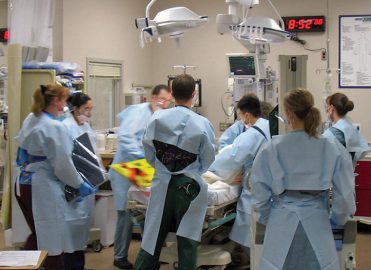 Question: For exploration of a chest wound with foreign body removal, should I report anything in addition to 20101 Exploration of penetrating wound (separate procedure); chest.
Answer: Assuming the procedure was exploration of a wound caused by penetrating trauma (e.g., gunshot, stab wounds, etc.), you would report only they exploration code, 20101. CPT Assistant (June 1996) explains, codes 20100-20103 "relate to exploration, debridement, enlargement of wound and extension of dissection, from penetrating gunshot or stab wound(s) involving subcutaneous tissue, muscle fascia, muscle, and ligation or coagulation of 'minor' muscular or subcutaneous blood vessel(s). The exception to reporting these codes is the circumstances involving major structure(s) or major blood vessel(s). In these cases, the specific code(s) describing those procedures supersede the wound exploration trauma code(s)."
The instructions preceding 20100-20103 in the CPT codebook state that the procedures include removal of foreign body(s). CPT Assistant (September 2006) confirms, "it would not be appropriate to report an additional code for foreign body removal," with any of the wound exploration codes, 20100-20103.
Latest posts by John Verhovshek
(see all)