Call on Combination Codes for Diabetes
March 1, 2015
Comments Off

on Call on Combination Codes for Diabetes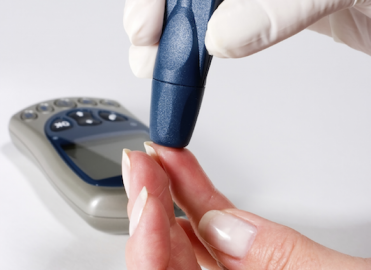 Understand concepts that may or may not factor into ICD-10-CM code choices.
by Peggy Stilley, CPC, CPB, CPMA, COBGC
A major change when transitioning from ICD-9-CM to ICD-10-CM is the use of combination codes. In some cases, combination codes allow fewer codes to fully describe the patient's conditions. Other combination codes require a secondary code to further describe the complication or the severity of the condition.
For example, diabetes mellitus is described using combination codes that include:
Type of diabetes
Body system affected
Complication affecting the body system
Diabetes includes five categories of ICD-10-CM codes:
E08 Diabetes mellitus due to underlying condition
E09 Drug or chemical induced diabetes mellitus
E10 Type I diabetes mellitus
E11 Type II diabetes mellitus
E13 Other specified diabetes mellitus (secondary, due to genetic defects, postprocedural)
Each type of diabetes provides a code for the complication or body system affected by the diabetes. ICD-10-CM coding guidelines in chapter 4 – Endocrine, Nutritional, and Metabolic Diseases – E00-E89 state that if the type of diabetes mellitus is not provided in documentation, the default is E11.-, type II diabetes.
Rethink Factoring Components
In ICD-10-CM coding, diabetes controlled or uncontrolled is not a concept; although, clinical documentation should provide the status of the patient's condition and the response to treatment.
The concept of insulin dependent and non-insulin dependent is not a component in ICD-10-CM coding, either. You are instructed to report the long-term, current use of insulin for diabetic management in all categories of diabetes, with the exception of type I (E10).
You may report more than one diabetes code for patients with multiple complications or when multiple body systems are affected as a result of diabetes. This shows a more accurate view of the patient being treated, and could assist in supporting medical necessity, while showing complexity of medical decision-making.
Case No. 1
Patient presents with type I diabetes with no complications. Her sugars are well controlled with Lantus®, exercise, and diet. She will continue with same medication dosage, monitor glucose levels, and return in three months for recheck.
ICD-10-CM coding:
E10.9 Type I diabetes mellitus without complications
In this case, the patient has no complications, with normal sugars reported. The use of insulin is not reported with type I diabetes mellitus.
Case No. 2 
A 56-year-old, obese male with a long history of adult onset diabetes mellitus is seen for a follow-up evaluation. He has no new symptoms. He has been dependent on insulin for 10 years, and has stage 2 diabetic chronic kidney disease (CKD). He does not keep his calories or diet in range.
Vitals: Weight: 245. Height: 5'10". Blood glucose: 125. Exam otherwise unremarkable.
Calculated BMI: 35.1
Assessment: Type 2 diabetes mellitus with CKD stage 2, obesity
ICD-10-CM coding:
E11.22 Type II diabetes mellitus with diabetic chronic kidney disease
N18.2 Chronic kidney disease, stage 2 (mild)
E66.09 Other obesity due to excess calories
Z68.35 Body mass index (BMI) 35.0-35.9, adult
Z79.4 Long term (current) use of insulin
In this case, documentation shows a type 2 diabetic with associated CKD, stage 2. A combination code for the type of diabetes and the complication of CKD requires two codes. The BMI is reported secondary to obesity due to excess calories. The final code identifies current use of insulin as the diabetes control method.
---

Peggy Stilley, CPC, CPB, CPMA, COBGC, is AAPC director of ICD-10 development and training.
Latest posts by Renee Dustman
(see all)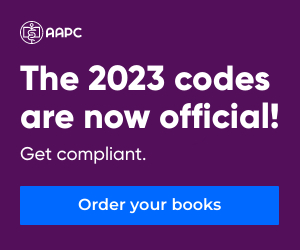 No Responses to "Call on Combination Codes for Diabetes"