Chronic Care Management Coverage Begins
In Coding
March 1, 2015
Comments Off

on Chronic Care Management Coverage Begins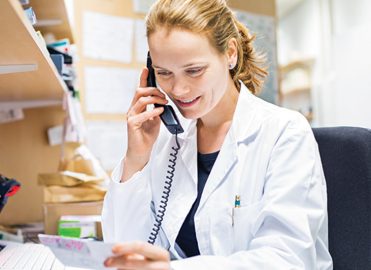 You're probably performing CCM services already, and now Medicare will reimburse you.
By Melissa Tescher, CPC, CPMA, CEMC
Effective January 1, 2015, Medicare pays for non-face-to-face services performed for chronic care management (CCM) services. This is great news because many providers already offer CCM services, and now they can be paid accordingly.
Medicare will pay $40.39, once per month, per patient for CPT® 99490 Chronic care management services, at least 20 minutes of clinical staff time directed by a physician or other qualified health care professional, per calendar month, with the following required elements: multiple (two or more) chronic conditions expected to last at least 12 months, or until the death of the patient; chronic conditions place the patient at significant risk of death, acute exacerbation/decompensation, or functional decline; comprehensive care plan established, implemented, revised, or monitored.
How to Capture This Revenue
CPT® 99490 is time-based: At least 20 minutes of documented clinical staff time is required to bill the code. When performing these management tasks, best practice is to document start and stop times, and include details of the coordination of care. Have a system in place to track patients and the time spent with them because this is a once-per-month code (see Care Management Log Sheet on page 15). Only one practitioner may bill for the service each month. To ensure your provider is the one who gets paid, bill 99490 on the same day that the minimum 20-minute time requirement is met.
The medical conditions of the patients must support the necessity of non-face-to-face work. As defined in CPT® 99490's description, this requires:
The patient has two or more chronic conditions, which are expected to last at least 12 months or until the patient dies.
The chronic conditions place the patient at significant risk of death, acute exacerbation/decompensation, or functional decline.
A comprehensive care plan is established, implemented, revised, or monitored.
Documentation is crucial because coding will be closely evaluated by payers to assess whether the service is targeted to the right population and the payment is appropriate for the furnished service.
Scope of Service and Documentation Requirements
CCM services scope of service billing requirements include:
Structured recording of demographics, problems, medications, and medication allergies should be documented within a clinical summary record. The record must support the care plan, care coordination, and ongoing clinical care.
Patients must have access to care management services 24 hours a day, 7 days a week. They should easily be able to contact healthcare providers in the practice to address urgent chronic care needs, regardless of the day or time.
Patients should have continuity of care with a designated practitioner or member of the care team. Patients should be able to get successive routine appointments with someone familiar with them and their care plan.
CCM should include a systematic assessment of the patient's medical, functional, and psychosocial needs, as well as system-based approaches to ensure timely receipt of all recommended preventive care services. Medication reconciliation with reviewing adherence and potential interactions and overseeing patients' self-management of medications is necessary, as well.
A patient-centered plan based on physical, mental, cognitive, psychosocial, functional, and environmental (re)assessment should include an inventory of resources and supports, and a comprehensive care plan for all health issues. As appropriate, this plan should be accessible to other providers.
Provide patients with a written or electronic copy of their care plan, and document its provision in the medical record.
Manage care transitions between and among healthcare providers and settings, as necessary. This includes referrals to other clinicians, follow up after emergency department visits, and discharges from hospitals, skilled nursing facilities, or other healthcare facilities. Coordination with home- and community-based clinical service providers requires documenting in the patient's medical record communication to and from home and community providers regarding the patient's psychosocial needs and functional deficits.
Patients and caregivers should have enhanced opportunities to communicate with the practitioner through telephone access and secure messaging, Internet, or other consultation methods.
If all the above seems overwhelming, don't worry: This service  likely already is being performed in your office. Documentation, as always, is the key. And to make the requirements less difficult, the Centers for Medicare & Medicaid Services has made an exception to the incident-to policy.
CCM services can be furnished incident-to if the services are provided by clinical staff (regardless of whether they are direct employees) under general — not direct — supervision of a practitioner, at any time. This is due to the non-face-to-face nature of the management services. Often, they occur at times before or after a clinic is open. It's believed the requirement of a care plan ensures a close relationship between the practitioner and the clinical staff providing aspects of the CCM. This relationship is sufficient to render a requirement of a direct employment relationship or direct supervision unnecessary.
Make Patients Aware and Get It in Writing
Practices should inform patients of the availability of CCM services and obtain a signed agreement to provide the services before rendering them. This can be satisfied with a fact sheet that:
authorizes electronic communication of the patient's medical information with other treating providers;
informs the patient of his or her right to stop CCM services at any time (effective at the end of the month);
explains the effect of agreement revocation on CCM services; and
makes the patient aware that only one practitioner can furnish and be paid for these services in any given month.
Keep the signed agreement in the patient's medical record; and document in the medical record that all of the CCM services were explained and offered. Also note the patient's decision to accept or decline these services.
Co-insurance will apply, and providers (or representatives) should explain the cost-sharing obligation to their patients.
---
Authored by:
Melissa Tescher, CPC, CPMA, CEMC, is compliance and coding specialist at Willamette Valley Professional Services in Salem, Oregon. She has been in the coding field over 10 years, with the last six spent auditing physician documentation and providing education to practitioners, support staff, and coding staff. Tescher enjoys speaking and mentoring at her local community college and at Salem, Oregon, local chapter meetings.
Latest posts by Guest Contributor
(see all)