Good News for Anesthesiologists in 2015
March 1, 2015
Comments Off

on Good News for Anesthesiologists in 2015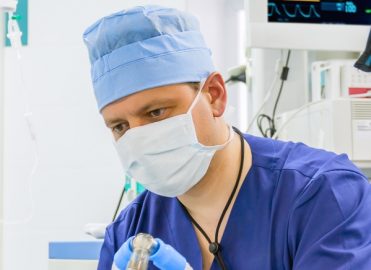 Anesthesia for colorectal cancer screening is a separately billable service, if you follow guidelines.
By Joette Derricks, MPA, CMPE, CPC, CHC, CSSGB
CPT® 2015 includes several coding and billing changes in the Anesthesia section, of which anesthesiologists should be aware. One significant change — which is great news for your Medicare patients — is the waiver of their coinsurance and deductiblefor separately billable anesthesia services rendered during screening colonoscopies.
Anesthesia and Colorectal Cancer Screening
Effective January 1, 2015, anesthesia professionals should report separately payable anesthesia services performed with colorectal cancer screenings using CPT® 00810 Anesthesia for lower intestinal endoscopic procedures, endoscope introduced distal to duodenum, with modifier 33 Preventive services appended (i.e., 00810-33). When a colorectal cancer screening turns diagnostic, however, the anesthesia professional should append modifier PT Colorectal cancer screening test; converted to diagnostic test or other procedure to the anesthesia code, rather than modifier 33. Proper use of these modifiers is necessary to ensure the Medicare beneficiary's cost sharing is waived.
Anesthesiologists must adequately document whether the service was a colorectal cancer screening or a colorectal cancer screening that was converted to a diagnostic or therapeutic procedure. This documentation can be verified by confirming the CPT® or HCPCS Level II colonoscopy code the gastroenterologist will report.
If the appropriate modifier is not appended to the anesthesia code, Medicare will reimburse the claim at 80 percent of the fee. To recoup the additional 20 percent, the anesthesia provider will have to bill the secondary insurer or patient (as applicable) for the remaining coinsurance. Table 1 shows the coding rules applicable to the Medicare regulation.
HCPCS Level II Code
HCPCS Level II Code Descriptor 
Anesthesia ASA Coding
Anesthesia Modifiers
Coinsurance Waived
Deductible Waived
G0105
Colorectal cancer screening; colonoscopy on individual at high risk
00810
33
Yes
Yes
G0121
Colorectal cancer screening; colonoscopy for individuals not meeting criteria for high risk
00810
33
Yes
Yes
G0105 or G0121 converted to a CPT® code, as listed below
When a screening colonoscopy is converted to a diagnostic or therapeutic procedure, a CPT® code is reported with modifier PT appended.
00810
PT**
No
Yes
45378 – 45389
Colonoscopy, flexible; …
00810
None
No
No
**
When a screening colonoscopy is converted to a diagnostic or therapeutic colon procedure (i.e., removal of polyps, biopsy, etc.), the anesthesia service is reported with modifier PT.
Example: A new Medicare patient is scheduled for a routine screening colonoscopy after the family physician learned the patient's mother had passed away from colon cancer. While the patient is under monitored anesthesia provided by an anesthesiologist, the gastroenterologist removes several polyps using snare technique.
The anesthesiologist would report 00810-PT. Although the procedure started as a routine screening colonoscopy, when the polyps were detected and removed, it was converted to a therapeutic procedure. The gastroenterologist would report 45385 Colonoscopy, flexible, proximal to splenic flexure; with removal of tumor(s), polyp(s), or other lesion(s) by snare technique. Anesthesia code 00810 for lower intestinal endoscopic procedures remains the same. The addition of modifier PT results in the waiver of the deductible, if applicable, and the patient is responsible for the coinsurance.
In the same example, if the gastroenterologist found no polyps, the anesthesiologist would report 00810-33. The use of modifier 33 waives the patient's responsibility for both the coinsurance and the deductible amount.
Per the 2015 Physician Fee Schedule final rule, the new definition of colorectal cancer screening tests to include anesthesia as a separately payable service with screening colonoscopies is a national policy, which takes precedence over any local coverage policy. When a screening colonoscopy is converted to a diagnostic or therapeutic colon procedure, however, all Medicare medical necessity guidelines apply.
Deleted Codes in 2015 
The only changes to the Anesthesia section (00100-01999) in the 2015 CPT® codebook are the deletion of three codes, all due to low utilization:
00452 Anesthesia for procedures on clavicle and scapula; radical surgery
00622 Anesthesia for procedures on thoracic spine and cord; thoracolumbar sympathectomy
00634 Anesthesia for procedures in lumbar region; chemonucleolysis
Many surgical coding changes in CPT® 2015 involve changes to the CMS Medicare Physician Fee Schedule (MPFS) for 2015 (due to bundling of services or revisions to the work relative value units (RVUs)). As a result, anesthesiologists will see new and revised crosswalks in 2015.
Coding Transesophageal Echocardiography in 2015 
There is a new CPT® code for anesthesiologists who are qualified to perform interventional transesophageal echocardiography (TEE):
93355 Echocardiography, transesophageal (TEE) for guidance of a transcatheter intracardiac or great vessel(s) structural intervention(s) (eg, TAVR, transcatheter pulmonary valve replacement, mitral value repair, paravalvular regurgitation repair, left atrial appendage occlusion/closure, ventricular septal defect closure) (peri-and intraprocedural), real-time image acquisition and documentation, guidance with quantitative measurements, probe manipulation, interpretation and report, including diagnostic transesophageal echocardiography and, when performed, administration of ultrasound contrast, Doppler, color flow, and 3D
You may report 93355 once, per intervention, when performed by a qualified healthcare professional who is not performing the interventional procedure. Code 93355 includes:
Passing the endoscopic ultrasound transducer through the mouth into the esophagus, when performed by the individual performing the TEE;
Diagnostic TEE and ongoing manipulation of the transducer to guide sizing and/or placement of implants, determining adequacy of the intervention, and assessing potential complications; and
Real-time image acquisition, measuring, and interpreting image(s), documenting completion of the intervention, and writing the final report.
You may not report 93355 with any other TEE, Doppler, color flow, or 3-D image reconstruction codes. Code 93355 has been assigned 6.38 RVUs, which calculates to a national MPFS amount of $228.41.
---

Joette Derricks, MPA, CMPE, CPC, CHC, CSSGB, has 35 years of healthcare finance, operations, and compliance experience. A national speaker and author, Derricks' unique style is to bridge the regulatory requirements with the practical realities of day-to-day operations. She has provided numerous expert reports and testimony regarding Medicare, Medicaid, and third-party payer regulations with an emphasis on coding, billing, and reimbursement rules. Derricks is vice-president, regulatory affairs at Anesthesia Business Consultants. She is a member of the Ann Arbor, Michigan, local chapter.
Latest posts by Renee Dustman
(see all)