Streamline Your Revenue Cycle: Part 5
March 1, 2015
Comments Off

on Streamline Your Revenue Cycle: Part 5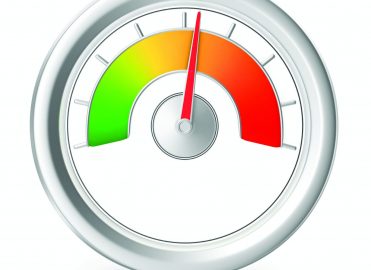 Part 5: Put it all together: reports and analytics.
By Linda Martien, CPC, COC, CPMA
The complexities of medical insurance, including the way services are billed and collected, work against quick payment. But, as we'll explore, you can affect the extent to which you are paid in full from patients and providers, thereby reducing accounts receivable (A/R).
Measure Performance
Reporting and analytics measure your organization's revenue cycle performance based on four essential components: financial reporting, benchmarking, budgeting, and forecasting. Reporting and analytics measure the financial health of your organization, as well as key performance metrics against industry performance. These include:
Aged A/R
Aging analysis by payer
Denials
Denials overturned by appeal
Net income/Loss per physician
Point-of-service collection rate
Facilitate the A/R Process
You should work third-party payer A/R within 15-30 days of transmitting a claim, depending on the payment requirements for Medicare, Medicaid, or third-party payer fee-for-service contracts. Identify a staff member to be a liaison with high-volume payers to facilitate the A/R process.
Use all available collection management reports in the practice management system. For example, the A/R aging reports by payers can identify possible payment issues, such as third-party payers holding payment beyond payment limits. Establish priority collection criteria for high dollar accounts and older accounts to better manage A/R.
Decide when an account will change from insurance to patient-pay in the absence of a payment from the third-party payer. Common practice is to automatically convert to patient-pay at 30 or 45 days after the claim was initially transmitted to the third-party payer. Sending a statement to the patient can result in the patient working with the insurance company to expedite a resolution to any coverage issues. If the A/R system is automated, confirm that statements are being sent.
Beware of using manual holds with a collection module when working patient-pay accounts. It's better to explain to the patient that the system will produce statements automatically, rather than to manually hold a statement and potentially forget about the account.
During the patient-pay collection process, follow the medical practice's financial policy. Staff members can use scripts to be sure the message is consistent in collection calls to patients. Document all collection efforts (and the outcomes) in the financial notes section of the practice management system. Good documentation in the financial notes allows staff members to know the status of the account and to respond to questions from the patient regarding the account.
Establish a time frame during which the account will be worked internally before it is written off or turned over to an external collection agency. Develop a policy to provide guidance to the practice regarding which accounts will be turned over and follow it consistently. The internal collection period is generally 90 or 120 days in best practice examples.
Consider using two external collection agencies and implement a method for tracking their success and comparing results. If they collect 40 percent or more of the accounts, your internal collection efforts may be lacking.
Use benchmarks to evaluate the effectiveness of internal and external collections. The most common benchmarks are days in A/R and write-off percentage. A best practice benchmark is 39 or fewer days in A/R.
Analyze Aging by Payer
Even a good aging report from a practice or facility with an excellent billing record can be intimidating. Don't get bogged down by a full, detailed aging report. Focus on what you want to find out about your billing practices and cash flow prospects. The most common questions are:
Are all of the claims billed and submitted on time?
Are there any problem payer types?
Are we having problems with any specific insurance or managed care plans?
Which are our worst accounts? Highest balances? Oldest outstanding balances?
To answer the first two questions, look at your outstanding balances by payer type. This will list the balances for Medicare, Medicaid, private, insurance, coinsurance, etc. (the actual categories may be called something else in your A/R system). Look at the totals by payer to give you an idea of your regular monthly billing totals.
You should be able to tell quickly if you have a problem with a payer type. Start by checking the amounts in the current column for one payer type at a time, and compare the totals for each column. If claims are billed and followed regularly, the totals in each column should be significantly less each month, when looking at the older aging columns.
For example, if your Medicare B totals show a current balance of $50,000, a 30-day balance of $45,000, a 60-day balance of $45,000, and so on (i.e., the totals are essentially unchanged) the claims are not being billed (or were billed incorrectly), and your denials and rejects are likely being ignored.
To answer the third question, you'll need to run an aging report listing all of your individual payers to obtain more detailed information about each. This may list 10 or more plans for one company (e.g., your local Blue Cross/Blue Shield), so it's a longer list. The same analysis as above will give you a quick and accurate listing of payers that need a closer look.
Some business offices do a good job of billing most of their claims, but may encounter plans with which they don't have much luck. This can mean that 95 percent of your claims in a category are billed quickly, but the rest are left for later and often forgotten.
To answer the fourth question, check the aging detail by individual resident to identify problem accounts. Start by identifying the highest balance accounts and those with the oldest balances. Experience suggests the majority of total receivables will be only 15-20 percent of your accounts. By identifying and concentrating efforts on your priority accounts, you can quickly reduce outstanding balances.
Focus on the older balances, first. With timely filing limits for Medicare and others getting shorter, you must be sure to get your claims submitted. Health maintenance organization (HMO) limits are usually defined in your contract (I've seen HMO timely filing limits as low as 60 days). You have no time to waste: Be sure your claims are submitted before timely filing limits become a factor.
At this point, you know which payer types, payers, and accounts to attack. Systematically focus on these balances and you should see significant improvement in your aging report and your bottom line. Document everything that happens with the claims and follow up, when needed.
Be Diligent About Denials
Effective denials management is about being proactive and diligent. Engage in eligibility verification prior to a patient's visit as a front-end strategy to reduce denials. But because denials still happen, develop a back-end strategy for denials monitoring. Typically 85-95 percent of claims are paid on the first pass or prompt an action to redirect the collection to a secondary payer or the patient. The remaining 5-15 percent of claims present an opportunity to improve the revenue cycle.
Regularly review which of your carriers, CPT® and ICD-9-CM codes, reasons, and processes prompt denials. Identify areas where your revenue cycle management team may be performing redundant tasks. Review real examples of denial analysis and interventions to learn types of edits. Learn from experience to prevent similar denials from happening, again.
Keep It Up
Denials management is not a "once and done" effort. It must be ingrained in daily, weekly, and monthly workflow. Capture, analyze, and act on all denial information. The goal is to eliminate the root cause of denials through improved workflow and technology, resulting in optimized revenue and minimized re-work. Additional recommendations for tracking and preventing denials are:
Create a mechanism to trap denials from all sources of remits, including 835 files and manual remits.
Organize denials into categories such as:

Eligibility;
Coding;
Non-covered services; and
Authorization/Referrals.

Analyze patterns and create alternative workflows to reduce denials.
Consider bulk eligibility verification.
Identify Net Income/Loss Per Physician
Calculate per physician net profit or loss to help identify opportunities for maximizing slot utilization and improving practice productivity. By calculating the number of patient hours occupied on the schedule, divided by the number of patient hours available per physician, you can measure the availability capacity in a patient schedule. Offset the billable hours, procedures, research or study revenue, and other revenue sources with expenses (such as salaries, benefits, etc.), to accurately determine where there is profit or loss. Drill down further to determine exactly where deficits occur.
Improve Point-of-service (POS) Collections
POS collection provides opportunity to increase revenue, decrease collection costs, and accelerate cash flow. Identify opportunity for increased POS collections by dividing total POS collections by total cash collected.
Improved POS collection begins with educating patients about their financial obligations. Identify patients who cannot pay their bills and counsel them about available options for covering their patient-pay portion. This will help them to maintain or establish a good credit record, and give them piece of mind knowing their obligations have been met.
Put It All Together
Proper management of your revenue cycle requires you to apply "best practices" and continuous monitoring and measuring of the entire cycle. Correct technology will enable you to gain the insight and efficiencies needed in our changing healthcare economy. The revenue cycle begins when you negotiate payer contracts, set fees, and schedule appointments; and it continues until claims are paid in full. Each step carries equal importance. Monitor all phases and consistently communicate the results to achieve unparalleled financial success.
---
How Payers Stack Up
The American Medical Association (AMA) publishes an annual report card of the claims revenue cycle activities of the major commercial health insurers and Medicare. This National Health Insurer Report Card (NHIRC) provides metrics on the timeliness, transparency, and accuracy of claims processing for payers to educate physicians and the public and to reveal opportunities for improvement.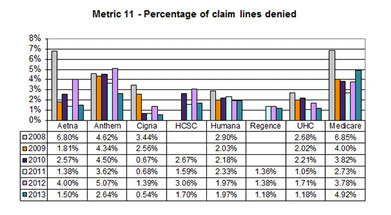 Source: 2013 NHIRC, AMA
---
Linda Martien, CPC, COC, CPMA, is associate director of reimbursement at Nuo Therapeutics, formerly Cytomedix, and brings over 30 years of experience in coding, billing, auditing, management, and consulting. She is a member of the AAPC Chapter Association board of directors for 2014-2017, and is a past member and officer of the National Advisory Board. Martien has held various officer positions for the Columbia and Jefferson City, Missouri, local chapters.
Latest posts by Guest Contributor
(see all)