Target Risky Billing Patterns Using E/M Benchmarking
April 1, 2015
Comments Off

on Target Risky Billing Patterns Using E/M Benchmarking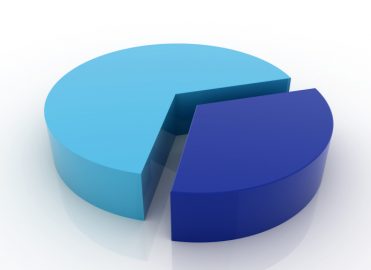 Compare your levels with other providers in the same specialty.
By Judy MacWhinnie, RN, CPC, and Gene Clarke, MBA, CIA, CISA
Increasingly, government and commercial payers are using claims data mining and advanced statistical techniques to identify potential billing risks and direct their audit resources. As you review your billing compliance procedures, assess and benchmark the frequency distributions of your evaluation and management (E/M) billing codes. Determine and clearly understand if the billing levels you report for new and established E/M services are dramatically different compared to national and state statistics and other providers in the same specialty within your practice area.
Comparing your E/M services data with other providers in your specialty is an easy way to identify risky billing patterns, which may mark you as a potential outlier and a target for a payer audit. Benchmarking and billing variance analysis can also help in selecting sample services for coding and documentation reviews, and assists you with ongoing provider education.
E/M Billing Variance
Analysis Is the First Step
National and state E/M service utilization data by specialty (i.e., E/M bell curves) can be calculated from the data on the Centers for Medicare & Medicaid Services (CMS) website, or may be purchased from published sources. The example in Chart A uses 2012 CMS data to calculate the national utilization percentages for the internal medicine specialty.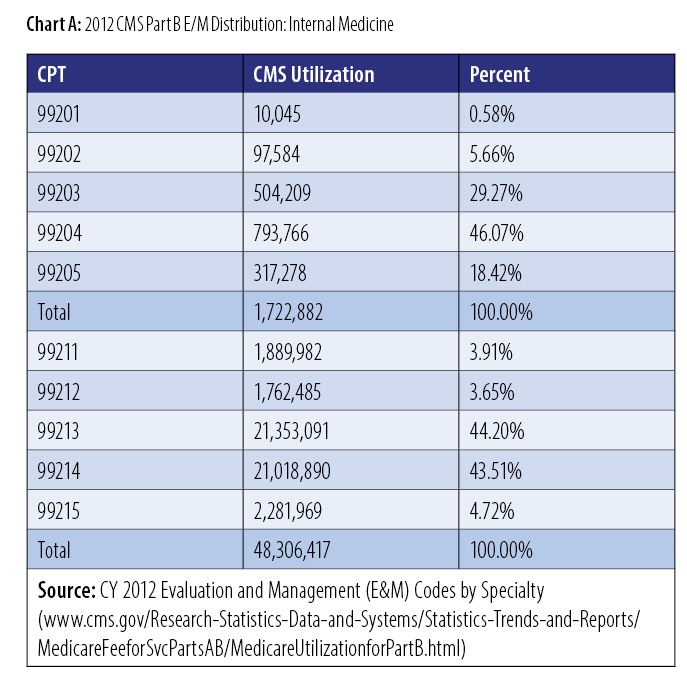 Using these percentages, the example in Chart B shows how to quickly benchmark E/M established patient services against CMS' utilization percentages to identify potential risks. In this example, several providers (Dr 2, Dr 3, and Dr 4) appear to have a variance in level five visits (99215 Office or other outpatient visit for the evaluation and management of an established patient, which requires at least 2 of these 3 key components: A comprehensive history; A comprehensive examination; Medical decision making of high complexity); mid-level providers (PA 2, NP 1, and NP 2) appear to be variant in level three (99213 Office or other outpatient visit for the evaluation and management of an established patient, which requires at least 2 of these 3 key components: An expanded problem focused history; An expanded problem focused examination; Medical decision making of low complexity) billing patterns. This provides a good high-level overview of the practices' billing patterns and identifies potential billing risks.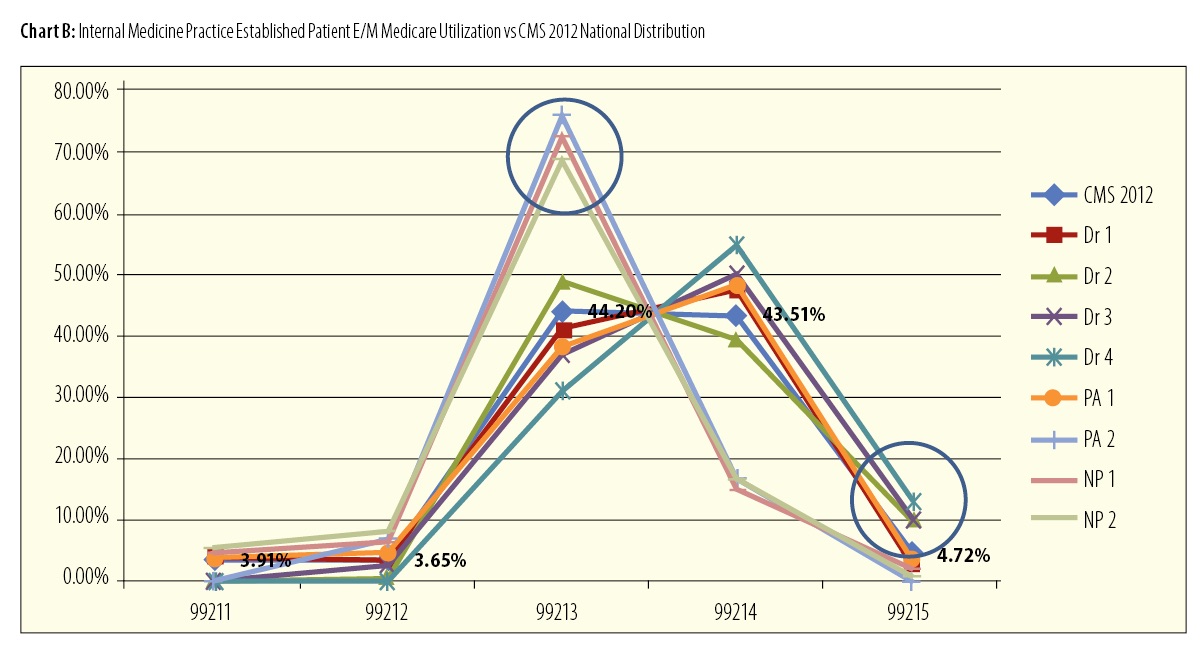 Distribution variances like these are what payers look for to determine which practices require a billing audit. This is supported by the Office of Inspector General (OIG) May 2012 report "Coding Trends of Medicare Evaluation and Management Services" (OEI-04-10-00180), which concluded that, from 2001 to 2010, physicians increased their billing of higher-level E/M codes in all types of E/M services. The key finding was that physicians who consistently billed higher-level E/M codes treated beneficiaries of similar ages, and with similar diagnoses, as physicians with more typical E/M billing patterns. In payers' eyes, this naturally raises questions of the medical necessity for the higher-level services billed by the variant providers, leading to greater claims scrutiny.
Ask the Right Questions
The distribution variances provide a good starting point to identify risk, but let's put the value of the E/M bell curve in its proper perspective. When a provider is within the range of the benchmark (e.g., within 10 percent), you may have greater confidence in his or her overall billing patterns.
Even if a provider's usage falls significantly outside the bell curve (e.g., beyond 10 percent), you should not assume he or she is engaged in fraudulent coding. A number of factors must be considered in addition to billing variance, including the provider's subspecialties, practice demographics, patient acuity statistics, administrative adjustments and denied claims analysis, and even local public health data.
For providers who vary, the next step is to generate a report reflecting the diagnosis codes that have been billed for all high-level E/M codes. If these diagnoses are for chronic conditions, injuries, and severe acute conditions, the services likely are medically necessary, and if well documented, are coded correctly. If a portion of these high-level office visits are linked to diagnosis codes that you would not usually expect to require a high level of service, audit these records for medical necessity and adequate medical records documentation.
Also consider under-coding, which is selecting a code that does not capture the true intensity or amount of work actually performed. Under-coding of services represents a direct loss of revenue to the practice. Providers may purposely under-code, believing this is a way to avoid denied claims or audits. Or they mistakenly believe their practice must mirror the E/M bell curve to be compliant (i.e., coding to the averages).
Although there is no fixed formula for how many medical records you should review, a sufficient size sample from the service level(s) at risk, per provider, must be taken to fully explain the billing patterns. Does the documentation support the procedure and diagnosis codes submitted? If not, carefully review the discrepancy and take note of trends. For example, did the provider code all ICD-9-CM 401.9 Unspecified essential hypertension as 99214 Office or other outpatient visit for the evaluation and management of an established patient, which requires at least 2 of these 3 key components: A detailed history; A detailed examination; Medical decision making of moderate complexity? Billing all services in any category at a single level significantly increases your audit risk, and is a good indicator the provider needs additional coding education.
Use Results to Educate
In most cases, your review will lead to a discussion with the providers to walk through the distributions and results from the medical records review, with the goal of reaching an understanding of the composition of the provider's billing patterns.
If the results of the review and provider discussions indicate that coding levels aren't selected properly, or documentation is not compliant, schedule your providers for E/M education using the distributions and review findings as the basis for hands-on coding review and training. Continually monitor at-risk providers for a representative shift in their billing patterns and improvement in supporting documentation.
For 2015, make it your practice's goal to add E/M benchmarking to your compliance and provider training plans. Review your E/M coding patterns and documentation at least annually. You and your providers will gain a better awareness of your practice's coding risks and gain confidence that your documentation will support the level of codes billed in the event of a third-party audit.
---

Judy MacWhinnie, RN, CPC, is a billing compliance audit coordinator, with a focus on coding risks and
reimbursement issues (judyn152@cs.com). She is a member of the Sayre, Pennsylvania, local chapter.
Gene Clarke, MBA, CIA, CISA, is an internal auditor focused on risk assessments and risk management (gclarke@binghamton.edu).
Latest posts by Renee Dustman
(see all)