Get to Know Your New NAB President
April 1, 2015
Comments Off

on Get to Know Your New NAB President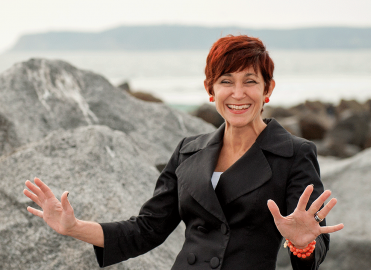 As AAPC grows its presence in our industry, strong, focused leadership is paramount.
Just a few short months ago, you knew the incoming AAPC National Advisory Board (NAB) President Jaci Johnson Kipreos, CPC, COC, CPMA, CPC-I, CEMC, of San Diego, California, as Jaci Johnson of Richmond, Virginia. Since taking the helm from David Dunn, MD, FACS, CIRCC, CCVTC, COC, CCC, CCS, RCC, Kipreos has experienced major life-changing events simultaneously. Despite the flurry of excitement, Kipreos is calm, cool, collected, and focused on representing and leading AAPC membership during her 2015-2018 tenure as NAB president.
Let's take a moment to get to know Kipreos and learn what she brings to AAPC members as the organization grows into the business of healthcare. (See, also, the accompanying sidebar, "Up Close and Personal" for Kipreos' recent non-NAB-related life events.)
The Path to Presidency
To put into perspective the road Kipreos has traveled to get to NAB presidency, let's rewind 27 years to when she was in labor with her first child. As she entered the world of motherhood, the door to coding and auditing opened for her, as well. During labor at the hospital, her obstetrician/gynecologist offered her an assistant office manager position at her practice. It was a great opportunity for Kipreos, who has a degree in finance, and she gladly accepted. As soon as she began her new job, her career path all started to make sense.
"I found the coding books in the office and began reading them, and taught myself to code," Kipreos said.
She was hooked, and soon began attending coding conferences. Later, in the early '90s, she had the opportunity to work at the University of Virginia (UVA) at the pain management center. Although AAPC was new to the industry, her manager at UVA trained coders and encouraged them to get certified. She showed them just how far coding and billing knowledge could take coders in the healthcare industry.
Since then, Kipreos has earned several credentials and has been recognized for her professionalism. In 2006, she was honored with the state of Virginia's Coder of the Year award. She has served office as president of both the Richmond and Charlottesville, Virginia, local chapters. She is a regular conference speaker and presenter. Kipreos also is president of Practice Integrity, LLC, where she manages a national client list and provides compliance monitoring for provider documentation. Kipreos has also been on the NAB since 2011.
Proud to be with AAPC
When asked what excites her about AAPC, Kipreos' response was, "What doesn't?" She is especially excited to have CEO Jason VandenAkker at the helm of AAPC as it expands into all business aspects of the medical office and hospital settings.
VandenAkker's excitement to have Kipreos leading AAPC membership with him is mutual. "Jaci's passion for members, industry expertise, leadership experience, and commitment to excellence are a few of the many attributes which make her an exceptional fit for the NAB president role. I am grateful for the opportunity to serve with her as we work together to help AAPC members achieve their full potential and to advance the business of healthcare,"
VandenAkker said.
Kipreos is excited for AAPC's continued expansion, and likes that the organization remains loyal to the importance of the Certified Professional Coder (CPC®) credential. "We are taking on inpatient and risk adjustment, but still remembering our roots with the CPC, while keeping up with what's new and exciting in coding," Kipreos said. "AAPC may be growing fast, but we have the strength to do that."
ICD-10 is a hot topic for enthusiasm, as well. "ICD-10! I mean, we are right there. We are such a big part of it," Kipreos said. "Management and people like Rhonda Buckholtz, CPC, CPMA, CPC-I, CENTC, CGSC, COBGC, CPEDC, have worked so hard to get our name out there to organizations like CMS and MGMA." Kipreos says she loves seeing our experts' names in publications and speaking as leaders in the industry. "It's all because AAPC has grown so much and has exploded in this exciting time," she said.
Speaks Out on Accountability
An issue Kipreos wants to speak out about during her tenure is the importance of staying informed and connected as coders, and keeping up with what is happening in healthcare by listening, reading, and asking questions. A concern of hers is that coders are turning to online articles, blogs, and forums for information.
"Coders aren't working as hard as they used to … they are just grabbing stuff and relying on people to give them the information, instead of doing the work to research it," she said. "Blogs may be a resource, but they aren't the source."
It's OK to consult various media for information, Kipreos said, but it's imperative to always verify the information through credible sources.
Visibility Is Important
Kipreos' goals are to make sure members know that they are a priority to the NAB, that the NAB exists, and that the NAB is a vehicle to make members' voices heard.
"I want members to know we are here to be that liaison, not just for local chapter issues, but for anything and everything: all the different credentials, the expansion, etc.," Kipreos said. "We want feedback and are here to take that feedback."
Change Is Inevitable
When Kipreos looks to the future of healthcare, she acknowledges that there will be more changes on the horizon. "I think we must use caution when attempting to predict the future of healthcare in any capacity," Kipreos said. "I never would have anticipated the delay in ICD-10 last year."
"I think we all know that change is on the way," Kipreos said. "In what form, exactly, is hard to say. … Perhaps, the basis for physician payment will move toward a risk model, or medical necessity will take on a more important role, or the physician payment schedules will look more like DRGs? We don't know."
"This is where it's important to stay informed, ask questions, and read, read, read a lot," Kipreos advised.
Colleagues Give Support
Kipreos' enthusiasm for serving members and leading AAPC with strength and grace is evident to other dignitaries of our organization.
AAPC Chapter Association Chair Barbara Fontaine, CPC, said, "Jaci is one of the stars of AAPC. She sparkles with personality and enthusiasm as she meets members and carries on the vision of our organization."
Dunn, 2013-2015 NAB president, has gotten to know Jaci over the years through AAPC, and has served alongside her for the past four years. He said, "I find Jaci to be a wonderful person and feel she will be a stellar leader as the NAB helps AAPC navigate the healthcare industry over the next several years. AAPC is fortunate to have her in this role."
And Michael D. Miscoe, JD, CPC, CASCC, CUC, CCPC, CPCO, member of AAPC National Advisory Board, Legal Advisory Board, and Ethics Committee, had this to say: "Jaci's passion for coding is only exceeded by her passion for AAPC and its members. Her skills as a coder are exceptional and her quest to continuously improve her knowledge is unending. She embodies the concept of what it means to be a 'professional' coder and 'pays it forward,' every day. If there was a Mount Rushmore of coders, she would be on it."
AAPC welcomes Kipreos in her new role, and looks forward to working with her in our shared goal of supporting members.
---

Michelle A. Dick is executive editor at AAPC.
Latest posts by Michelle Dick
(see all)