Pain Medicine Providers: Review 2015 Billing Changes
April 1, 2015
Comments Off

on Pain Medicine Providers: Review 2015 Billing Changes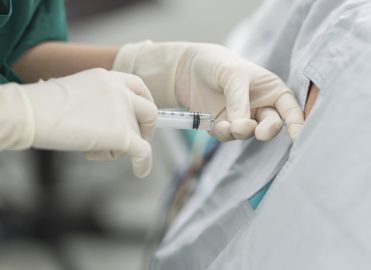 Accurate claims payment hinges on your awareness of new CPT® codes and an epidural steroid injection reimbursement update.
By Joette Derricks, MPA, CMPE, CPC, CHC, CSSGB
Pain medicine coding experienced an overhaul for 2015. Of particular interest to pain medicine physicians are Medicare payment changes for epidural steroid injections (ESI). A multitude of revised CPT® codes also warrant your attention.

Epidural Steroid Injection Reimbursement
ESI reimbursement rates were significantly reduced in the 2014 Medicare Physician Fee Schedule (MPFS), which garnered angry responses from the pain medicine community. The Centers for Medicare & Medicaid Services (CMS) has raised payments for 2015, using prior resource inputs and pending further review and recommendations from the American Medical Association's (AMA) Relative Value Scale Update Committee (RUC); however, CMS will not pay separately for image guidance in 2015. Table 1 compares the MPFS national reimbursement for epidurals in 2013, 2014, and 2015.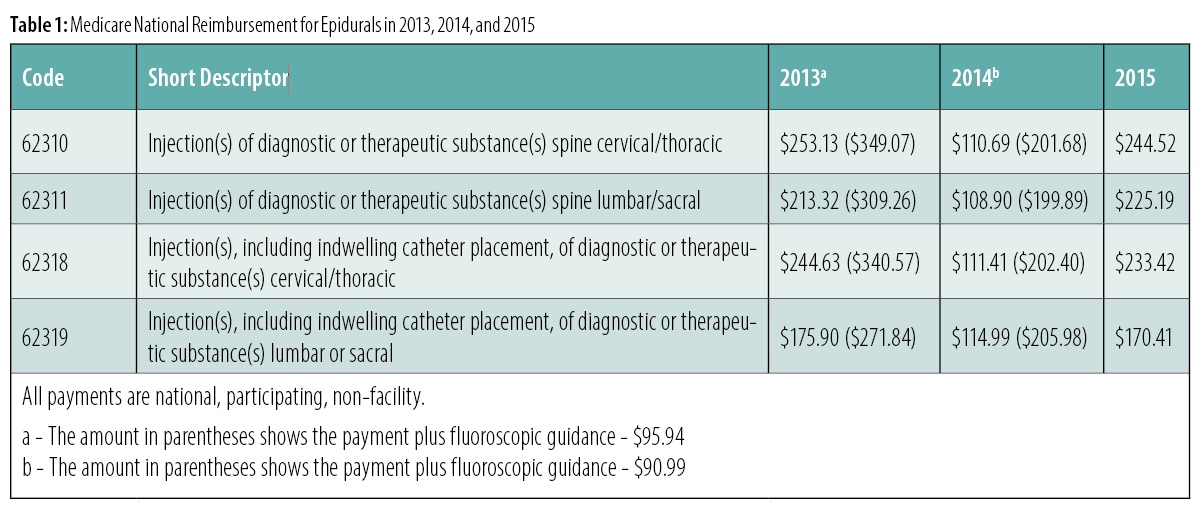 Bundling of Ultrasound
with Joint Injections
Bundling of ultrasounds into other procedures resulted in three new and three revised CPT® codes in 2015 (see Table 2).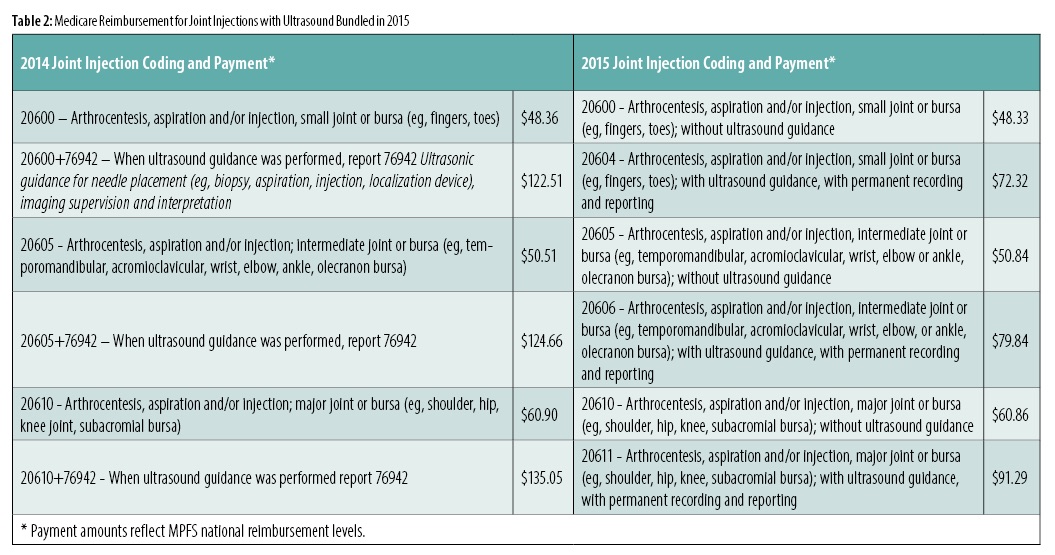 New Codes for Transversus Abdominis Plane Blocks
In 2015, anesthesia providers will report transversus abdominis plane (TAP) blocks with one of four new codes, depending on whether the service is performed by injection or continuous infusion, and whether injected/infused unilaterally or bilaterally. The codes are outlined in Table 3.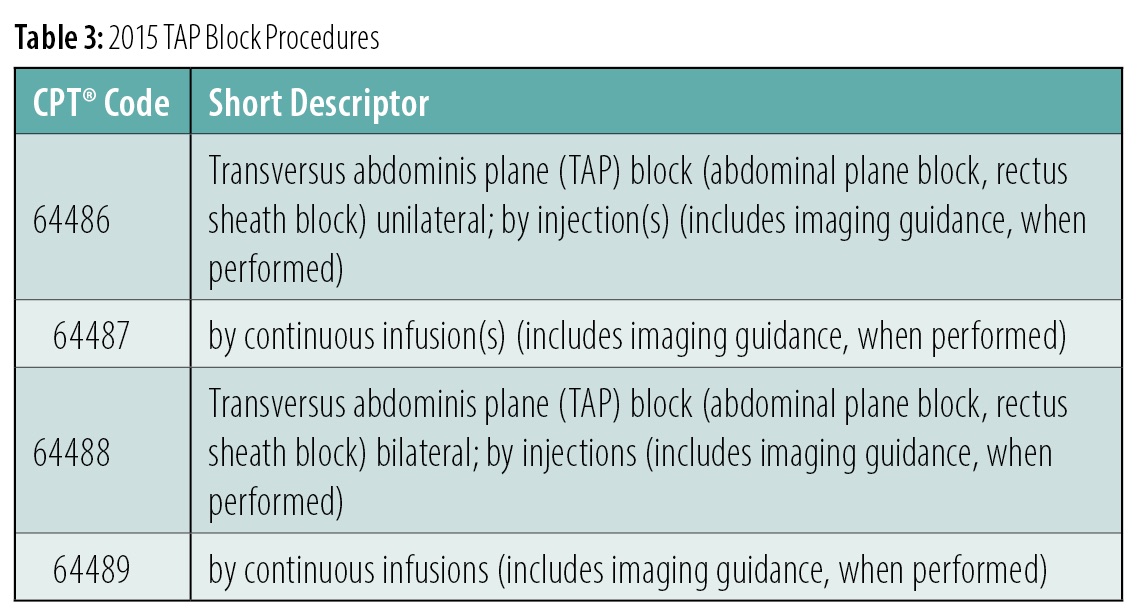 For example:
A 50-year-old, male patient undergoes an open cholecystectomy under general anesthesia. He is at risk for post-operative pain. At the request of the surgeon, bilateral TAP blocks are administered using ultrasound guidance for needle placement.
Correct coding is 64488 because the procedure was performed bilaterally by injections. The ultrasound guidance is included in the procedure and may not be separately reported.
A 62-year-old, female patient undergoes a hysterectomy under general anesthesia for uterine cancer. At the request of the surgeon, bilateral TAP blocks with catheter placement for continuous infusion are placed to provide postoperative pain control.
The correct CPT® code is 64489.
---

Joette Derricks, MPA, CMPE, CPC, CHC, CSSGB, has 35 years of healthcare finance, operations, and compliance experience. A national speaker and author, Derricks' unique style is to bridge the regulatory requirements with the practical realities of day-to-day operations. She has provided numerous expert reports and testimony regarding Medicare, Medicaid, and third-party payer regulations with an emphasis on coding, billing, and reimbursement rules. Derricks serves as the vice-president, regulatory affairs at Anesthesia Business Consultants and is a member of the Ann Arbor, Michigan, local chapter.
Latest posts by Renee Dustman
(see all)
No Responses to "Pain Medicine Providers: Review 2015 Billing Changes"