Mull Over Specialty Programs in the Therapy Setting
April 1, 2015
Comments Off

on Mull Over Specialty Programs in the Therapy Setting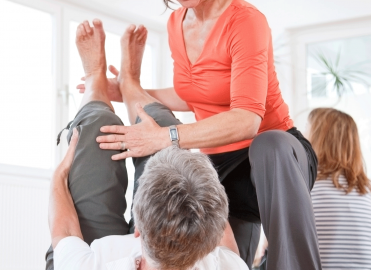 Before you decide, consider the benefits and drawbacks.
By Kim Cohee, DPT, PT, MBA, OCS
Specialty programs in the rehabilitation setting have become increasingly popular in the past decade. Offerings vary and include clinics and programs specific to running injuries, cycling injuries, Pilates, women's health, throwing injuries, dancing injuries, and so on. If you can secure staff engagement, access to specialty equipment, physician support, marketing resources, and administrative backing (all of which should be carefully vetted prior to initiation), the programs your facility offers are limited only by the developer's imagination for establishing the specialty and growing the program.
Pros and Cons
There are pros and cons to incorporating specialty services into clinics that emphasize generalized care, such as orthopedic physical therapy (PT). Some of these issues do not become apparent until later in the process of program development, and require patience and communication to work through. Other issues are obvious from the start, and can be addressed early on. Here are some of the benefits and drawbacks you can experience while incorporating specialty clinics and programs into a general orthopedic PT setting.
Pros: 
Increased volume – Your clinic will gain new clientele who would otherwise go elsewhere for the specialty. For example, runners can be very particular regarding medical care and often want to see professionals who understand their commitment (addiction) to the sport. While many providers in the general orthopedic PT setting are capable of treating runners, not all have the experience necessary to connect with this population, let alone fulfill their expectations. Having a provider who is passionate about the science of running, and who practices what he or she preaches, can go a long way in developing a successful and long-term patient/client relationship.
New specialty clientele can increase general orthopedic volume, as well. For example, runners have family members who may need care for their own orthopedic issues. When one family member is familiar with a clinic, he or she often refers the rest of the family there for non-specialty care.
Improved staff morale – An unexpected side effect is how exciting it is for everyone in the clinic to watch another staff member learn new information that benefits the practice clinically and financially. Not surprising, staff members who feel their career is stagnant may be inspired to learn new skills or start a different specialty practice.
Enhanced general practice recognition – Society is attuned to the "bells and whistles"  specialty practices offer. New equipment, technology, training techniques, and injury prevention knowledge are expected from these types of practices. The ability to separate your clinic from the crowd can draw the attention of an institution's marketing department, the local media, and your own professional organization.
Higher treatment success – One of the biggest pros to a specialty program is giving patients with complicated, previously non-treatable injuries, new hope. Many specialty clinic clients come in saying they've "tried everything" without success, until they saw your more experienced and knowledgeable specialty provider.
Cons: 
Staffing challenges – Staffing a specialty clinic may be a challenge for a variety of reasons. Initially, the volume may not warrant a full-time staff member, which is problematic for professionals looking for full-time, benefitted positions. Finding motivated staff who are willing to be hourly employees without full-time benefits is one strategy — you pay only for the time they put into the development of the program. You also may be able to negotiate the number of hours to pay a provider for initially setting up the program, requiring him or her to invest some personal time into the venture. As an incentive, suggest that when referrals warrant a full-time position, the specialist may be hired with benefits.
Waiting for appointments – When the program is established and demand has grown, patients may have to wait days, or even weeks, for an appointment. The high demand for a specialized provider's time requires you to plan ahead for absences.
Staff morale may suffer – Rather than boosting morale, resentment may result if staff feels there is administrative favoritism towards the specialty provider (procurement of new equipment, scheduling flexibility, etc.). You can curb some of these issues by commending staff for their own initiative and willingness to help start a unique practice, and offering them appropriate perks such as flex time.
Setup Strategies
Besides setting up initial staffing, marketing and equipment procurement are important to a successful launch of a specialty clinic. You must be able to trust the specialty provider to advise you regarding necessary equipment, starting with the basics.
Marketing departments prefer that specialty programs are first vetted to determine how much they are needed in the community. This creates confidence in the program's potential for success. Be sure to discuss content of marketing materials (collateral) because clinicians and marketing professionals often have different views on how to present a product to the public. Patience and compromise are useful during these discussions.
Do Your Homework
and Keep It Going
Evidence-based practice is becoming commonplace for the majority of healthcare settings, including therapy services. This is a critical piece of the puzzle for successful specialty programs.
Consumers of specialty services are often highly educated, perceptive, and have done a great deal of homework (mostly on the Internet) regarding their specific problems. Programs that don't use current research and fail to incorporate their patients' values into their treatments will not grow and thrive in an increasingly competitive environment. To keep everyone on the same page, hold regular meetings and "journal clubs" for those involved in the program. Designate a program leader if more than one person is involved in the specialty practice.
Other Lessons Learned
Referring providers like to know about your specialty programs. Provide them with any science, data, and peer reviewed literature related to your specialty. Consider a slideshow presentation early on to get referring providers' input. You might even ask a physician, physician assistant, or nurse practitioner if he or she would like to be involved with your program in some capacity.
Billing should not be an issue unless you provide services not related to an actual clinical problem. For instance, if you set up a cycling specialty clinic, and you provide bike fitting for clients who just bought a new bike, you can't bill a therapy-related CPT® code. You can, however, provide this as a cash-based service.
Be sure to consult with your local payers if you have questions regarding which services may be billed.
---

Kim Cohee, DPT, PT, MBA, OCS, is the clinical operations director of the University of Utah Orthopaedic Center Therapy Services. She graduated from the University of Utah with undergraduate and doctorate degrees in PT and a Master of Science in Exercise Physiology. Cohee received a Master of Business Administration from Western Governors University in 2009, and achieved Orthopedic Clinical Specialist designation in 2006.
Latest posts by Renee Dustman
(see all)