Word of the Day: Biosimilar
In Billing
April 13, 2015
Comments Off

on Word of the Day: Biosimilar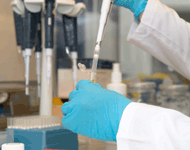 The term "biosimilar" has been popping up a lot lately. What does it mean, and why should you care?
What are Biosimilars?
Many medications are biological products. In terms of pharmacology, a biological is any substance derived from animal products or other living organisms used to treat or prevent disease. Biological products are manufactured through biotechnology, derived from natural sources, or produced synthetically.
Biosimilars are a type of biological product created under the Biologicals Price Competition and Innovation Act (BCPI) of 2009, and signed into law through the Patient Protection and Affordable Care Act on March 23, 2010. Biosimilars must be approved by the U.S. Food and Drug Administration (FDA) to be sold in the United States. Biosimilars are highly similar to their FDA-approved counterparts, known as biological reference products, and are shown to have no clinically meaningful differences from the reference product.
How Do Biosimilars Compare to Generics?
Generic drugs are copies of brandname drugs. They have the same active ingredient, and are intended to be used the same as their brandname counterparts. Biosimilars, on the other hand, have allowable differences, provided they meet the same safety, efficacy, and quality standards as the FDA-approved reference product.
Coding/Billing for Biosimilars
The FDA announced approval of the first biosimilar product, Zarxio, on March 6.
Zarxio (Sandoz, Inc.) is biosimilar to Neupogen (Amgen, Inc.) and prescribed for:
Patients with cancer receiving myelosuppressive chemotherapy
Patients with acute myeloid leukemia receiving induction or consolidation chemotherapy
Patients with cancer undergoing bone marrow transplantation
Patients undergoing autologous peripheral blood progenitor cell collection and therapy
Patients with seven chronic neutropenia
Medicare Part B payment for newly-approved drugs and biologicals is available once the product is approved by  the FDA. According to MLN Matters® SE1509, the Centers for Medicare & Medicaid Services anticipates including the approved biosimilar, Zarxio, in the July 1, 2015 HCPCS quarterly  update. Payment will be effective retroactively to the FDA approval date.
Latest posts by Renee Dustman
(see all)