ICD-10: Food for Thought
By Brad Ericson
May 14, 2015
Comments Off

on ICD-10: Food for Thought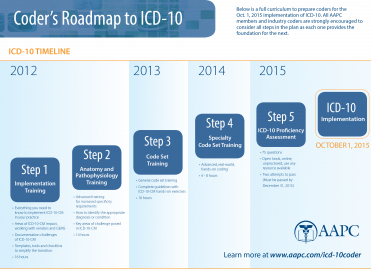 I am the president and owner of a healthcare consulting company assisting medical organizations with a range of compliance and reimbursement related matters, including ICD-10 implementation and planning. The ICD-10 implementation is different for each organization. From the single specialty medical provider who does all of his or her coding, to the specialty hospital with multiple coders—and every entity in between—the uncertainty of where to begin is as real today as it was two years ago.
The key to successful I-10 implementation is a simple as a five letter word: S-T-A-R-T. Some of my practices that used the delays to their benefit have identified gaps within their implementation plans that would have been financially devastating, if found post implementation. There is no way to know the impact to your specific practice until you begin.
Education
Implementation is not a "one size fits all" plan, and neither is the plan for education. When conducting education for providers, scrap the script on placeholders and seventh characters, and focus on documentation improvement. Help providers understand the elements needed for code assignment as they relates to the affected provider and specialty. For cases where a default no longer exists, educate providers on what content is needed to avoid insufficient documentation (e.g., urosepsis).
Medical coding education emphasis should be on improving comprehension of the content within the medical record and the guidelines within the codebooks. The conversion to ICD-10 will require getting acquainted with the significant changes in the Alphabetic Index format and organization. AAPC offers a great general code set and specialty code set training to acquaint coders with the new code set.
A company will not know the impact of the new code set on its coding process organization until it attempts to use the code set with its current state of documentation. Organizations with production-based coding requirements should attempt weekly dual coding sessions of 60-90 minutes when its team has an understanding of the basics to minimize the impact to production, after the go-live date has arrived.
The Role of Practice Management
The task of implementation is not limited to the medical coding professional. Other individuals within an organization hold equally important roles. Practice management professionals can start by identifying all the processes and systems in their practice that use diagnoses codes. Examples include internally created claims rules and superbills. One of our clients uses a practice management system requiring that an injury date anytime a diagnosis from 800-999 is used on the claim, or the LMP anytime a pregnancy related diagnosis is used.
Updating this system for the first example may take additional time and effort, considering that complications are dispersed throughout I-10 and not limited to a single chapter code range as seen in ICD-9-CM. Professionals might use this time to create a protocol for dual coverage scenarios with covered and non-covered HIPAA entities, and to train internal staff on the process. Does your organization have a process for how the claims will be handled when the commercial insurance policy is billed after the automobile insurance exhausts?
As of November 2014, Centers for Medicare & Medicaid Services (CMS) has begun acknowledgement and end-to end-testing. If participating in testing, specifically end-to-end testing with CMS, ensure your organization includes services with coverage policies that have I-10 codes. For example, if you are a general surgeon participating in testing, select and include a bariatric surgery case, coded based on your documentation during end-to-end testing. End-to-end testing will allow you to see how your claims will be processed under ICD-10 with receipt of an EOB. CMS conducted this testing in January and April. One more testing will be held in July. If not chosen to participate in the testing with CMS, check your commercial carriers, as several have created opportunities for providers to test directly with them.
When considering coding look-up systems that appear to be the solution for your crosswalk woes, remember the Latin phrase caveat emptor, or "let the buyer beware." Ensure you inquire on the source used to create the crosswalk, and find out what additional work, if any, has gone into development of the crosswalk. I strongly recommend that you do your diligence, and test it for yourself!
As a final point, remember that I-10 implementation should NOT be a solo project. Key stakeholders should be involved in the development, oversight, and execution of the implementation plan. A few key players that I encourage my clients include in their ICD-10 committees are agents from clinical leadership, insurance contracting, A/R management, medical coding, and medical compliance.
Latest posts by Brad Ericson
(see all)
No Responses to "ICD-10: Food for Thought"