Orthopedic Office Ethics: From Up-coding to Harassment
May 1, 2015
Comments Off

on Orthopedic Office Ethics: From Up-coding to Harassment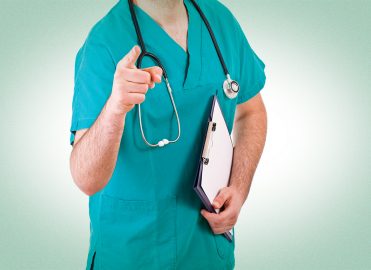 When billing lines are blurred and personal space is invaded, it's tough knowing to do.
Michael D. Miscoe, JD, CPC, CASCC, CUC, CCPC, CPCO
Q: I have been a member of AAPC since 2008 and continue to update my continuing education units. I pride myself on keeping abreast on all the guidelines to properly fulfill my duties and responsibilities as a coder.
I work with two practitioners. For the past eight months I have been directing them in the correct process of
documentation to meet the level of evaluation and management (E/M) service they are asking me to bill. I have also given them an outline of each level of E/M. I've been unsuccessful. 
When I approached one of the doctors and explained that her documentation did not meet the level of service and it would be necessary to down code, I was abruptly yelled at. She told me that no documentation will be down coded and to bill whatever is marked, even if the documentation does not support the level of service. If it does not meet the level, I should return it to the doctor and he or she will add to the documentation to make it meet the higher level. The reason the physician gave me was, "We can't afford to down code; we won't make any money."
Periodically, a similar situation has applied to knee X-rays. Antero-posterior standing X-rays should be reported when that is the only X-ray taken of bilateral knees. If it's included with one or more views, it's to be included and added up, per how many views. This is what I have read and have been taught. The same applies with hip X-rays.
The physicians also charge E/M visits with a patient who comes in with new fracture care.
Recently, one physician — after meeting with the bookkeeper — told me that the books are still not looking good and she can't figure out why the money is not coming in. I suggested it may have to do with reducing staff, and relieving the office manager of her position. Also, the accounts receivables were not worked on for approximately five months, which could be partly the reason for the decline in profits. The physician told me they could not afford to keep my position and to "consider looking across the street" for a job (meaning our local hospital). 
The physician asked if I could afford to work part time. I told her no, and she told me that they were hiring another girl to help me with billing. She said that I "was just a coder, not a biller." I asked the physician if she realizes what is coming with ICD-10-CM (orthopedics being the biggest change) and if she had any thoughts or suggestions. She replied, "The new girl has taken some ICD-10-CM courses," but she has no coding education at all. 
Lastly, the bookkeeper wanted to know what I thought I was worth. I asked the physician if she was asking me to take a pay cut. Her answer was "No. No, I would never ask you to take a pay cut. You're worth every penny we pay you, with all the education you have." Then she said to me, "Don't be mad at me, I don't want you to be mad at me." She proceeded to put her arms around me from the back, give me a hug, and told me she "loves me." I felt as if my space and privacy were invaded.
I don't think it's fair of the doctors to ask me to teach the new girl what I have spent years and thousands of dollars to learn, so they can pay someone a lesser hourly rate.
I would appreciate any input you can give me. 
A:  Regardless of whether you are a coder or a biller, you are in the business of providing your physicians with accurate information so they can make informed decisions. Even when you present a fully justified basis for what you believe to be an error, the physician doesn't have to follow your advice. That is why the physician is ultimately responsible for the accuracy of the coding submitted under his or her name. With that in mind, your role is counselor, and even to their peril, the physician does not need to heed your counsel.
Your question appears to mix concerns regarding documentation necessary for proper ICD-10 coding with documentation necessary to support a particular professional service, which is submitted under CPT® or HCPCS Level II.
With respect to your concerns regarding E/M service levels: Understand that the objective scoring guidelines you are likely using as the basis for your concern are not binding. As such, the concept of legal error relative to the level of E/M service is often difficult to substantiate. If you wish to understand this in more detail, I recommend you look at the "How to Defend an Adverse E/M Audit" webinar (January 8, 2014), which is available through AAPC as an on-demand webinar. As demonstrated in the review of the actual Centers for Medicare & Medicaid Services and American Medical Association guidance, the 1995 and 1997 guidelines are not referenced, nor is the scoring methodology that is commonly used by most E/M code auditors. Unless formally adopted by your Medicare administrative contractor, where such a methodology is the basis for your concern, the best you can say is that the provider's coding is likely to be challenged, but not that it is legally or objectively wrong. Where a particular commercial payer has expressly incorporated that approach and the provider is contractually bound, the answer would certainly be different.
As for your concerns regarding the reporting of X-rays and separate billing of an E/M: The appropriateness of what the doctors want to bill is no doubt circumstantial to the payer. There are few one-size-fits-all rules for coding. As such, although your conclusions may be accurate for the particular payer involved (assuming there was only one), and is no doubt good advice from the standpoint of reducing compliance risk, the doctors are not required to follow your advice. That being said, I presume they hired you for your expertise. If they don't want to take advantage of it, that is their mistake.
From an AAPC ethics perspective, you have met your obligation by providing your physicians with presumably appropriate advice. If the providers do not follow it, and a particular carrier later determines the codes submitted were inaccurate and the practice was paid money inappropriately, the carrier will no doubt demand repayment at a minimum. There may even be potential false claims liability. Regardless, that is their burden, not yours.
I cannot advise you relative to your concerns regarding potential harassment. As an isolated event, it's possibly not actionable, depending on the status of the case law in your state. If you wish to pursue, I would recommend consulting local counsel.
I encourage you to continue pursuing additional certification.
If your present employer does not value your expertise, no doubt, some future opportunity will present itself because of that
expertise.
---

Michael D. Miscoe, JD, CPC, CASCC, CUC, CCPC, CPCO, serves on the AAPC's National Advisory Board and Legal Advisory Board, and is AAPC Ethics Committee chair. He has over 20 years of experience in healthcare coding and over 16 years as a compliance expert, forensic coding expert, and consultant. He has provided expert analysis and testimony on coding and compliance issues in civil and criminal cases and his law practice concentrates on representing healthcare providers in post-payment audits and with responding to HIPAA OCR issues. He speaks on a national level, and is published in national publications on a variety of coding, compliance, and health law topics. He is a member and president of the Johnstown, Pennsylvania, local chapter.
Latest posts by Renee Dustman
(see all)