Manage Your Managing Skills
May 1, 2015
Comments Off

on Manage Your Managing Skills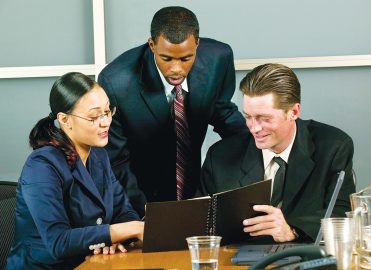 Be a motivating manager, not one who employees complain about.
By Brian Boyce, BSHS, CPC, CPC-I,
Managerial positions are attractive for the respect they command and the higher salaries typically associated with them. Although many managers are paid well for doing a poor job, respect must be earned. Certain key concepts will ensure your managerial skills warrant both the respect and reward you desire.
Hire the Right Employees
It's important to hire employees who will mesh well with current staff. This means looking not only at a candidate's resume, but also at his or her personality and mannerisms to gauge whether he or she will work well with others in the organization. Too often, people are placed in positions to fill a void or because they have the right credentials, but they turn out not to be a good fit for the organization. This makes you, the manager, look bad, and it also makes your job that much harder.
To determine if the candidate is a good fit, ask on-the-job scenario questions to see how he or she would handle real-world situations at work. This should include questions around expected performance metrics, quality, and interpersonal challenges that might occur in the workplace with coworkers.
Carefully scrutinize candidates promoted from within the organization, as well. Sometimes, employees are moved up because they excel at the job. Be sure the candidate has the respect and trust of the larger group and is not being promoted simply because an executive far removed from the affected employees is making a blind decision.
Set Expectations
Although you should never advocate babysitting capable adults, employees need to know what is expected of them. Never assume an employee automatically knows anything. Set daily, weekly, monthly, quarterly, and yearly expectations. Include deliverable work, product, quality, etc. Establish expectations involving time off, tardiness, and sick days for all employees.
Manage Your Own Publicity
How you relay information is as important as the information itself. Who are you to your staff? Are you their punisher? Dictator? Sheriff? Or are you their respected leader?
A great way to foster support and respect is to give them. Show appreciation for what each person who reports to you brings to the equation. Communicate challenges the entire team faces to encourage teamwork and compassion.
One misconception is that if too many employees know how to do something, it might threaten the manager's position. In reality, sharing builds everyone's knowledge, which fosters cross training, new ideas, greater efficiency, and boosts respect for management. Managers who withhold knowledge or information can be poisonous to an organization.
Foster a Team Mentality
Good managers "work in the trenches" with their team. Set an example and instill teamwork. Never ask an employee to do a task that you do not understand or have not done before. You should be able to step into an employee's shoes and understand what is needed to get the job done.
Know Those Who Work for You
It's important to know who has which degree, certification, or skill set so that you can assign tasks appropriately and avoid setting someone up to fail. It's equally important that you get to know your employees as people. Know if your employees are involved with local community events, have small children, enjoy hobbies or activities, etc. To understand a problem an employee brings to you, it helps to know what's going on in her life. A personal connection helps to foster healthy and productive communication.
Develop Your People
Develop and promote your employees based on their skill sets and personality types. Although not everyone has the temperament or the ability for all tasks, stop and consider which employees show commitment and a willingness to learn. Nurturing new talent, while teaching it, adds to the value of your organization and speaks volumes about your leadership skills.
Be Accountable
You must be accountable for not only your work but for that of your employees. If others are required to follow a directive or decision, put your name on the memo, policy, or email to show your support. When policy and procedure changes are made, own them. Then, open the lines of communication to give employees a chance to understand what elements were considered when the directive was made and how the changes will affect them.
Think Ahead
Consider the fortune cookie message, "The eye of the master will do more work than both his hands." To be a great manager you must be a forward-thinking individual. Every deliverable or work process has potential for improvement or greater efficiency. Don't be afraid to get your hands dirty, but always keep your eye on the future.
Let Modern Conveniences and
Human Biorhythms Work for You
More organizations are offering remote work opportunities, including full-time, work-from-home jobs or working from home one day per week. Your job is to determine how to properly manage these individuals. You may need observational controls in place. This involves combining a team approach with defined expectations. The purpose of allowing people to work from home is that it benefits the employee (such as less commute time and expense) and the organization (such as requiring less office space). Setting expectations on deliverables and work deadlines should be all that is necessary.
Some employees can get more done in two hours than others complete in a full day. That's the disparity of the human factor in work. Some employees are more motivated early in the day, while others are most creative and refreshed late at night. This is yet another human variation in our biorhythms. As long as the work gets done, what time of day the assignment is done isn't a big deal, especially if employees are working in different time zones.
Handle Responsibility with Understanding
Managing or supervising people is not easy. It's not just a title or salary, but a responsibility. As a manager, you are responsible for every person who reports to you, and every deliverable or piece of work the department, office, or organization is creating. You must understand what each person brings to your team and know how to communicate with everyone. You are responsible for the shortcomings, as much as the successes.
---

Brian Boyce, BSHS, CPC, CPC-I, is CEO, proprietor, and managing consultant for ionHealthcare, LLC. He is a PMCC medical coding instructor and an approved ICD-10-CM trainer with a special interest in ethics, patient safety, disease management, and risk adjustment. Boyce is a veteran of Desert Storm, where he served on active duty with the U.S. Air Force with a job specialty of aeromedical evacuation. After an honorable discharge, Boyce went into physician practice management and medical coding. He was in the risk adjustment field for over six years, and then started his own consulting firm (www.ionHealthcareLLC.com), which specializes in risk adjustment work and education. Boyce is a member of the Richmond, Virginia, local chapter.
Latest posts by Renee Dustman
(see all)