Take a Ride with 2014 Member of the Year
May 1, 2015
Comments Off

on Take a Ride with 2014 Member of the Year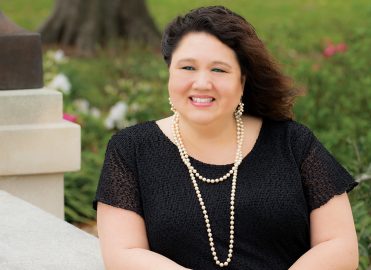 Melissa Caperton's work "behind the scenes" lands her in the driver's seat as 214 Member of the Year.
With 13 pages of nomination letters, Melissa Caperton, RHIA, CPC, CPC-I, CFPC, was a shoe-in for AAPC's 2014 Member of the Year Award. This award is a culmination of decades of her service to AAPC members and the coding profession.
Melissa Gets "the Call"
There have been very few times in Caperton's life when she was rendered truly speechless. One of those times was when she received "the call" from AAPC CEO Jason VandenAkker to congratulate her on winning the 2014 Member of the Year Award.
"I was ready to do whatever he was getting ready to ask," Caperton said. Then it clicked that he was congratulating her. "I really don't know what I said to Jason … I'm sure I sounded like a bumbling fool for a few minutes," she said. Since the call, Caperton has been giddy with excitement, and as she puts it is, "on a mission to thank the sneaky people behind this award (those whom I can identify anyway)."
"I am honored that someone thought enough of my contributions to put together a nomination," Caperton said. Little did she know it wasn't one person, or even a select few, but a flurry of members who thought she was deserving of this award.
Healthcare All the Way
Caperton knew she wanted to be in the healthcare industry from the get-go. When pre-med didn't hold her interest, she switched her major to Medical Records Administrator (now known as Registered Health Information Administrator). She landed a job as a patient service representative at Mayo Clinic, Jacksonville. Caperton loved helping the patients and problem-solving billing issues, but didn't love the pressures of working the phones and dealing with angry patients, especially during a full moon.
After a few years, Caperton took a new direction in her career when Wendey Landkrohn, University of Florida Jacksonville Physicians, Inc. (UFJPI), hired her to be the reimbursement team lead. This is where Caperton learned about creating and maintaining charge capture forms and fee schedules and "about a myriad of financial reports to help senior leadership make informed business decisions," she said. After a few years, Caperton became a provider education specialist, focusing on coding and documentation issues related to 1997 Documentation Guidelines for Evaluation and Management Services. Soon thereafter, she was promoted to manager of reimbursement and education. "I was able to enjoy the best of both worlds: training and billing support," Caperton said.
Early in this transition, Caperton was introduced to AAPC and began comparing coding certifications offered by AAPC and AHIMA. After some research, she decided AAPC credentials were more appropriate for the physician side of coding. She earned Certified Professional Coder (CPC®) designation in February 2000, which opened the floodgates to obtaining more certifications.
Caperton's duties changed over the years, but the core of what she loves about this industry has not: researching complex coding issues, helping others find appropriate billing solutions, teaching others about coding, and coaching coders to find answers. To see the "light bulb" turn on for other coders gives Caperton a sense of accomplishment. Nineteen years later, Caperton says she is "still happily employed and challenged by UFJPI, and still working for Wendey."
A Woman with Many Aliases
Caperton says she sees herself as a "behind the scenes player," unless someone needs her to step up. Her Member of the Year nomination letters tell a different story. She has been referred to by her colleagues as the "Energizer Bunny," "Wonder Woman," and "Distinguished Toastmaster."
Miriam S. Smith, CPC, explains, "Melissa reminds me of the Energizer Bunny; she keeps going and going and never shows signs of stopping. She always has the coding community's best interests in mind." A few years ago, Caperton asked Smith to assist in organizing speakers for the Coding on the River event. "I was so impressed with her energy and ability to keep up with planning, organization, and implementation of this major event that I didn't hesitate to help," Smith said.
Accomplishments Keep Going and Going
2010 Member of the Year and past National Advisory Board member, Maryann Palmeter, CPC, CENTC, has worked closely with Caperton for nearly 20 years, and
presented AAPC's award to her during HEALTHCON's Member Recognition Luncheon. According to
Palmeter, Caperton:
Was awarded "Distinguished Toastmaster," which is Toastmaster International's highest honor for speaking confidence. She uses these skills to help other members strengthen their presentations.
Was instrumental in training organizational staff on ICD-9 and CPT®, causing the volume of certified coders to skyrocket and creating the need for another local chapter.
Founded the Jacksonville River City Chapter.
Has served in various officer positions for her local chapter.
Has been responsible for tracking membership renewals for 200 chapter members.
Served on the AAPC Chapter Association board of directors from 2009-2012 and served as chair from 2011-2012.
Offers CPC® review classes to members for nominal rates and is sympathetic to new coders who can't afford review classes.
Participates in the AAPC Chapter Association Scholarship Program.
Is the essence of AAPC spirit. Her energy led the Southwest Region to win the "Spirit Award" three years in a row at national conference.
Lectures and participates in AAPC-sponsored webinars.
Is available for chapter officers and members who need advice, creative ideas, and support.
Writes articles for Healthcare Business Monthly.
Was instrumental in creating, organizing, and directing the popular "Coding on the River" seminar for several years.
Often speaks pro bono at local and regional meetings.
Solves difficult reimbursement problems and complex coding queries across diverse specialties, and shares her expertise with members.
No Coder Is a Silo
Caperton's motto is, "No good coder lives in a silo, nor has all the answers." She surrounds herself with peers with whom she can "kick ideas around."
Caperton accredits much of her success to her mentor, Wendey. "Wendey was the first one who saw my leadership potential, and has encouraged me along the way. She has supported my endeavors of earning coding credentials and my involvement with the local chapters, including my time on the AAPC Chapter Association board of directors. I owe much of my success to the support she has shown me both personally and professionally," Caperton said.
Caperton says she's had the privilege of kicking ideas around with many great coders, but three have been constant companions over the past decade: Michelle Myrick, CPC, CPC-I, Seth Canterbury, CPC, CPC-I, and Palmeter. "We have spent countless hours discussing and debating a variety of coding- and billing-related topics that have strengthened my knowledge base," Caperton said.
Caperton makes teamwork contagious,  and it's a driving force for her. There are five local chapters in her area, which is very unusual. Caperton has been instrumental in building teamwork between the five chapters. "When I was in various leadership positions with River City," Caperton recalled, "I made an effort to ensure we worked together for our area members and not in competition with each other." The officers of each chapter were more than eager to join Caperton's effort, which she said, "successfully allowed the chapters to branch out, but share the same tree trunk." With the combined efforts of the chapters, there is always at least one exam offered per month in her area.
As for Caperton's future plans, she will continue to use her wealth of knowledge, presentation expertise, and organizational and planning skills to be the cheerleader who works behind the scenes for the coding community.
---

Michelle A. Dick is executive editor for AAPC.
Latest posts by Michelle Dick
(see all)