Minute with a Member: Kavitha Kesavan
March 1, 2015
Comments Off

on Minute with a Member: Kavitha Kesavan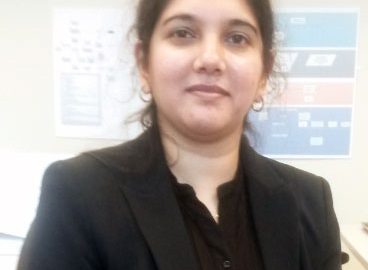 By Michelle A. Dick
Kavitha Kesavan, CPC, COC
Delivery Senior Manager, Dell, Inc., India
Tell us a little bit about your career—how you got into coding, what you've done during your coding career, what you're doing now, etc.
I'm a graduate in microbiology and also completed a formal course in medical transcription. With a life-science background, I was very interested in a career related to medicine. I heard about medical coding in 2002. I signed up as a member with AAPC in 2003 and earned the Certified Professional Coder (CPC®) designation in July of that year. That was the first milestone in my career. In 2009, I obtained the Certified Outpatient Coder (COC™) credential.
I joined Dell (formerly Perot Systems) as a medical coder and have been coding various specialties since then. I am proficient in diagnostic and interventional radiology, anesthesia and pain management, and general surgery. Since 2002, I have grown in the same organization as a delivery senior manager. I am responsible for service delivery to more than 20 clients in the United States, in more than 25 specialties, training and education of over 500 coders. I help improve certification opportunities for the coders, and provide overall mentorship and guidance to the coding team's development. We deal with both physician and facility outpatient coding, along with hierarchical condition categories.
What is your involvement with your local AAPC chapter?
We just opened a local chapter in Chennai, India, and I am elected as the president. The first official kick-off meeting happened on January 12 with the guidance of our AAPC board members. After a very long time for India, the opening of this chapter will help us connect to all coders and will be a great opportunity for networking and education. We also conduct various sessions within our organization to share coding knowledge and to keep ourselves updated with coming events.
What AAPC benefits do you like the most?
The "Continuing Education" section on the AAPC website is my favorite as it has the most up-to-date information for continual learning and upgrading my coding expertise.
What has been your biggest challenge as a coder?
Coding is like a limitless ocean, there is no end to learning. To be competitive, you have to keep up with the changing healthcare industry. The moment you think you know enough, you begin to sink.
How is your organization preparing for ICD-10?
From a coding perspective, we attend AAPC webinars. In early 2014, we completed the "Training the Training Coordinators" phase of sessions for our supervisors and managers. The Dell technology team has been working on a coding solution for ICD-9-to-ICD-10 code set conversion, which will help to overcome productivity differences during the transition stage. We have two in-house ICD-10-CM trainers to assist in education and transition. We are working to put out a comprehensive framework to our customers for ICD-10 consulting services.
If you could do any other job, what would it be?
I want to work in a medical research lab.
How do you spend your spare time?  Tell us about your hobbies, family, etc.
I love to watch my 6-year-old daughter's kiddy expressions and to hear her talking. Unfortunately, I get very little time to spend with her. My spouse works in the automobile industry in sales and marketing. I play badminton on the weekends.
Latest posts by Renee Dustman
(see all)