Minute with a Member: Shimeka Johnson
February 1, 2015
Comments Off

on Minute with a Member: Shimeka Johnson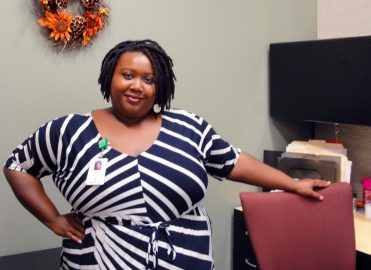 by Michelle A. Dick
Shimeka Johnson, MSHCM, RHIA, CPMA
Coding and Reimbursement Manager, Community First Health Plans, Adjunct Instructor, Sanford-Brown College, San Antonio, Texas
Tell us a little bit about your career — how you got into coding, what you've done during your coding career, what you're doing now, etc. 
I received my bachelor's degree in Health Information Management from Alabama State University in Montgomery, Alabama, where I completed three internships in the areas of mental health and acute care. Each experience proved beneficial in shaping my knowledgebase and real-world applications. Interning catapulted my transition from student to practicing professional and taught me the importance of hard work and industry networking. Earning my Registered Health Information Administrator (RHIA) certification a few weeks before graduating summa cum laude, I began to set a strong standard for my career. Interviewing months before graduation proved to be extremely difficult, yet beneficial. I had great education but little experience, so I used the skills I gained through course work and healthcare internships to ensure successful interviews. Upon graduation, it was difficult to decide which job would be the best fit to begin a strong and passionate career. That decision took me from the small town of Eutaw, Alabama to the vibrant city of New Orleans, Louisiana. In New Orleans, I was the health information manager for an inpatient rehab hospital for two years. In that time, I received my master's degree in Health Care Management from the University of New Orleans. My career eventually led me to San Antonio, Texas, where I am the coding and reimbursement manager for Community First Health Plans and an adjunct instructor for Sanford-Brown College.
What is your involvement with your local AAPC chapter? 
Throughout my career, industry networking has been extremely important to me. I have participated in meetings and conferences, each offering valuable resources. My most recent conference was the AAPC 2014 Regional Conference in Chicago, Illinois.
What AAPC benefits do you like the most? 
I appreciate AAPC's commitment to its members. Everything from the valuable information found on the website to ensuring a wonderful conference experience, AAPC puts their members' needs first. I find the certification preparation extremely beneficial with the online classes and practice exams.
What has been your biggest challenge as a coder? 
My biggest challenge has been getting providers to understand the value of having educated and credentialed coders, billers, and auditors working in their medical practices. Staff competency is extremely important in ensuring compliance with coding, billing, and documentation guidelines.
How is your organization preparing for ICD-10?
ICD-10 is a strong reality in my company. I have led the training initiative by providing ICD-10 material to the entire company. Everyone from the medical directors to provider representatives and claims processors are being educated and trained. AAPC webinars have proven to be very useful in providing specialty information for ICD-10.
If you could do any other job, what would it be? 
I have never wanted another career. Healthcare has been extremely good to me and I am looking forward to many more prosperous years.
How do you spend your spare time? Tell us about your hobbies, family, etc. 
I enjoy traveling. Every chance I have to travel in the United States and abroad, I take it. I am also a lover of the arts; I enjoy music, poetry, and dance. When I am not traveling, I visit local museums and art exhibits, and attend concerts.
Latest posts by Renee Dustman
(see all)