OIG Work Plan Update Offers Insight to 2016 Agenda
In AAPC News
May 29, 2015
Comments Off

on OIG Work Plan Update Offers Insight to 2016 Agenda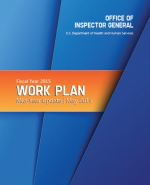 The Office of Inspector General (OIG) has released a mid-year update to its 2015 Work Plan. There are many new items on the agency's agenda, most of which are scheduled for 2016.
Although the OIG's oversight extends to other programs under the U.S. Department of Health & Human Services (HHS), the majority of its resources go toward combating fraud, waste, and abuse in Medicare and Medicaid.
For Medicare alone, the OIG has added several watch items:
Intensity-modulated radiation therapy (IMRT): Prior OIG reviews have identified hospitals that have incorrectly billed for IMRT services. Hospitals should be aware that the OIG intends to review Medicare outpatient payments for IMRT beginning in 2016.
Hospital preparedness and response to high-risk infectious diseases: To ensure quality of care and safety in hospitals, the OIG says it will determine hospital use of HHS resources and identify lessons learned through recent experiences with pandemic or highly contagious diseases, such as Ebola. This scope of work is scheduled to begin in 2016.
Access to durable medical equipment in competitive bidding areas: In 2016, the OIG will determine the effects of the competitive bidding program on Medicare beneficiaries' access to certain types of durable medical equipment, prosthetics, orthotics, and supplies (DMEPOS).
Clinical laboratory payments: The OIG plans to conduct in 2016 an annual analysis of Medicare clinical diagnostic laboratory tests to monitor expenditures and the new payment system.
Inpatient Rehabilitation Facility Prospective Payment System (IRF PPS) requirements: In 2016, the OIG plans on reviewing compliance of the IRF PPS, including the documentation required in support of the claims paid by Medicare.
Use of electronic health records (EHR) to support care coordination through accountable care organizations (ACO): The OIG will review in 2016 the extent that providers participating in ACOs in the Medicare Shared Savings Program use EHRs to exchange health information to achieve their care coordination goals. The agency will also assess providers' use of EHRs to identify best practices and possible challenges in their progression toward interoperability.
The OIG makes this statement in its mid-year update to the 2015 Work Plan:
In FY 2015 and beyond, we will continue to focus on emerging payment, eligibility, management, and information technology systems security vulnerabilities in health care reform programs, such as the health insurance marketplaces. OIG plans to add to its portfolio of work on care quality and access in Medicare and Medicaid, as well as on public health and human services programs. OIG's examination of the appropriateness of Medicare and Medicaid payments will continue, with possible additional work on the efficiency and effectiveness of payment policies and practices in inpatient and outpatient settings, for prescription drugs, and in managed care. Other areas under consideration for new work include, for example, the integrity of the food, drug, and medical device supply chains; the security of electronic data; the use and exchange of health information technology; and emergency preparedness and response efforts.
You can review the entire mid-year update to the 2015 Work Plan on the OIG's website.
Latest posts by Renee Dustman
(see all)