They're Back and Better than Ever
June 1, 2015
Comments Off

on They're Back and Better than Ever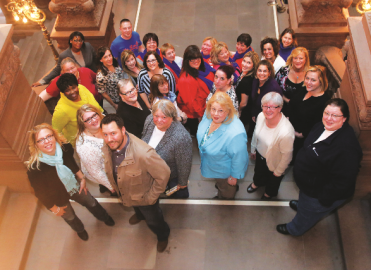 Albany, New York, receives chapter recognition, again.
If the Albany, New York, local chapter looks familiar to you, it should. Last year, through its accomplishments in 2013, Albany merited honorable mention for AAPC's Chapter of the Year Award, second to Spartanburg, South Carolina. In 2014, when Healthcare Business Monthly interviewed Albany Chapter President Lynn M. Nobes, CPC, CPC-I, CEMC, about the honorable mention, she said, "I felt like we won a gold medal," and she was beaming with pride. She also said, "We aren't giving up!" because her motto is, "When you reach that star, then try reaching for the next one."
Albany set out to receive top billing for the 2014 award, and they got it. Now Nobes feels as if her chapter "won an Academy Award." The officers who worked hard to bring their chapter to victory are:
President: Lynn M. Nobes, CPC, CPC-I, CEMC
Vice President: Michelle M. Mesley-Netoskie, CPC
Secretary: Milissa M. Lessard, CPC
Education Officer: Kathryn M. Glasser, CPC
Treasurer: Linda L. Ambrose, CPC
Member Development Officer: Lisa A. Kain, CPC-A
The Big Surprise Comes at HEALTHCON
It was a good thing Nobes and Michelle M. Mesley-Netoskie, CPC, attended this year's HEALTHCON in Las Vegas. Nobes said, "At the top of my bucket list were two items: attending a national convention and visiting Las Vegas." She added, "I kept having strong feelings that I needed to be in Las Vegas; now I know why." She went with her gut instinct, went to national conference, and recalls when she heard the news, "We noticed on the large screen that 'Chapter of the Year' was next, and then up popped, Albany, New York!"
What a well-deserved surprise it was. Nobes said, "It was the most amazing moment of my career!" Their excitement was apparent from the second they received the award, and by the time Healthcare Business Monthly called the chapter about an interview for the article, they had already picked out the location for photos. AAPC Local Chapter Officer Liaison Linda Litster said, "They are very excited and have the perfect place picked out for their picture!" That's precisely why Albany won this award; they are always two steps ahead.
What Makes a Chapter Land at the Top?
Mesley-Netoskie thinks Albany won because "members are the heart of our chapter and the officers serve at the will of the members, which is the key to a successful chapter."
The Albany chapter's achievements in 2014 include:
Holding 11 meetings (10 monthly meetings, plus an extra "Live Autopsy" video presentation)
Holding 11 monthly exams, with a total of 203 examinees (seven more than the requirement)
Continuing the "Denise Casso Scholarship." Two winners were selected. One was presented with $300 and the other with $150 at the September 2014 New York State Coder's Day celebration dinner and meeting.
Winning the grand prize for May MAYnia. They held a bake sale and donation drive for the "Denise Casso Scholarship."
Participating in Project AAPC
Sending a $500 check to "Feeding America"
Uploading minutes every month
Submitting all reports to AAPC before deadlines
Participating in a "Rewards Points" system to reward active chapter members
Hosting AAPC Chapter Department ICD-10 General Code Set Boot Camps in March and May
Holding five extra meetings where CEUs were offered
Educational Officer Kathryn M. Glasser, CPC, notes other reasons why the chapter is so successful, "We are a very active chapter, offering frequent educational opportunities for our membership," such as membership certification success recognition and engagement. She said, "The operations of the chapter are not owned by its board; all the members are encouraged and rewarded for actively participating in planning and conducting chapter events."
The Albany chapter also makes information easily accessible to members through newsletters and a Facebook page. Member Development Officer Lisa A. Kain, CPC-A, said, "We want our members to become more interactive outside of our meetings by using our Facebook page to ask questions and share information."
One Word Sums It Up
Treasurer Linda L. Ambrose, CPC, thought hard about why she feels Albany was successful enough to win this prestigious award, and she summed it up in one word: inclusiveness.
"We welcome everyone," Ambrose said. "We have payers, providers, educators, regulators, and students at our meetings. We all work together exchanging ideas, teaching each other, and networking. We have a variety of amazing speakers at each meeting, from doctors, pharmacists, and healthcare auditors to our inspirational AAPC CEO Jason VandenAkker. We also offer a variety of excellent educational CEUs for our members. If a nightly monthly meeting doesn't fit your schedule, how about a Saturday 'Live Autopsy' video seminar with a continental breakfast, or a two-day ICD-10 boot camp? Or maybe fun and games at May MAYnia is more your style? We do our best to listen to our members and give them the support that fits their schedule and the programming they are asking for."
Secretary Milissa Lessard, CPC, also had one word to sum up their chapter: camaraderie. "The sharing of ideas, knowledge, and camaraderie brings everyone to the monthly meetings," said Lessard.
Rewards Points Keep the Members Involved
In 2013, Albany established a rewards program. Nobes says that, since its implementation, their 600 members have become more involved. Chapter members are awarded for actively participating in events and for their efforts. They continued the rewards point system in 2014; members receive a raffle ticket stub for every five reward points they earn. Points are allotted as follows:
| | |
| --- | --- |
| Volunteer to speak at a chapter meeting | 50 points |
| Proctor an exam | 30 points |
| Arrange for a speaker | 25 points |
| Volunteer to serve on a committee (e.g., May MAYnia, Autopsy Video, Coder's Day Celebration) | 20 points |
| Assisting in the set-up/clean-up at a monthly meeting | 10 points |
| Post on AAPC's Albany, New York, chapter forum | 10 points |
| Chapter meeting attendance (per meeting) | 5 points |
At the New York State Coder's Day Celebration, members placed their ticket stubs in a raffle basket of choice. The more points a member earned for participation, the more chances he or she had at winning a prize.
Reaching for the Next Star
In 2015, the chapter continues to grow and reach out to fulfill members' needs. Nobes said, "This year, we've implemented a quarterly chapter newsletter, connected our members on Facebook, hosted an AAPC officer training, completed an all-member survey, held a spring seminar, are holding monthly exams, and continue to support members as we make the journey together to ICD-10."
The chapter says it will continue to make a lasting impression on members. Mesley-Netoskie said, "The chapter is not just about earning continuing education units. It's about always leaving with the feeling I learned something or made a connection with a fellow coder."
Nobes said her "hope for the chapter is that it continues to strive and be successful." Mesley-Netoskie agreed and added, "We'll just continue to grow and run with what works."
Albany celebrated its 18th year as an AAPC local chapter in March.
---

Michelle A. Dick is executive editor at AAPC.
Latest posts by Michelle Dick
(see all)