Critical Thinking for Coding Critical Care Services
June 1, 2015
Comments Off

on Critical Thinking for Coding Critical Care Services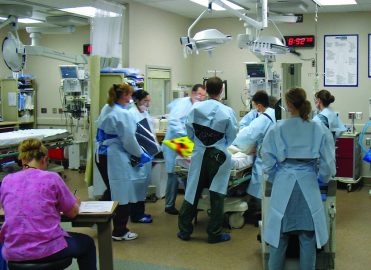 Three criteria determine what may be billed as critical care time.
By Lori Carlin, CPCO, CPC, COC, ACS-E/M
Simply because a patient is in an intensive care unit (ICU) doesn't qualify him or her for critical care services. Critical care is usually (but not always) given in a critical care area, such as a coronary care unit, ICU, respiratory care unit, or the emergency department (ED); however, payment may be made for critical care services provided in any location, as long as the services meet the definition of critical care.
Define Critical Care
CPT® and the Centers for Medicare & Medicaid Services (CMS) define critical care as the direct delivery of medical care by a physician(s) or other qualified healthcare professional for a critically ill or critically injured patient. A critical illness or injury acutely impairs one or more vital organ systems, where there is a high probability of imminent or life threatening deterioration in the patient's condition. Critical care involves high complexity medical decision-making (MDM) to assess, manipulate, and support vital organ system function(s) to treat single or multiple vital organ system failure, and/or to prevent further life threatening deterioration of a patient's condition.
Examples of vital organ system failure may include:
Central nervous system failure
Shock
Renal failure
Hepatic failure
Metabolic failure
Respiratory failure
Critical Care Criteria
Critical care services must meet three criteria. Proper coding relies on:
1. Critical Care Time: Only one physician may bill for a given time of critical care, even if multiple providers simultaneously care for a critically ill or injured patient.
Time that can be reported as critical care is the time spent engaged in work directly related to the individual patient's care — whether that time was spent at the immediate bedside, or elsewhere on the floor or unit. In all cases, the physician must be immediately available for the patient.
For instance, reviewing test results or imaging studies, discussing the critically ill patient's care with other medical staff, or documenting critical care services in the medical record count as critical care time. As long as this time represents the provider's full attention to the management of the critically ill or injured patient, it counts, even if services do not occur at the bedside.
Time involved performing procedures that are not bundled into critical care (i.e., billed and paid separately) may not be included and counted toward critical care time. The physician's progress note(s) in the medical record should document that the time involved in the performance of separately billable procedures was not counted toward critical care time.
For example: "Total critical care time spent was 45 minutes, which excludes time spent performing intubation."
If the patient is unable or clinically incompetent to participate in discussions, time spent on the floor or unit with family members or surrogate decision makers obtaining a medical history, reviewing the patient's condition or prognosis, or discussing treatment or limitation(s) of treatment may be reported as critical care, provided the conversation bears directly on the MDM. The physician's progress note must link the family discussion to a specific treatment issue and explain why the discussion was necessary that day.
For example: "The patient is unable or incompetent to participate in giving history and/or making treatment decisions," or "Because the patient was deteriorating so rapidly, I needed to immediately discuss treatment options with the family."
You may not report time spent in activities that occur outside of the unit or off the floor as critical care because the physician is not immediately available to the patient.
Because critical care is a time-based code, the physician's progress note must contain documentation of the total time involved providing critical care services. Review the time-based coding chart for reporting critical care (Table A).



2. Critical Care Treatment Requirements: Critical care means the qualified provider is performing life and organ supporting interventions that require frequent, personal assessment, and manipulation. Withdrawal of or failure to initiate these interventions on an urgent basis would likely result in sudden, clinically significant, or life threatening deterioration in the patient's condition. The physician should document all organ sustaining interventions that require physician assessment and interventions.
Examples of critical care treatment may include:
Thrombolytics
Anti-arrhythmics
Epinephrine, atropine, sodium bicarbonate
Cardioversion for atrial fibrillation or atrial flutter
Defibrillation
Fluid and blood administration for shock or impending shock
Narcan
Nitroglycerin drip
Mechanical ventilation (continuous positive airway pressure, bilevel positive airway pressure, or endotracheal tube)
Services bundled into critical care, and not separately reported, include:
Interpretation of cardiac output measurements (CPT® 93561, 93562),
Chest X-rays (CPT® 71010, 71015, 71020),
Pulse oximetry (CPT® 94760, 94761, 94762)
Blood gases, and information data stored in computers (e.g., electrocardiograms, blood pressures, hematologic data (CPT® 99090)
Gastric intubation (CPT® 43752, 43753)
Transcutaneous pacing (CPT® 92953)
Ventilator management (CPT® 94002-94004, 94660, 94662)
Vascular access procedures (CPT® 36000, 36410, 36415, 36591, 36600)
3. Critical Care Illness/Injury Criteria: Critical care may be delivered in a moment of crisis, at the patient's bedside emergently, or for post-operative patients who come out of surgery stable, but later deteriorate. In all circumstances, the patient's condition is life threatening or of imminent deterioration (i.e., the patient is critically ill or injured at the time of the physician's visit).
CMS offers these examples of patients whose medical condition may warrant critical care services:
An 81-year-old male patient is admitted to the ICU following abdominal aortic aneurysm resection. Two days after surgery, he requires fluids and vasopressors to maintain adequate perfusion and arterial pressures. He remains ventilator dependent.
A 67-year-old female patient is three days status post mitral valve repair. She develops petechiae, hypotension, and hypoxia requiring respiratory and circulatory support.
A 70-year-old admitted for right lower lobe pneumococcal pneumonia with a history of chronic obstructive pulmonary disease becomes hypoxic and hypotensive two days after admission.
Examples of patients whose medical condition may not warrant critical care services:
Daily management of a patient on chronic ventilator therapy does not meet the criteria for critical care unless the critical care is separately identifiable from the chronic long term management of the ventilator dependence.
A dermatologist evaluates and treats a rash on an ICU patient who is maintained on a ventilator and nitro infusion, managed by an intensivist. The dermatologist should not report critical care. Just because the patient is in the intensive care or other specialized care unit does not mean that critical care services have been performed, or that the patient meets the definition of critically ill or injured.
A surgery post-op patient is admitted to the ICU for monitoring. The patient is stable and does not require critical care treatment, only monitoring and pain medication. This service is part of routine post-op care.
Services not meeting the definition of critical care, or services provided for a patient who is not critically ill or injured in accordance with the above definitions and criteria, but who happens to be in a critical care, intensive care, or other specialized care unit, should be reported using an appropriate E/M code (e.g., subsequent hospital care, 99231-99233).
---

Lori Carlin, CPCO, CPC, COC, ACS-E/M, is director, Professional Coding Services, for Reimbursement & Advisory Services at Altegra Health, Inc. She has more than 15 years' experience in revenue cycle management, coding and auditing, quality assurance, training, and litigation support. Carlin has extensive experience in coding outpatient and inpatient E/M services. She specializes in coding and compliance with responsibility for large-scale clients including academic centers. Carlin is a member of the Seattle First Hill, Washington, local chapter.
Latest posts by Guest Contributor
(see all)
No Responses to "Critical Thinking for Coding Critical Care Services"