Informed Consent: A Process, Not Just a Signature
June 1, 2015
Comments Off

on Informed Consent: A Process, Not Just a Signature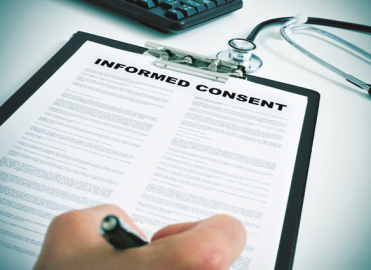 Set treatment expectations, limit your liability, and improve patient satisfaction.
By Debra Cascardo, MA, MPA, CFP
Informed consent has two purposes:
1. To educate the patient about the proposed treatment. Because patients often forget what the doctor tells them, providing something written in plain, non-technical language is the most effective way to educate them.
2. To protect the doctor from liability. Regardless of how doctors educate their patients, they aren't protected from liability without properly documenting consent before treatment begins.
It's crucial for coders, billers, and managers to fully document the informed consent process in an automated, efficient manner. Failure to obtain informed consent may be a liability for physician negligence, battery, or malpractice.
The Process
The informed consent process includes:
Delivering patient education, with confirmation the patient understood it;
Presenting the informed consent/refusal form;
Patient acknowledgment via signature; and
Documenting consent in medical records.
Technologies exist to support each step in the process; the most widely available technology covers obtaining, tracking, and verifying patient signatures.
Patient Acknowledgement via Electronic Signature
Electronic signatures can be images of handwritten signatures, voiceprints, signing by mouse-click, or tracing signatures onto electronic documents with finger, mouse, or stylus. These types of signatures present a number of legal verification problems, however, including:
No proof of whether the document was signed before or after the procedure
Possibility of the signature being copied from one document to another
Possibility of manipulating the document after signing
Digital signatures offer a more secure, legally enforceable electronic signature. Digital signatures link the document to the signer's identity, permanently embedding a time and date stamp of the signer's information into the document. The evidence of the signature's validity, along with a facsimile of the signature, may be viewed by opening the PDF file. Altering the document after it's digitally signed invalidates the digital signature.
If informed consent is to protect physicians legally, they should look for the highest signature verification level to withstand rigorous legal scrutiny.
Signature Technology Solutions
Several vendors offer HIPAA-compliant solutions for obtaining digital signatures. Some cloud-based solutions allow the consent document to be sent via email and signed online through a Web browser, while others allow only onsite signing with an electronic signature pad. Some also allow data entry fields with buttons, check boxes, fill-in responses, and multiple signatures. A few even allow consent form data to be integrated into specific electronic health record (EHR) fields.
Cloud-based Services
DocuSign, e-SignLive, Adobe EchoSign, RightSignature, Cosign, and SIGNiX are popular non-healthcare-specific systems that make the e-signing process affordably simple and secure. The practice sends the patient an encrypted email with a link to the informed consent form. The patient views the form online, fills in the required fields, initials and signs where requested, and submits the completed form. Copies are then emailed to the patient and doctor, and the practice can import the document into its EHR. These systems also maintain a cloud-hosted dashboard of all signed documents.
Pricing varies according to the number of users and number of documents. Expect to budget approximately $20 per user, per month for unlimited documents. For most small, single-location practices, one user account usually is enough.
For in-office patients, emailing to obtain an online signature may not be the best way to obtain consent. Accordingly, SIGNiX also lets office staff specify if the document is signed "in person." The form may then be viewed and signed on an iPad or a Windows 8 touch screen.
In-office Signature Pad Solutions
Basic digital signature pad solutions for obtaining patient signatures in-office can be purchased on Amazon for $100 to $250. These consist of a signature capture pad, stylus, and software to download. The patient views the consent form on paper or a computer monitor and then uses the stylus to sign his or her consent on the signature pad. The signature is embedded digitally in the PDF or Word document, which the office staff saves, naming it as that patient's informed consent form. The form then may be imported into the patient's EHR.
Tip: Meaningful use requires providing patients with educational materials about their specific medical conditions. Many of these systems can be set up to provide patients with medical education.
Other Areas Where Consent Is Necessary
Medical practices use consent forms for purposes other than proposed courses of treatment. For example:
Consent for use of the patient portal: Stage 2 of meaningful use requires that at least 5 percent of patients view, download, and transmit their health information, and send a secure electronic message to their provider. To comply with this requirement, physicians can grant patients access to their personal health records through a patient portal module provided by the EHR system. The portal permits patients to view clinical treatment information, request appointments, and securely communicate with the physician or the medical office staff.
Have patients read the policies and procedures for portal use, and sign an informed consent document acknowledging they understand the security risks of using the portal, and agree to use the portal for its intended use only.
Consent for health information exchange: Meaningful use Stage 2 requires doctors to electronically share a summary of care information when referring a patient to another provider. Generally, this electronic sharing is through a health information exchange (HIE). Ask patients to sign a consent form letting their healthcare providers view their shared health information via the HIE.
Based on state e-laws and HIE requirements, consent must be obtained before a physician can share or view a patient's information via an HIE. The U.S. Department of Health & Human Services launched its HealthIT.gov website in September 2013 to address "laws, policies, and issues related to the electronic exchange of health information." This site provides abundant resources for educating both healthcare professionals and patients about sharing medical information via an HIE.
Improve Patient Experience
Informed consent benefits the provider by limiting liability and benefits the patient by setting expectations and improving satisfaction. Automating the consent process can reduce the risk of malpractice claim litigation arising from the discrepancy between the patient's expectations and the treatment outcome. Technology can enable medical practices to implement an educational consent process to ensure patients are indeed informed and to create indisputable evidence of consent in an automated, efficient manner. Be sure everyone in the office is educated in this process — especially billers and coders.
---

Debra Cascardo, MA, MPA, CFP, is a Fellow of the New York Academy of Medicine and a healthcare journalist.
Latest posts by Guest Contributor
(see all)