The Radiologist's Role Depends on Location
In Coding
June 15, 2015
Comments Off

on The Radiologist's Role Depends on Location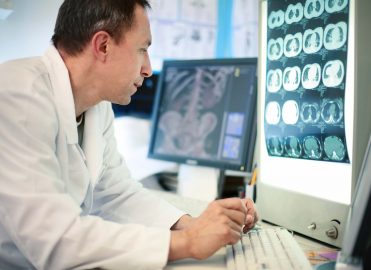 by John Verhovshek, MA, CPC
The Centers for Medicare and Medicaid Services (CMS) designates two sets of rules regarding radiology services, depending on where the services are provided.
The ""Ordering of Diagnostic Tests" rule applies to testing facilities, including individual physicians, physician groups, laboratories, and Independent Diagnostic Testing Facilities (IDTF) that furnish diagnostic tests to Medicare patients.
Outside the hospital, radiologists cannot change orders, but can order additional tests if there would be a delay in treatment and the reasons for the test are documented in the report to the treating physician. They can also change parameters of tests, such as views, section thickness, and contrast.
A test cannot be performed without a physician's order (with one exception, detailed below). CMS permits a testing facility to furnish additional diagnostic tests (beyond those explicitly ordered by the treating provider) only if all of the following criteria apply:
The testing center performs the diagnostic test ordered by the treating physician/practitioner;
The radiologist at the testing facility determines and documents that, because of the abnormal result of the diagnostic test performed, an additional diagnostic test is medically necessary;
Delaying the performance of the additional diagnostic test would have an adverse effect on the care of the beneficiary;
The result of the test is communicated to and is used by the treating physician/practitioner in the treatment of the beneficiary; and
The radiologist at the testing facility documents in his/her report why additional testing was done.
Standing orders (e.g., "If patient has condition X, perform test Y") are not permitted; however, CMS allows conditional orders if they are limited to a specific patient.
The Hospital Conditions of Participation: Radiology Service Rules (42 CFR 482.26) covers hospital inpatients and outpatients. Regarding orders for diagnostic testing, the conditions require, "Radiologic services must be provided only on the order of practitioners with clinical privileges or, consistent with State law, of other practitioners authorized by the medical staff and the governing body to order the services." In other words, in the hospital radiologists can order additional tests and change orders, as long as the hospital's governing body authorizes radiologists to order those services.
Screening mammography, in any setting, does not require an order, but should be performed before the radiologist orders other tests.
In any setting, tests can be cancelled due to the patient's condition, or if there is a clear error with the treating physician's order. New orders from the treating physician can be written or given orally, and should be documented in both the facility and treating physician's records.
The above requirements only apply specifically to CMS: Other payers may stipulate their own rules, which do not always coincide with CMS requirements. Check your payer contracts for specifics, or otherwise seek clarification, in writing, to be sure services meet coverage requirements.
Latest posts by John Verhovshek
(see all)