Think of Capturing Revenue as Spokes on a Wheel
July 1, 2015
Comments Off

on Think of Capturing Revenue as Spokes on a Wheel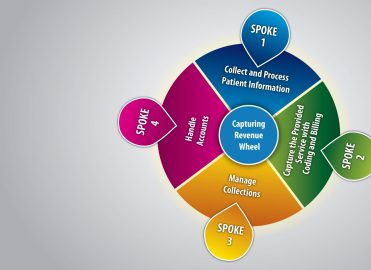 When your revenue functions are working in unison, you're in for a smooth ride.
By Michelle Stallings, CPC
Revenue capture in a medical practice can be compared to a wheel. The wheel begins to turn the moment a patient calls for an appointment and stops only when the balance on the patient account is zero. Just as multiple spokes support a wheel, multiple revenue functions (workflow tasks that staff or providers must perform) support the overall revenue cycle. Unless each function is performed effectively, the practice collapses.
When a revenue function fails to support the overall process, it's often because the responsible party doesn't understand his or her role. Communication and a list outlining required information and tasks will ensure that metaphorical wheel keeps turning.
Spoke 1: Collect and Process Patient Information
Patient registration is your front line for revenue collection. Gather the correct information from the patient prior to his or her time with the provider. Failing to verify coverage before an appointment may cause payment delays and inhibit workflow down the road.
Develop a clear and concise workflow to help staff understand the importance of collecting patient information. For example, require reception to confirm the demographic and insurance information for any patient who has not been seen at the practice in the last 30 days.
The more information you share with the patient prior to the appointment, the better equipped he or she will be. For example, when a patient calls for an appointment, reception might say:
Mr. Jones, we need to confirm your address, phone number, and insurance information on file. Please have copies of your insurance and driver license when you check in. 
Mr. Jones I see your insurance requires $25 co-pay. Please have this ready when you check in to see Dr. Doe. 
Whatever your policy is, be sure to spell it out so there are no surprises for the patient. While you have the patient on the phone, explain the practice's policy. If your state allows the cost of collections to be passed on to the patient, and the practice wishes to do this, outline it in the financial policy.
It's essential that staff fully understands the importance of individual roles. Simply telling the front desk, "Make sure you get the insurance card and driver's license," may not be enough. The staff may get busy or feel uncomfortable asking for a license. Explaining, "We are having denials for wrong insurance," or "We have to consider the increase in identity theft in healthcare," solidifies the importance of the policy. Similar explanations can soothe patients who balk at sharing personal information.
Spoke 2: Capture the Provided Service with Coding and Billing
Proper coding and billing is the next spoke in your wheel. Communication is crucial because insurance policies change frequently. Establish a written policy and workflow from the time the service is provided to the time you submit the charge for payment. Consider areas requiring special attention. For example:
Append modifier AI Principal physician of record to claims for an initial inpatient service for Medicare patients. Ask providers to submit charges no more than five days past the date of service to prevent timely filing denials and to allow coders time to accurately code and submit for payment.
Check edits built into your billing system to catch certain items that may be cause for a denial. For example, if a referring physician is not listed on the claim, will the edit catch it? Do you have an edit in place to prevent billing Medicare for consultations, which the Centers for Medicare & Medicaid Services (CMS) does not cover?
Some practices review appointment scheduling against all charge slips to ensure no revenue is missed. Most practice management systems can automate this process. If you do not use a missing charge report function, find out why and consider using one.
Practices may hold superbills for a day or more to verify that documentation supports what is being billed, and to ensure everything documented is billed. This can increase workloads, but will ensure revenue is not lost.
If the provider does not document sufficiently what is being billed, educate the provider as to what is needed and why.
Update and communicate changes about your policies when necessary (e.g., when new codes or coding guidelines are introduced). Ask staff affected by the policy for input and feedback. Coders and billers tend to be very detail-oriented and often can provide excellent suggestions to create effective policies and procedures.
Spoke 3: Manage Collections
Managing collections can be difficult. Consistently following a stated financial policy is the best offense.
Even for patients with excellent insurance, the cost of care is an important consideration. Patients expect to know their out-of-pocket expenses; the better you communicate those costs, the more success you'll have when collecting co-pays, co-insurance, and deductibles.
Some practices use a procedure/benefit form (see Sample Benefit Form on next page) to further facilitate collections and to manage patient expectations. For example, consider this workflow process:
The scheduler or secretary fills out the procedure/benefit form with a CPT® code of the expected surgery.
After the patient is scheduled for surgery and all instructions are given, introduce the patient to a financial staff member.
The financial advisor can go over all the financial details, such as the cost for the professional portion of the surgery, and collect the money. The patient should receive a copy of the form.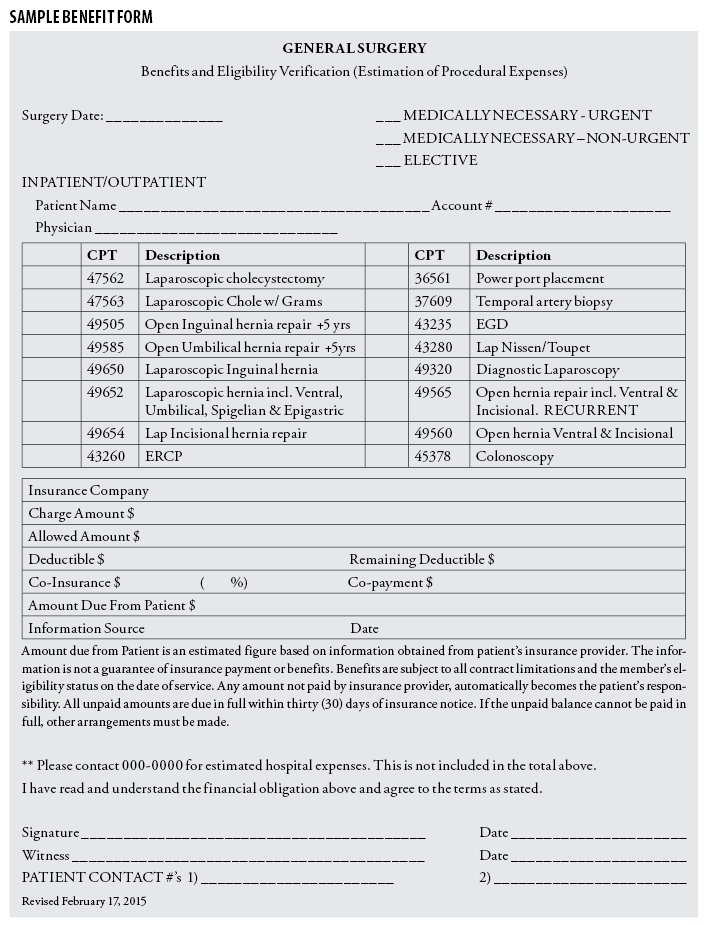 Be sure to include a disclaimer explaining that the CPT® code on the benefit form is an estimate based on the surgeon's determination of the service(s) to be provided, but that the service(s) could be different.
Spoke 4: Handle Accounts
Many practice management programs are available to assist your practice with this function to keep the wheel turning smoothly.
Assigning work by insurer allows staff to grow familiar with individual payers' rules. Perform quality audits (once per quarter, for instance) to monitor payments closely. Set up electronic reminders for information requests and appeals to be sure they aren't missed.
Staff handling accounts after the payer has received the claim must communicate well with the billing and coding staff. This helps to resolve any trends in denials.
Typically, everyone in a medical practice is busy and may juggle many tasks. Teamwork helps to ease the load, as does taking the time to understand how each person on your team communicates. We all want the end result, which is better revenue for our practice and — most of all — satisfaction for ourselves and the patients we serve.
---

Michelle Stallings, CPC, began in healthcare 24 years ago. She has worked for Ferrell-Duncan Clinic, a multi-specialty clinic for 15 years. She served as member developmental officer of the Springfield, Mo., local chapter the year it was named Chapter of the Year (2011). Stallings also has served as the chapter's education officer and is a part-time consultant for Health Advances.
Latest posts by Guest Contributor
(see all)