Risk Assessment High Priorities 
July 1, 2015
Comments Off

on Risk Assessment High Priorities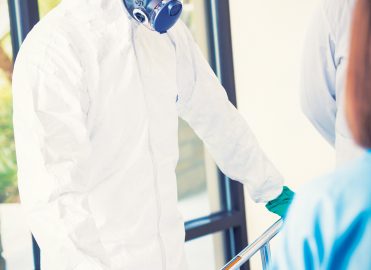 Part 3: Occupational Safety and Health Administration (OSHA) Act
By Marcia L. Brauchler, MPH, CMPE, CPC, COC, CPC-I, CPHQ
OSHA requires employers to provide a safe workplace for employees, and grants employees with the right to working conditions free from risk of serious harm.
The burden of compliance depends on the industry you're in. Mining, manufacturing, and maritime industries, for example, have to comply with a lot more OSHA standards than the average physician practice. There are three major OSHA standards affecting a physician practice (listed here in the order of their risk to the practice, with the first being the most common):
1. Bloodborne Pathogens Standard: There were 198 citations of this standard in 2013. Bloodborne Pathogens is the only OSHA standard specific to healthcare. According to OSHA, the definition of bloodborne pathogens is any pathogenic microorganisms that are present in human blood and can cause disease in humans.
Note: "Bloodborne" may be too narrow of a term: Pathogens can be transmitted in other ways, such as by other bodily fluids besides blood, and by contact with mucous membranes, such as the eyes or mouth.
Some pathogens include hepatitis B virus and human immunodeficiency virus (HIV). Because of the nature of their work, healthcare workers are at much higher risk than other individuals of contracting infectious diseases.
The standard requires employers to protect workers who are reasonably anticipated to come into contact with blood or other potentially infectious materials. Specifically, employers are required to:
Establish a written exposure control plan and update it annually.
Identify and ensure work practice controls, such as hand-washing and engineering controls, such as sharps' disposal containers.
Implement use of universal precautions.
Provide personal protective equipment.
Make hepatitis B vaccinations available.
Make available post-exposure evaluation and follow-up.
Provide information and training to workers.
2. Hazard Communication Standard: There were 63 citations of this standard in 2013. Hazardous chemicals can create either a physical hazard or a health hazard.
A physical hazard includes things that are explosive, flammable, or corrosive. Chemicals that create a health hazard are those that are toxic, irritate skin, eyes or lungs, or are carcinogenic. You need to know the hazardous chemicals in your work area, appropriate protective measures, and how to obtain additional information. Your practice should have a hazard communication plan and program and a safety data sheet for each hazardous chemical in your workplace.
3. General Workplace Standard: There were 39 citations of this standard in 2013. This standard includes general workplace safety issues, such as electrical wiring, respiratory protection, use of the proper recordkeeping forms, design and construction of exit routes, medical services and first aid, and general requirements for personal protective equipment.
The first thing to know under General Workplace Standards is how to stay safe in an emergency situation. Your employees should know how to escape, and what and where your exit routes (i.e., means of egress) are. Do you have an evacuation plan for your practice? It should be posted at your practice location and describe the locations of the fire extinguishers. In addition, emergency exit routes must remain unblocked at all times (no clutter in the hallways), and exit doors must be unlocked at all times.
You should know what your role is in an emergency situation. If the fire alarm goes off, what do you do? Does everybody stare at each other? Do you evacuate?
Before things go wrong and you're evacuating, everyone at the practice should be familiar with the office's fire prevention plan. According to OSHA, there are three primary ways everyone can help prevent fires in your workplace:
Never store flammable materials near an open flame or heat source.
Do not allow flammable and combustible waste materials to accumulate.
Maintain regular maintenance on heat-producing equipment.
Ionizing Radiation
Practices with X-ray equipment have an additional area of OSHA regulation with which to comply.
OSHA Staff Training
OSHA requires initial training upon hire on the plan for bloodborne pathogens. If there are changes to the plan, train your staff. For example, if the office changes its location or expands, redo OSHA training (with new emergency evacuation routes, for example). OSHA retraining also should be conducted prior to introducing a new hazardous chemical. Train the staff on the risks and how to deal with the chemical.
Why Comply with OSHA?
OSHA is enforced regionally. There are approximately 2,200 OSHA investigators who are responsible for the safety of approximately 130 million workers employed at more than eight million worksites throughout the country. An inspector can just show up at your workplace without notice and perform an inspection. He or she can also conduct OSHA investigations by phone or fax. These folks have priorities, however, with employees in imminent danger or who have just suffered a catastrophic event most likely to receive immediate attention.
The federal OSHA law applies to all 50 states and private sector workers. Half of the states have more stringent requirements or expand the workforce to include state and local government workers who are otherwise not protected under OSHA. Check to see if you're in one of the more stringent states, and make sure you know your state's standards. Go to OSHA.gov to get more information on these state standards.
You can be fined if you don't comply with OSHA requirements. Originally, OSHA reserved the right to assess per-employee penalties for violations of any OSHA standard (sometimes referred to as OSHA's "egregious penalty" policy). For instance, if a practice failed to provide protective gloves to its 10 employees, the practice could be fined 10 x $7,000 ($70,000) if the violation was willful.
This changed, however, after an employer was assessed per-employee with 11 penalties totaling more than $1.1 million for failure to provide respirators or protective clothing (among other things) and sought review of the penalty by the Occupational Safety and Health Review Commission. The commission limited OSHA's ability to assess per-employee penalties to cases where the cited standard clearly describes conduct that is unique and specific to individual employees.
Per-employee penalties may be assessed for failure to make appropriate entries in OSHA injury and illness logs because each entry is specific to an individual employee. The commission determined that per-employee penalties are not appropriate where a standard addresses a single work practice to protect against the exposure of multiple employees to a single recognized hazard.
In the example above, failure to provide protective gloves to 10 employees from a single bloodborne pathogen hazard would result in a single violation of $7,000.
Obtain More Information
This overview is a start to understanding OSHA compliance; make sure that you consult with your lawyers or other professional advisors for definitive information about how to implement OSHA policies tailored to your practice. Here are resources where you can find more information about the policies:
Regulation: www.osha.gov/law-regs.html
Required poster: www.OSHA.gov/publications/poster.html
---

Marcia L. Brauchler, MPH, CMPE, CPC, COC, CPC-I, CPHQ, is president and founder of Physicians' Ally, Inc. Brauchler and staff provide advice and counsel to physicians and practice administrators, as well as education and assistance on how best to negotiate managed care contracts, increase reimbursements, and stay in compliance with healthcare laws. Brauchler's firm sells updated OSHA policies and procedures as well as online OSHA staff training. Learn more at www.physicians-ally.com or at www.mgma.com. She is a member of the South Denver, Colo., local chapter.
Latest posts by Guest Contributor
(see all)