ICD-10-CM Coding for Bronchitis
In Coding
August 4, 2015
Comments Off

on ICD-10-CM Coding for Bronchitis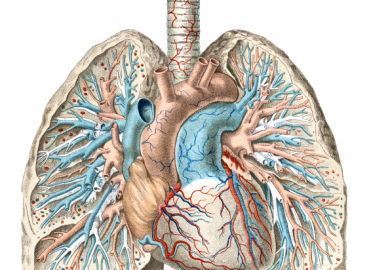 by John Verhovshek, MA, CPC
Bronchitis means inflammation of the bronchi, which are the passages that extend from the trachea into the small airways and alveoli of the lungs. Common symptoms of bronchitis include cough, sore throat, runny or stuffy nose, headache, muscle aches, and fatigue. In severe cases, the patient may present with general malaise and chest pain. If the patient has an underlying lung condition, such as chronic obstructive pulmonary disease (COPD), he could exhibit dyspnea and cyanosis.
Viruses and bacterial infections are the main cause of acute bronchitis. Cigarette smoking is the predominant cause of chronic bronchitis, although chronic bronchitis caused by air pollution is on the rise.
There are five documentation requirements for bronchitis:
Type: These include simple, mucopurulent, fibrinous, membranous, purulent, or septic bronchitis.
Temporal factors (or parameters): These include acute, chronic, acute on chronic, and recurrent.
Infectious agent, such as:
º Mycoplasma pneumoniae
º Hemophilus influenzae
º Streptococcus
º Coxsackie virus
º Parainfluenza virus
º Respiratory syncytial virus
º Rhinovirus
º Echovirus
º Other specified organisms
Associated condition: These may include bronchospasm, tracheitis, and tracheobronchitis. Associated conditions are listed in the "includes" note at the beginning of each code category. The conditions nevertheless should be documented to support medical necessity for services provided.
Cause or contributing factors: An additional code must be assigned if the documentation includes tobacco smoke exposure (occupational or environmental), tobacco dependence, tobacco use, or history of tobacco use.
In ICD-10-CM, bronchitis codes are classified as acute or chronic.
Acute bronchitis codes are further categorized by causal organism. For example:
J20.0 Acute bronchitis due to Mycoplasma pneumoniae
J20.4 Acute bronchitis due to parainfluenza virus
J20.7 Acute bronchitis due to echovirus
Chronic bronchitis codes are broken down further as simple, mucopurulent, or mixed. For example:
J41.0 Simple chronic bronchitis
J41.1 Mucopurulent chronic bronchitis
J41.8 Mixed simple and mucopurulent chronic bronchitis
Each subcategory includes an unspecified code. If documentation does not specify a time parameter you must assign J40 Bronchitis, not specified as acute or chronic (this should be avoided, if possible).
Example 1: Four-month-old Jake is brought in by his father for a hospital follow-up visit. Jake was taken to the ED by his mother and admitted due to breathing problems. Respiratory viral panel showed Jake to have acute bronchitis due to RSV. He had an eight-day hospital stay. He is doing very well today, with minimal cough and easy breathing.
Correct coding is J20.5 Acute bronchitis due to respiratory syncytial virus.
Example 2: Joy presents for recheck on her bronchitis. She states she is less short of breath when walking upstairs this week. She says the albuterol is helping her breathing.
This example indicates that the patient presents for a recheck on her bronchitis. Because there is no indication if the condition is acute or chronic, the unspecified code J40 must be assigned.
Example 3: Joy presents for a recheck on her simple chronic bronchitis. She states she is less short of breath when walking up stairs this week. She says the albuterol is helping her breathing.
With the addition of the words "simple chronic" to the second example, a more specific code, J41.0 Simple chronic bronchitis, may be assigned.
Latest posts by John Verhovshek
(see all)