Determine Whether Working at Home Is Right for You
February 1, 2014
Comments Off

on Determine Whether Working at Home Is Right for You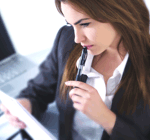 Weed through misconception, know expectations, and weigh the pros and cons.
By Pam Brooks, CPC, COC
Many coders enter the field of medical coding/billing because the job description and duties lend themselves to working from home. Remote employment can be a convenient and flexible alternative to the morning commute and nine-to-five work day. You can work comfortably from a home office (or almost anywhere with a laptop), while your co-workers get up at dawn to battle traffic and, often, inclement weather. Working remotely also means you can be a "soccer mom" and still get your work done.
More often than not, however, coders who work remotely are subject to the same guidelines and regulations as those who work in an office. More than physical logistics must be considered. Aside from excellent coding skills, home coders need outstanding communication and organizational skills, and must be self-directed and disciplined. It's not for everyone: Before embarking on a remote career, determine if it is a good personal fit, and consider the legal and logistical issues involved.
At-home Work Is Usually Earned
Don't let the popular advertisements fool you: "Earn 40K per year as a medical coder and biller from your own home!" These advertisements lead new coders to believe that six months' training and a coding certificate will fully prepare them for a remote job, coding complex surgical procedures for physicians and facilities across the country. If it were that easy, everyone would be doing it, and there would be no coding departments in medical offices or hospitals across the country.
According to Mark Babst, president of The Coding Network, LLC (TCN), all of their remote coders are subspecialty experts with at least one recognized coding credential or, more often, several credentials. These employees work in specialties for which they demonstrate expertise by passing TCN's proprietary and very demanding specialty-specific proficiency tests. When they begin working, their coding is reviewed until they obtain 100 percent accuracy. This level of competency is likely to produce coders who earn higher salaries, but it's not feasible for a new coding professional to land such a position. Individualized training and mentoring is not typically available for remote coders, who are expected to have a particular level of experience and expertise when hired.
Most remote positions go to experienced, mature individuals who have demonstrated their value. As hospitals scramble to hold on to experienced coders during times of transition, they are devising work-from-home strategies to accommodate flexible schedules, part-time coders, and even "snow birds" who live in warmer climates during the winter. Offering remote coding positions to retain valuable coders is a benefit for the organization and a privilege for the employee. As remote coding becomes more prevalent, organizations are setting clear expectations and guidelines for off-site employees.
Are You an Employee or a Contractor?
Whether an at-home coder is considered an employee or an independent contractor has important legal and financial implications. For example:
If you're able to choose your own work, set your own schedule, and are expected to provide your own hardware, software, and support resources; you're considered an independent contractor, and may not be paid until your work is completed. This employee classification can have some tax benefits, but will require you to submit your tax information to the state and federal government on a quarterly basis.
Employees who are directed by a manager or supervisor may be required to maintain certain hours, follow personnel policies and productivity standards, be compensated by a regular salary or hourly wage, and may be expected to use equipment and supplies provided by the employer.
Before signing on the dotted line with any remote coding organization, be sure to understand whether you are classified as an employee or an independent contractor, and retain legal or financial advice if you're unsure.
9-5 Often Still Applies
Some remote coders can set their own schedules as long as work is completed within a particular time. This can be helpful when working around a family schedule or around a primary job. But many organizations have the same expectations for their remote and on-site coders. Employees may have to be available during regular business hours to communicate with co-workers, address physician queries, and attend scheduled meetings. Unless the coder is salaried or paid according to baseline productivity, the employer may expect him or her to work a regular eight-hour shift.
And while some remote coders are able to save on wardrobe costs by working in their pajamas, others are expected to be showered, dressed professionally, and ready to come into the office with an hour's notice. Many employers expect local home coders to come in during Internet downtime, for scheduled meetings, or for mandatory training. Only coders who work in locations far removed from their employers can avoid these requirements.
Another misconception is that remote coders can avoid daycare costs. Coding requires concentration, which is difficult to balance with childcare. Dedication to duty can be difficult when family and neighbors realize, "Susie's working from home now!" You must set limits on unannounced visits or requests for errand running or babysitting to meet productivity and accuracy standards. One manager in a Florida-based hospital said she often makes unannounced visits to her employees' homes to verify that they are complying with the home-office expectations: private office, professional attire, and limited distractions.
You Have to Be Connected
Remote work requires a very fast Internet connection, which may be impossible for individuals who live in rural or remote areas. Connectivity is an important consideration because connectivity issues impact productivity. Continued problems may threaten your remote employment, as it's generally the employee's responsibility to maintain an Internet connection.
Some employers require remote coders to provide a statically assigned internet protocol (IP) address, which can be costly and offset savings gained by not having to travel into work. Other companies are comfortable with employees using their own laptops and accessing work through a virtual private network (VPN) access, which is less expensive, but can be slower.
Have a Dedicated Space
Because of privacy regulations, coders should provide a secure office setting that can be locked when not in use, and they must be able to work where patient information cannot be accessed or read by others. This means working from the dining room table while children and next-door neighbors drop by for coffee and a play date is not appropriate.
Drawbacks of Giving Your Undivided Attention
Many coders are paid based on the number of cases they code, and can increase their paychecks as they increase productivity. Other organizations expect remote coders to show increased productivity while working at home based on the assumption that there are fewer interruptions and distractions. Those coders may be held to that higher expectation when it comes time for an annual review.
Home coders must be mindful of their surroundings, avoid distractions, and set goals for themselves. This is a career option only for the very disciplined and motivated.
The isolation of working remotely is another drawback. The lack of co-worker interaction can make for a lonely day for some. A good way to shake the lonely-coder's blues is to attend AAPC local chapter meetings, where you can network with other coders and set up lunch dates with peers to provide some work-related socialization.
Expectations Should Be Clear
Employers should clearly outline expectations for downtime, equipment failure, schedules, work assignment, and personnel issues. For example, if you experience Internet connectivity issues, will you continue to be paid, need to come into the office, or must you make up the time in the evening or on the weekend? If your computer crashes, are you expected to cover the repairs, or deliver the equipment to the employer? What do you do in the meantime and will you continue to be paid? These scenarios need to be worked out in advance so everyone understands the expectations and responsibilities.
After expectations have been worked out and you understand the pros and cons, you can enjoy the fantastic opportunity of having a lucrative career that offers flexibility, autonomy, and financial rewards.
Bio:
Pam Brooks, CPC, COC, PCS, is the coding manager at Wentworth Douglass Hospital in Dover, N.H., where she's been employed for 12 years. She supervises a staff of multi-specialty physician and facility coders and has worked to develop a team of medical auditors and educators, surgical coders, DRG specialists, and documentation improvement specialists. Brooks first started in a mental health billing office and moved into practice management as she oversaw the operations of an eating disorders practice. She earned a Bachelor of Science degree in Adult Education and Workplace Training from Granite State College and is completing her master's in Health Administration from St. Joseph's College of Maine. Brooks sits on the advisory board for the Medical Administration Program at Great Bay Community College in Portsmouth, N.H. She is the secretary of the Seacoast-Dover, N.H., AAPC local chapter, a Region 1 AAPC Board of Directors representative, and enjoys mentoring.
Latest posts by Guest Contributor
(see all)