Learning About the Codes and the Bees
By Brad Ericson
August 1, 2015
Comments Off

on Learning About the Codes and the Bees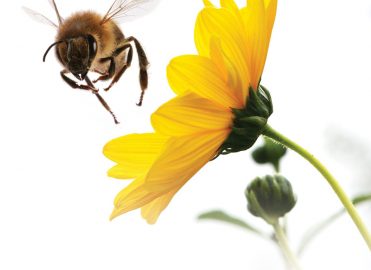 Nature can sometimes be the best coding training.
I recently took up beekeeping. It took years of planning and studying, followed by postponement after postponement born of doubt, fear, and ignorance. There were many issues to consider:
What were the legal implications, and would the neighbors mind?
Would a hive attract skunks?
Would the bees sting us or our pets?
How would they affect our other activities?
Delay after delay happened as we fretted, imagining the worst.
At the last practical deadline for establishing a new hive this spring, I drove home with a shoebox-sized container full of about as many bees as there are codes in ICD-9-CM, and I nervously dumped them into the hive box. My wife and I welcomed them by planting bee-friendly flowers, feeding them sugar water, and hovering over the hive as we did our first child. The bees survived in spite of us.
The hive's population has grown to around 70,000 worker bees, or about as many codes as you'd find in ICD-10. They're pretty self-sufficient, and our regular inspections are becoming fewer and more comfortable as we interact with them. While it's understandable that we had doubts and delays, our anxiety seems silly now. They are a part of our lives, and someday we may harvest honey. More importantly, the world needs more bees to keep plants pollinated and people fed.
What does this have to do with coding? We often seek metaphors to help us with challenges. For the last decade or so, ICD-10 has consumed a good part of our lives while we prepare to use it for all claims. On-again, off-again, ICD-10 has suffered so many delays some believe it won't happen. Rumors about it abound, and some challenge its necessity and efficacy.
Like our codes, worker bees are individual in activity and purposeful in union. Each worker returns with a unique tale. She carries pollen specific to a plant, and communicates the site and distance of that plant to her colleagues with impressive accuracy. Her role can be appended by the information she brings back or by the state of the hive itself. The ultimate goal is to preserve the hive through expansion and food production. Each hive hums with energy and shared knowledge.
When accepted as they are rather than feared for what they might be, ICD-10 codes are our worker bees, foraging information that makes up an accurate description of a patient's illness or injury. Neither ICD-10 codes nor bees bear malice, nor do they cause havoc unless mishandled. ICD-10 codes thrive when surrounded by the blossoms of knowledge and acceptance, like honey bees. We harvest honey from bees in the same way we hope to harvest revenue from the new code set.
ICD-10 will finally be implemented in a couple of months. Like my hive, its novelty soon will be forgotten. ICD-10 will help us care for patients and assure ouremployers' accurate and timely reimbursement. ICD-10 will be a part of our lives, and we may well reap the harvest. More importantly, the world needs the information ICD-10 allows us to share.
---

Brad Ericson, MPC, CPC, COSC, is director of publishing at AAPC and a member of the Salt Lake City, Utah, local chapter.
Latest posts by Brad Ericson
(see all)
No Responses to "Learning About the Codes and the Bees"