Account for all Details in Dermatology Coding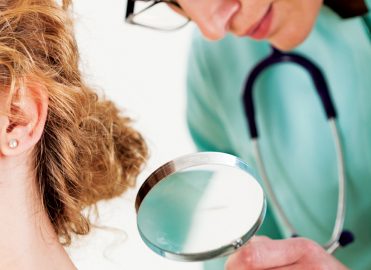 Medical necessity hinges on several factors that must be documented.
Looking back on my career of coding audits, investigations, and training bill reviewers, dermatology has always been a hot topic for payers, coders, and providers. To satisfy the documentation and coding challenges this specialty endures, dermatology providers and coders should ask themselves:
What is the intent of the service?
What is the diagnosis?
What is the technique (e.g., biopsy, destruction, excision, shave, repair, etc.)?
What is the method (e.g., laser surgery, electrosurgery, cryosurgery, chemosurgery, excision)?
What is the size and location?
Is medical necessity established?
Let's explore these questions as they relate specifically to dermatology coding challenges.
Non-existent Shave Biopsy
Intent is crucial when records indicate "shave biopsy." There are no codes for shave biopsies; the service is either a shave or a biopsy. A biopsy is included in a shave, but you can't simply code a shave. You must determine which technique was used.
Just like shaving your face, legs, etc., does not require sutures, neither does a shave in dermatology. Shaving includes a transverse or horizontal slice across the surface of the skin. A shave removes the top layer, but does not remove the root or cells below the skin's surface.
Shave documentation to look for:
Location on the body
Transverse/Horizontal excision
Lesion diameter (no margins)
Biopsy documentation to look for:
Notation of specimen sent to pathology
Punch
Excision without margins and without technique
Applying these principles, a 0.8 cm lesion to the right shoulder, removed via a transverse excision or shave is coded 11301 Shaving of epidermal or dermal lesion, single lesion, trunk, arms or legs; lesion diameter 0.6 to 1.0 cm. A 0.8 cm lesion to the right shoulder with irregular borders and color, removed for pathology, is coded 11100 Biopsy of skin, subcutaneous tissue and/or mucous membrane (including simple closure), unless otherwise listed; single lesion.
Excisions: The Start of Medical Accounting
Excisions require greater skill and documentation than a shave. Excisions are full thickness removal of a lesion through the dermis, to include simple closure and margins. Margins should be the narrowest size necessary to excise the lesion and to provide a safe border around the lesion; however, excisions are based on diagnosis, which explains the bundling of the biopsy service and the need for margins. The location on the body remains a necessary component for accurate coding.
Take caution when choosing excision codes before a pathology report confirms the diagnosis. A diagnosis of a malignant lesion can have devastating consequences for patients. With a diagnosis of cancer, patients may be denied life insurance, have difficulty maintaining or obtaining employment, and experience depression or anger.
If the diagnosis truly is cancer with a confirmation from a pathologist, did the dermatologist remove all of the cancer? Is there an appointment scheduled with an oncologist?
The procedure code and the diagnosis code should be consistent — meaning, if the diagnosis is benign, the excision CPT® code should be for a benign lesion. Do not assign a malignant lesion excision CPT® code with a benign diagnosis code (a red flag for audit).
When determining the size of the lesion diameter, no multiplication, subtraction, or division is used. Only the diameter of the lesion and the margins around the lesion determine the size for the selected code.
Example: A full-thickness, excised lesion measuring 2.6 cm x 1.5 cm, with 0.5 cm margins on both sides, located on the back, with a diagnosis of verruca vulgaris, is coded 11404 Excision, benign lesion including margins, except skin tag (unless listed elsewhere), trunk, arms or legs; excised diameter 3.1 to 4.0 cm because this is a benign lesion measuring 3.6 cm on the trunk. The size is determined by adding the
widest lesion diameter (2.6 cm), plus the margins on both sides
(0.5 cm + 0.5 cm).
If the same lesion comes back with a diagnosis of basal cell carcinoma, the correct CPT® code is 11604 Excision, malignant lesion including margins, trunk, arms, or legs; excised diameter 3.1 to 4.0 cm.
For excisions, remember:
Location on body
Malignant or benign diagnosis
Malignant or benign excision code
Lesion diameter plus margin
Simple closure is included
Intermediate and complex closures may be reported separately
Repairs: The Good, the Bad, and the Ugly
Repairs are classified as simple, intermediate, or complex. The depth of the repair is important when selecting the type of repair, as shown in the following chart:
When determining the type of repair, you cannot simply follow definitions. You must also apply specific rules for the repair services, including:
Code selection is based on the size of the defect or wound. The size of the lesion is not applicable.
Code selection requires you to know measurement in centimeters (cm).
Shape does not matter.
Add lengths of the wounds in the same classification and anatomical sites grouped together.
Debridement is generally included, with exceptions:
Wound is not immediately closed.
Gross contamination requires prolonged cleansing.
Significant amounts of devitalized (dead) or contaminated tissue is removed.
You may report repair of nerves, blood vessels, and tendons separately.
Include simple ligation of vessels.
Include simple exploration of nerves, blood vessels, or tendons unless significant dissection occurs.
After determining the number of wounds, identify the type of repair each wound required, based on the definitions of the repair types. All requirements must be met. For example, to support a complex repair, the wound documentation should indicate a defect or debridement of complicated lacerations, reconstructive service, and more than layered closure.
After determining the repair type, determine the location and length of each wound. To identify the appropriate repair code, combine all wound repairs of the same type and location by adding the lengths of those wounds.
Example: A patient in the emergency room with a 3 cm laceration to the forearm fell off his bike and cut himself on ground debris. The laceration is down to the bone. It is not a clean cut, and exhibits jagged edges.
The wound is thoroughly cleansed with a saline solution for better visualization of the underlying structures. Running along the neurovascular structures, which remain intact, the provider cauterizes all bleeders. Debridement of frayed tissue is done to prepare the wound for closure. The skin is revised with clean edges for repair, resulting in a 1 cm defect. The total wound size is now 4 cm.
Grafting is not necessary, but undermining of the tissue is needed to provide a healthy base for wound closure. Three-layered closure is performed. The correct code is 13121 Repair, complex, scalp, arms, and/or legs; 2.6 cm to 7.5 cm.
Upon examination, the patient has a smaller laceration on his flank, measuring approximately 1 cm. This is a clean laceration, penetrating through the superficial fascia. A two-layered closure is performed with vicryl and monocryl sutures. The correct code is 12031 Repair, intermediate, wounds of scalp, axillae, trunk and/or extremities (excluding hands and feet); 2.5 cm or less.
Medical Necessity
Fraud and compliance investigations in dermatology often focus on the destruction of lesions (CPT® 17000-17111); unbundling biopsies and other services with modifier 59 Distinct procedural service, and unbundling evaluation and management (E/M) services with modifier 25 Significant, separately identifiable evaluation and management service by the same physician or other qualified health care professional on the same day of the procedure or other service. These focus areas are well known, and as documentation improves to meet coding requirements, medical necessity concerns have grown.
Unlike surgical procedures under the skin, procedures on the skin create questions about cosmetic services. Historically, skin tags have been denied for lack of medical necessity. Now, investigators, auditors, and others have started to question the necessity of procedures on benign lesions.
When evaluating for medical necessity, providers, coders, auditors, and investigators should ask:
Where on the body is the treatment performed (e.g., visible or non-visible skin)?
Are the lesions symptomatic and causing discomfort, pain, or reaction to the patient?
Why do the patient and provider want to remove the lesions?
What type of lesion is being removed (e.g., skin tag, benign, etc.)?
Why are benign and asymptomatic lesions being treated?
If there is no anticipated cause for concern with these lesions in the future, has medical necessity been established to remove them?
If medical necessity does not exist, the services are generally not payable by insurance. For patients who have signed an Advance Beneficiary Notice of Noncoverage (ABN), the services may be billable to the insurance, but should be reported with the appropriate modifiers (e.g., modifier GA Waiver of liability statement issued as required by payer policy, individual case, GY Item or service statutorily excluded, does not meet the definition of any Medicare benefit or for non-Medicare insurers, is not a contract benefit, or GZ Item or service expected to be denied as not reasonable and necessary) to indicate that services are not medically necessary.
Lesions on the face, upper chest, or other visible areas of skin may further cause concerns about medical necessity.
If the service is deemed cosmetic, the financial responsibility may be the patient's, and not the insurance carrier's. Advise patients about potential costs of services they are about to receive if the services are not medically necessary. This protects the patient's interests, and protects providers, billers, and coders from allegations of fraud and abuse.
Future of Dermatology Coding and Investigations
Scrutiny for medical necessity is increasing for all E/M services reported with excision codes, repair codes, and destruction codes.
Example: Medical necessity questions occur based on the patient's chief complaint. For instance, if the patient has a cut, is it necessary to ask, "Is there a family history of cuts?" It may be appropriate to ask, instead, if a patient has diabetes or other medical conditions that may place the patient at greater risk of infection or delay healing.
Concerning the exam, is it necessary to go beyond the vitals, skin, neurological structures, cardiovascular structures, and musculoskeletal system for lacerations or wounds that do not involve traumatic injury or chemical impairment? Other examination elements may be necessary based on the history, but there is a difference between documenting to the code, and documenting the minimum necessary to establish a diagnosis and treatment plan.
Investigations also focus on procedures involving benign lesions. If the lesions were asymptomatic or benign, were the procedures necessary or were they performed due to the patient's desire for perfect skin? Was the procedure cosmetic or to reduce risk of skin cancer or other medical conditions based on the patient's personal, family, or social histories?
Templates also remain a focus of investigations for providers who document to fulfill a code or routinely pre-populate areas of the template. This could lead to allegations of falsifying medical necessity.
---

Michael Strong, MSHCA, MBA, CPC, CEMC, is the bill review technical specialist at SFM Mutual Insurance Company. He is a former senior fraud investigator with years of experience performing investigations into fraud and abuse, and a past EMT-B and college professor of health law and communications. Strong is a member of the St. Paul, Minn., local chapter. You can contact him at michaelallenstrong@yahoo.com.
Latest posts by Guest Contributor
(see all)
One Response to "Account for all Details in Dermatology Coding"