Understand Risk Adjustment Basics
August 1, 2015
Comments Off

on Understand Risk Adjustment Basics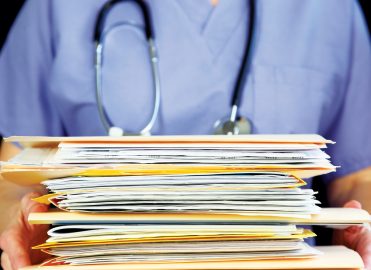 Good documentation is the foundation of capturing the provider's work and the patient's condition.
Risk adjustment is a predictive model introduced by the Affordable Care Act. It gauges the risk a healthcare plan member will incur medical expenses above or below an average, over a defined time. Risk adjustment assists in financial forecasting of future medical need. The more severe or complex a diagnosis, the higher the risk value assigned. The concept was introduced to minimize the incentive to choose enrollees based on their health status; and to encourage competition among health plans based on quality, efficiency, and premium stabilization.
Model Relies on Thorough Documentation
A risk adjustment value is assigned to each diagnosis code that falls into the payment model. The ICD-9-CM codes are then grouped into a hierarchical condition category (HCC). HCC categories are related both clinically and financially. Unlike hospital diagnosis-related groups (DRGs), HCCs are cumulative: Each additional HCC in an unrelated disease category is factored into the risk profile.
Hospital and physician claims are the main source of data that drives the risk adjustment model. Accuracy and specificity in ICD-9-CM coding and medical documentation is critical for risk adjustment. ICD-9-CM diagnosis coding is used to represent the member's health status and establish an accurate risk score. As in all coding, ICD-9-CM diagnoses cannot be inferred from physician orders, nurse notes, or lab or diagnostic tests — they need to come from the medical record documentation.
If medical documentation lacks the accuracy and specificity needed to assign the most appropriate diagnosis code, providers face the possibility of reduced payment in a performance-based payment model. There is also missed opportunity for patients to be
identified for care management programs or disease intervention programs.
Dodge ICD-9 Pitfalls
As you examine your ICD-9-CM coding documentation, here are some common pitfalls to avoid:
Coding from a superbill. A superbill simply does not allow a provider to see all the diagnosis options available to him or her. It is usually a limited, generic list of unspecified codes.
Coding from a problem list. Make sure all problems listed as active are appropriate and haven't been brought forward (copied and pasted) in error.
Coding only the primary diagnosis code. Diagnosis codes are not limited to what brought the patient to the office today. Any condition the provider monitors, evaluates, assesses, or treats should be included in the documentation.
Coding generic or unspecified codes. Code to the level of specificity known for that encounter. This will be even more important when ICD-10 is implemented.
Using rule out diagnosis codes. The rule of thumb is to code what you know at the time of the encounter. If a definitive diagnosis has not been established, code the signs or symptoms that brought the patient to the office today.
Coding "history of" as current. Anything that is listed as "repaired" or "resolved" should not be coded as current. Providers should be made aware of V codes that are appropriate for these scenarios.
Not linking manifestations and complications. Do not assume there is a connection with conditions listed in the medical record — the provider needs to make the link. Some terms that can be used to link conditions are "because of," "related to," "due to," or "associated with."
Overlooking chronic conditions. Chronic and/or permanent diagnoses should be documented as often as they are assessed or treated. For risk adjustment, the Centers for Medicare & Medicaid Services requires these diagnoses to be submitted at least annually.
Paint the True Clinical Picture
The business of healthcare may be changing, but good documentation continues to be a cornerstone of accurately reflecting the provider's work and the patient's condition. Risk adjustment takes a close look at how ICD-9-CM documentation and coding contributes to the complexity level of the encounter, medical decision-making, and time spent with the patient. Good ICD-9-CM coding documentation will paint the true clinical picture of the patient and reflect the provider's thought process.
---

Colleen Gianatasio, CPC, CPC-P, CPMA, CPC-I, is a risk coding and education specialist for Capital District Physician's Health Plan. She enjoys teaching PMCC, auditing, and ICD-10 classes. Gianatasio is on the AAPC National Advisory Board, serving from 2015-2018, and she serves as secretary for the Albany, N.Y., local chapter.
Latest posts by Guest Contributor
(see all)