Supreme Court Ruling on Same-Sex Marriage Creates Ripple Effect
In AAPC News
August 13, 2015
Comments Off

on Supreme Court Ruling on Same-Sex Marriage Creates Ripple Effect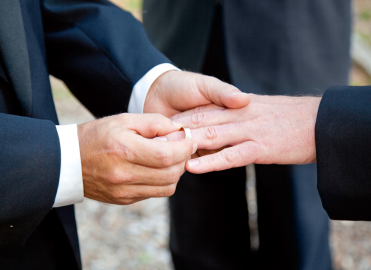 The U.S. Supreme Court ruling in the case of Obergefell v. Hodges on June 26, 2015 — granting same-sex couples the right to marry in all 50 U.S. states — was a real boon for the lesbian, gay, bisexual, transgender, and queer (LGBTQ) community. Among other things, it means health plans now have to recognize the legitimacy of gay marriages. Even the Centers for Medicare & Medicaid Services (CMS), whose leaders have been fairly liberal on the matter, will have to make some adjustments.
DOMA Ruled Unconstitutional
Section 3 of Defense of Marriage Act of 1996 (DOMA) defined "marriage" and "spouse" as follows:
"The word 'marriage' means only a legal union between one man and one woman as husband and wife, and the word 'spouse' refers only to a person of the opposite sex who is a husband or a wife."
On June 26, 2013 — minutes after the Supreme Court ruled in the case of U.S. v. Windsor that Section 3 of the DOMA was unconstitutional — the U.S. Department of Health & Human Services announced that it had adopted a new policy:
The Department of Health & Human Services has adopted a policy treating same-sex marriages on the same terms as opposite-sex marriages to the greatest extent reasonably possible. Any same-sex marriage legally entered into in a U.S. jurisdiction that recognizes the marriage — including one of the 50 states, the District of Columbia, or a U.S. territory — or a foreign country, so long as that marriage would also be recognized by a U.S. jurisdiction, will be recognized. Consistent with this policy and the purpose of the MSP [Medicare secondary payer] provisions, effective January 1, 2015, the rules below apply with respect to the term "spouse" under the MSP Working Aged provisions."
The rules:
If an individual is entitled to Medicare as a spouse based upon the Social Security Administration's rules, that individual is a "spouse" for purposes of the MSP Working Aged provisions.
If a marriage is valid in the jurisdiction in which it was performed as described herein, both parties to the marriage are "spouses" for purposes of the MSP Working Aged provisions.
Where an employer, insurer, third-party administrator, GHP [group health plan], or other plan sponsor has a broader or more inclusive definition of spouse for purposes of its GHP arrangement, it may (but is not required to) assume primary payment responsibility for the "spouse" in question. If such an individual is reported as a "spouse" pursuant to MMSEA [Medicare, Medicaid and SCHIP Extension Act], section 111, Medicare will pay accordingly or pursue recovery, as applicable.
Related articles:
"CMS Wants Equal Rights for Same Sex Marriage Partners"
"Medicare Publishes Info for Same-Sex Spouses"
Supreme Court Makes it Official
The Supreme Court upheld its ruling on June 26, 2015, and took it one step further, stating, "The 14th amendment requires a state to license a marriage between two people of the same sex and to recognize a marriage between two people of the same sex when their marriage was lawfully licensed and performed out of state."
CMS Responds
On August 12, CMS provided AAPC with this statement: "CMS' longstanding policy recognizes domestic partners as 'family members' for purposes of the Medicare Secondary Payer (MSP) rules for disability. However, by law, the MSP rules for the working aged apply only to spouses, whether same-sex or opposite sex. CMS plans to continue to apply the working aged rules only where a marriage exists."
Now that the law recognizes marriages of same-sex partners, CMS said it expects to revise language in the Medicare Secondary Payer (MSP) Manual, Pub. 100-05, chapter 2, section 10.2, which states:
The Medicare secondary provision for working aged does not apply to: Domestic partners who are given "spousal" coverage by the GHP. Federal law defines spouse as a person of the opposite sex who is a husband or wife. Thus, for this purpose a domestic partner cannot be recognized as a spouse.
---
Renee Dustman is an editor for AAPC.
Sources:
"Medicare Secondary Payer (MSP) Working Aged Policy for Group Health Plans (GHP) – Definition of 'Spouse'; Same-Sex Marriages," Alert, June 3, 2014
CMS Rulings, Ruling No. CMS-4176-R, February 9. 2015
United States v. Windsor, 570 U.S. 12, 133 S. Ct 2675 (2013)
MLN Matters® article M8875, October 10, 2014

Latest posts by Renee Dustman
(see all)
No Responses to "Supreme Court Ruling on Same-Sex Marriage Creates Ripple Effect"