ICD-10: Final Steps to Ensure a Smooth Transition
In Coding
August 27, 2015
Comments Off

on ICD-10: Final Steps to Ensure a Smooth Transition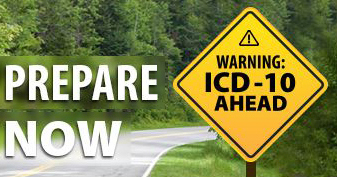 by Arlene Baril
With the October 1 ICD-10 transition date closing in, provider organizations that have spent months diligently preparing can relax — or not, depending on how serious they are about driving down the potential for financial impact to a bare minimum.
Is it really possible to count on a 100 percent glitch-free move to a new coding standard? ICD-10 is so different, so much more expansive, and requires adjustments within every provider function that feeds into the revenue cycle. From the initial recording of clinical documentation to the submission of claims, the remaining days offer opportunities to close gaps in readiness. Each gap closed in the days ahead will contribute to business as usual on October 1, and beyond.
Here are seven steps to take in putting the lid on ICD-10 readiness to avoid surprises that can affect revenue.
Walk through the ICD-10 plan one last time
Now is the time to revisit the plan that guided ICD-10 readiness, with an eye toward any items that could have been more thoroughly defined. Get granular: examine each milestone to ensure all relevant activities, and all affected parties, have been thoroughly accounted for.
For extra assurance, consider playing "what-if" with leadership from functions throughout the organization. How will the back office handle unexpected increases in claims denials? How will the coding department deal with slowdowns, as coders adjust to coding in ICD-10 throughout their daily workload? Answers to questions like these can provide insight into the true state of readiness, helping point to areas that need to be revisited.
Evaluate clinical documentation preparedness
Accurate ICD-10 coding and claims generation will depend largely on clinical documentation accuracy. It's helpful to review previous charts that were part of ICD-9 processes to see where weaknesses existed relative to the most common diagnoses, and make sure previous problems aren't carried over to the new coding standard.
Then, to bring all clinicians completely up-to-speed on ICD-10 documentation considerations — such as laterality, initial or follow-up visit for injury, pregnancy trimester etc. — conduct a last set of clinician reviews. Consider reviewing on an individual basis to encourage as many questions as the clinicians may have. These sessions are also an excellent time to obtain final input regarding EHR template functionality. Insights from one clinician that help make the EHR system better equipped for ICD-10 can benefit the entire group.
Don't forget non-EHR documentation
It's sometimes easy to forget that the EHR isn't the only documentation medium affected by the new standard. Take time to review all paper forms that have a role in data collection to ensure consistency with ICD-10 and with the changes made to electronic media. CMS also advises reviewing National Coverage Determinations (NCDs) and Local Coverage Determinations (LCDs) with ICD-10 codes for consistency with internal documentation processes and billing.
Fine-tune coder preparation
Most organizations focused especially hard on coder training in ICD-10 preparedness, and some coders will be further along than others. In the remaining days before the transition, leveraging training tools will help to identify which coders need additional work; if the tools provide sufficient granularity, have those coders focus on the specific DRGs that are the source of issues.
Although improving coder efficiency and accuracy is an ongoing process, any degree of improvement before October 1 can save tremendous time in rework and claims resubmission that would otherwise be necessary after the transition. Also, keep in mind that the 2016 guidelines go into effect on October 1; be sure all reference tools, encoders, and coding books are current to 2016.
Double-check RCM-related systems
Depending on timeframes for previous completion of acknowledgement testing and end-to-end testing with payers, a coding system may be at the proper state of readiness — or, readiness may have become compromised by system changes, either within the organization or external to it.
It's especially important to re-check coding systems for sustained readiness to submit claims in ICD-10.
Note to organizations that submit claims to Medicare: CMS is continuing Medicare acknowledgement testing right up to October 1, for assurance that claims can be accepted and adjudicated. But why stop with claims? Run system checks to ensure coverage on everything else, including scheduling office visits/procedures, and performing eligibility verification.
Include interfaces in systems checks
It can be surprising how many interfaces must be ICD-10 compliant due to shared diagnostic codes. As with RCM-related systems, this is the time to double-check interfaces for labs, HIEs, etc., leveraging any testing opportunities available to help avoid post-October 1 downtime.
Leadership's role in staff outlook
As a final consideration for ICD-10 readiness in the remaining days, keep each functional area informed as to the organization's overall state of readiness — including last-minute improvements made in final steps. The October 1 date has been hanging over people for a very long time, and there is bound to be some nervousness. The more everyone understands how well prepared the organization really is, the more October 1 will arrive as just another productive day.
Bio: Arlene Baril is senior director, Facility Reimbursement & Coding Services, for Altegra Health and has more than 35 years of experience in revenue cycle management and HIM operations. Before joining Altegra Health, she was principal/CEO of Baril & Associates Healthcare Consulting. Arlene has served in positions as executive vice president of HIM Services for PHNS, based in Dallas, TX; vice president of HIM & Software Services for UASI based in Cincinnati, OH; and as director of HIM & Coding services for Pyramid/The HealthCare Financial Group. She also worked for PricewaterhouseCoopers, LLP, in Dallas.
Latest posts by Guest Contributor
(see all)