CMS Releases ICD-10-CM to HCC Mappings
September 1, 2015
Comments Off

on CMS Releases ICD-10-CM to HCC Mappings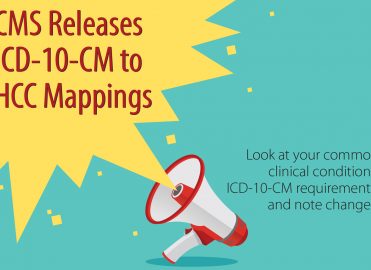 Linda R. Farrington, CPC, CPMA, CPC-I
Look at your common clinical conditions, ICD-10-CM requirements, and note changes.
On April 6, 2015, the Centers for Medicare & Medicaid Services (CMS) released the 2016 Rate Announcement and Final Call Letter, outlining the details of the CMS Hierarchical Condition Category (CMS-HCC) model for payment year 2016. In that announcement, CMS commented that they would be releasing the ICD-10-CM to HCC mappings "in the near future." CMS released the much-anticipated mappings in July.
Here are highlights of the mappings for just one common chronic condition: diabetes.
Diabetes ICD-10-CM to HCC Mappings
The diabetes two-code pairs in ICD-9-CM have been consolidated into single codes in ICD-10-CM, with a few exceptions still requiring two codes to fully report.
We started to see similar consolidation in the CMS-HCC model as we moved from the 2013 model to the 2014 model. In the 2013 model there were five hierarchical categories for diabetes; in the 2014 model we now have just three: Diabetes with Acute Complications (HCC 17); Diabetes with Chronic Complications (HCC 18); and Diabetes without Complication (HCC 19).
In the 2014 CMS-HCC model, we also saw a consolidation of ICD-9-CM codes where more diabetic manifestations are grouped into the diabetes categories. An example of this is diabetic neuropathy. In the 2013 model, code 250.6x Diabetes with neurological manifestations and neuropathy code 357.2 Polyneuropathy in diabetes mapped to separate categories with separate risk scores. In the 2014 model, they both map to HCC 18, with a single risk score. This appeared to be in preparation of ICD-10-CM, where we now have single codes for the previous code pairs. More than ever, it's important for providers to report all of the diabetic manifestations that a patient has.
As indicated above, there are still some diabetes with manifestation codes that map separately with separate scoring (e.g., diabetic chronic kidney disease (CKD), diabetic ulcer, and some of the diabetic manifestations where the descriptor ends with "other specified manifestations"), and require more than one code to fully report. Let your providers know about these remaining code pair requirements in ICD-10-CM so they correctly report both codes. Providers need to report an additional code for:
The stage of the CKD;
The type, site, laterality (e.g., right, left, bilateral) and depth of the ulcer; and
The exact nature of the "other specified manifestation."
This is just an example of the changes for one clinical condition. Look carefully at the mappings for all of your most prevalent clinical conditions; look at the instructional notes in the Tabular for each of those sections, categories, and subcategories; identify additional reporting requirements in ICD-10-CM; and inform providers of these changes.
What This Means for Providers
As with ICD-9-CM, providers need to document to the greatest degree of certainty based on their clinical judgment and code to that same level of specificity for each encounter. If you understand the statement in the ICD-9-CM Official Guidelines for Coding and Reporting, "Rather, code the condition(s) to the highest degree of certainty for that encounter/visit …," [emphasis added] you know this has always been the case. This requirement has been enhanced in the ICD-10-CM Official Guidelines for Coding and Reporting:
Sign/symptom and "unspecified" codes have acceptable, even necessary, uses. While specific diagnosis codes should be reported when they are supported by the available medical record documentation and clinical knowledge of the patient's health condition, there are instances when signs/symptoms or unspecified codes are the best choices for accurately reflecting the healthcare encounter. Each healthcare encounter should be coded to the level of certainty known for that encounter.
If a definitive diagnosis has not been established by the end of the encounter, it is appropriate to report codes for sign(s) and/or symptom(s) in lieu of a definitive diagnosis. When sufficient clinical information isn't known or available about a particular health condition to assign a more specific code, it is acceptable to report the appropriate "unspecified" code (e.g., a diagnosis of pneumonia has been determined, but not the specific type). Unspecified codes should be reported when they are the codes that most accurately reflect what is known about the patient's condition at the time of that particular encounter. It would be inappropriate to select a specific code that is not supported by the medical record documentation or conduct medically unnecessary diagnostic testing in order to determine a more specific code. [emphasis added]
As a coder, it's your responsibility to know the guidelines and the code set, including the instructional notes, so you're able to identify errors and omissions in coding, to query authoritatively using the guidelines, and to help educate providers on the guidelines they are required to uphold. This has implications not only in risk adjustment but in the portrayal of medical necessity on the claim form. CMS states in the Medicare Claims Processing Manual, "Medical necessity of a service is the overarching criterion for payment in addition to the individual requirements of the CPT code." The only way we can portray medical necessity on a claim form is with accurate and complete diagnostic coding. Failure to do so can result in claims denials, claims delays, and records requests, as well as affect risk scoring.
---

Linda R. Farrington, CPC, CPMA, CPC-I, is an AAPC approved ICD-10-CM trainer, with over 30 years of experience in healthcare, specializing in cardiovascular and thoracic surgery and risk adjustment. She has written articles, presented audio conferences, workshops and trainings, and served on the AAPC National Advisory Board 2007-2011. Farrington is a consultant for Optum and is the owner/instructor of Medisense (www.medisensemedicalcoding.com), teaching medical coding courses in Colorado Springs and online. She is a member of the Colorado Springs, Colo., local chapter and has served in two local chapters as president-elect, president, secretary, and education officer.
Latest posts by Guest Contributor
(see all)