Focusing on Our Chapters
September 1, 2015
Comments Off

on Focusing on Our Chapters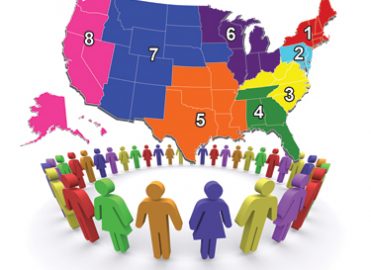 Successful May MAYnia reports continue to flood our mailbox.
More than 500 local chapters make up the backbone of AAPC. Every year these chapters celebrate May MAYnia as a fun way to provide quality education, draw in new members, and network with colleagues. Here are four more chapters who made May MAYnia a memorable event this year.
Madisonville Pennyrile, Kentucky
May MAYnia, for the Madisonville Pennyrile Kentucky chapter, was all about fun, facts, and food. The fun part was the prize drawings. "After our speaker finished, we drew from the wonderful prizes AAPC furnished for our chapter," said President Charlotte Kay Lynn, COC, CPC, COBGC. "I don't know which was the bigger hit: the books or the $50 gift certificates. The ladies love free items!"
The theme of their event, "Fraud and Abuse: Behind the Scenes from a Compliance Perspective," was also a big hit. For this chapter, May MAYnia was a success with 22 people in attendance. "We even had two non-members sign up for the free membership," Lynn said. "A good time was had by all."
San Juan, Puerto Rico
AAPC's San Juan, Puerto Rico, local chapter hosted a May MAYnia event, featuring Carmen Ibarrondo, CPC, who spoke of the "Impact of Medical Documentation with ICD-10-CM." After the conference, temporary member certificates and AAPC May MAYnia certificates supplied by AAPC were awarded to participants through a drawing.
President Addiss Maldonado Mendez, MD, CPC, CEDC, CPMA, was thrilled with the turnout and told AAPC, "Thanks for your support and we would be honored if you ever visit our chapter."
Statesville, North Carolina
Statesville, North Carolina, local chapter also hosted a May MAYnia event, according to Education Officer Juliana Kathman, CPC. Their theme: The Garden of Eatin'. The event began with a smoothie demonstration and tasting. Then, they settled in for an insightful presentation about bariatric surgery and the gastrointestinal (GI) system; followed by a game of GI Jeopardy. In addition to the door prizes provided by AAPC, the chapter also raffled off vegetable and fruit baskets, as well as a GNC gift, an Avon basket, and polo shirts. Naturally, there were plenty of good treats, too, which consisted of cut vegetables, corn chips, and varieties of dips and salsas. "We have a great officer team!" said Kathman.
Sumter, South Carolina
The Sumter, South Carolina, local chapter chose a Hawaiian luau theme for their annual May MAYnia. Each officer provided a luau-themed dish, which consisted of Hawaiian meatballs, sweet and sour Hawaiian chicken wings, Hawaiian fruit trays, BBQ pulled pork with Hawaiian rolls, and sparkling fruit punch. Officers greeted each attendee with a lei and a letter describing AAPC and the importance of local chapters.
The agenda for the event consisted of amazing presentations about the need for clinical documentation improvement (CDI), presented by Courtney Gainey, RN, CDI supervisor for Tuomey Healthcare System; physician queries and staying compliant, presented by
Christin Brodrick, CPC, chapter president and coding supervisor for Tuomey Healthcare System; and ICD-10-CM practice coding using Disney characters, presented by Lahoma Brasfield, CPC.
Throughout the evening, there were drawings for door prizes, including five codebooks, AAPC Bucks, calendars, pens, pencils, and more. The grand prize winner was Catina Tomlin, CPC, who won a personalized coding gift basket filled with an ICD-10-CM codebook, ICD-10-CM workbook, T-shirts, notepads, pens, pencils, highlighters, $50 in AAPC May MAYnia money, hand lotion, and of course, candy! At the end of the meeting, attendees were given a thank you card expressing gratitude for supporting their local chapter.
Tip: Use these ideas, and those of other chapters we've featured in the past few issues, to help plan for your chapter's May MAYnia event in 2016!
Latest posts by Renee Dustman
(see all)