September 2015 Minute with a Member: Rob J. Pachciarz
September 1, 2015
Comments Off

on September 2015 Minute with a Member: Rob J. Pachciarz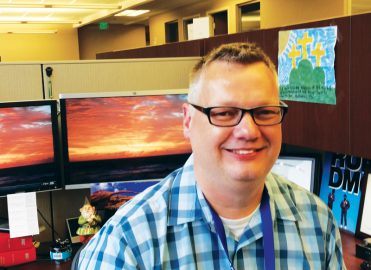 Rob J. Pachciarz, CPC, COC, CIRCC, CASCC
Senior Manager, Outpatient Coding Ethics and Compliance, LifePoint Health, ICD-10-CM/PCS Trainer
Tell us a little bit about how you got into coding, what you've done during your coding career, and where you work now.
I was introduced to the business side of healthcare in 2000 when I began posting insurance and private payer payments for skilled nursing facilities across the United States. I then moved down the street to another large hospital ownership group, where I posted payments and issued refunds for overpayments. After four years, I transitioned to accounts receivables, which is where my love and appreciation for good coding took shape.
To better serve the facilities that rely on me for resolving denial issues, I obtained my Certified Professional Coder (CPC®) credential in 2004. After that, my coding instructor recruited me to participate in a new coding program that provided outsourced coding services to ambulatory surgery centers (ASCs). There were three ASCs that I served in the Nashville area. My love for outpatient surgical/facility coding grew and it showed with excellent audit results. During that time, I also became an adjunct coding instructor for a medical vocational school.
In 2010, I was asked to work in the Outpatient Coding, Ethics and Compliance Department at LifePoint Health. When I was first hired, I was challenged to obtain the Certified Outpatient Coding (COC™) credential, and then I earned Certified ASC Coder (CASCC™) designation. I most recently obtained the Certified Interventional Radiology Cardiovascular Coder (CIRCC®) credential. Besides my CPC, I'm most proud of the CIRCC® due to the difficulty of the exam. My current job title is senior manager and I'm overjoyed to work with the some of the best coders and educators in the country.
What is your involvement with your local AAPC chapter?
I've served as member development officer for the Nashville, Tennessee, local chapter. I attend as many local chapter meetings as I can; however, I've won so many raffles and giveaways that I think I may have been unofficially banned from any future events! I'm proud to say that the current vice president of the chapter, Stephen Cannon, CPC, is a former student of mine.
How has your certification helped you?
Early in my career, my CPC® helped me open a lot of doors. At this stage of my career, though, it's all about how I can use my credentials to best serve others who need help, whether it's helping a catheterization laboratory that's having difficulty selecting the appropriate charge for an abdominal aortogram or a relative deciphering an Explanation of Benefits.
Do you have any advice for those new to coding and/or those looking for jobs in the field?
Don't give up hope. Be a source of inspiration to those who depend on you when times are tough. Let your actions during your job search — especially in moments of frustration — teach perseverance and faith to those who are watching you with impressionable eyes.
My other advice is to draw a 50-mile wide circle around where you live and attend any local chapter meeting in that circle. Network like crazy; put yourself out there to meet hiring managers and other coders who know about unadvertised openings.
What has been your biggest challenge as a coder?
I create educational content concerning proper coding and documentation for some of the ancillary services our hospitals provide on an outpatient basis. I love it, but tailoring it to meet the needs of hospitals in different states is complicated.
How is your organization preparing for ICD-10?
LifePoint Health owns 60-plus hospitals in more than 30 states, so our preparation for ICD-10 has been extensive and ongoing. We are finalizing curricula for employees and continue to roll out dual coding and productivity tracking methodologies. We are testing with top payers to ward off potential problems down the road. We developed a 60-day out awareness campaign, with emphasis on clinical documentation expectations for physicians.
If you could do any other job, what would it be?
I would feel privileged to serve my country again in the United States Air Force. I served from 1987-1991, and I would gladly do it all over again.
How do you spend your spare time? Tell us about your hobbies, family, etc.
I have been married for 19 years to Angela, and we have three kids: Julia, 12, Yuli, 8, and Lucy, 4. Our two youngest children are adopted: Yuli is from Bulgaria and Lucy is from Albania. I enjoy vacationing at the beach and exploring new places with my family. I like to write poetry and lyrics, dance, and live life to the fullest.
Latest posts by Michelle Dick
(see all)
No Responses to "September 2015 Minute with a Member: Rob J. Pachciarz"