Your ICD-10 Pep Talk
September 1, 2015
Comments Off

on Your ICD-10 Pep Talk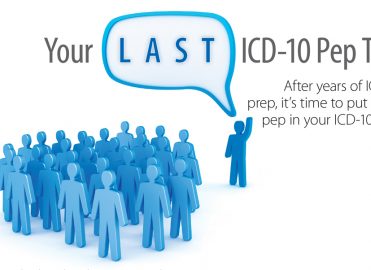 After years of ICD-10 prep, it's time to put some pep in your ICD-10 step.
As we draw closer to the October 1, 2015, ICD-10 implementation date, I think we've all experienced moments of either panic or relief. For many AAPC members, embracing this change to the coding system came easily and the learning opportunity was welcome. But for others, the thought of change has been difficult.
Those of you who jumped in to meet the ICD-10-CM proficiency requirements for certification have excelled. I continue to have faith that AAPC members are the best in our industry, as ICD-10 proficiency results demonstrate. If you haven't yet fulfilled the ICD-10 proficiency requirements, it's time.
Members Give a Shout Out to ICD-10
As Franklin D. Roosevelt said in his 1933 inaugural address, "The only thing we have to fear is fear itself." After all, it isn't the first time you've had to learn and use a new code set, Suzan Berman, CPC, CEDC, CEMC, reminds us.
"Were you born knowing ICD-9?" asks Berman. "No, you learned it and you can learn this set, too. You have been coding and have obtained your certification; learning a new set of codes is what you do best!"
If it's the number of codes in ICD-10 that has you worried, fear not. According to Pam Brooks, CPC, COC, PCS, "It's easier than you think, and so much more interesting to code."
ICD-10 Will Ensure Our Livelihood
Multiple chronic conditions continue to dominate healthcare dollars and will force payment structure changes as we move forward with healthcare reform. Physicians will be reimbursed less under the new payment models unless we code to the highest level of specificity. To do that, however, we must understand documentation requirements and we must relay that information to our physicians.
Continued education is essential. Learn about the conditions your physician treats. Develop an understanding of disease processes and how they affect coding. And embrace ICD-10.
Proficiency Is the Key
The AAPC deadline for demonstrating ICD-10 proficiency is December 31, 2015. You still have some time, but the industry needs you to be ready, now. Coders who know ICD-10 are in high demand. Don't miss out on this golden opportunity!
To those of you who have demonstrated ICD-10 proficiency, thank you for proving that AAPC has the best coders, who are prepared for this massive change. The value of a coder cannot be emphasized enough during this crucial time. Stand up and be counted. You've got this!
---

Rhonda Buckholtz, CPC, CPMA, CPC-I, CENTC, CGSC, COBGC, CPEDC, is vice president of ICD-10 Training and Education at AAPC and a member of the Oil City, Pa., local chapter.
Latest posts by Rhonda Buckholtz
(see all)
No Responses to "Your ICD-10 Pep Talk"