Coding Tip: Pneumonia
Pneumonia is a common malady that often takes lives, particularly among the elderly due to their weakened immune systems and already-compromised health. By definition, according to the Merck Manual Online, "Pneumonia is an infection of the small air sacks of the lungs known as the alveoli and the tissues around them." That's about the gist of it, but you should also know what type of pneumonia you are coding. A quick look at the entry for Pneumonia in the ICD-9-CM alphabetic Index to Diseases verifies the numerous types of pneumonia, including viral, bacterial, and aspiration.
To complicate matters even more, says reimbursement specialist Laura Smith, CPC, CPC-I, "when looking up pneumonia in the ICD-9-CM index, you will notice some types of pneumonia require two codes — one to identify the infectious agent and a second to identify the resulting type of pneumonia." For example, the index entry for rheumatic pneumonia shows 390 [517.1]. "The brackets identify the manifestation code," says Smith, "which should always be coded second. Remember to verify codes in the Tabular List of the ICD-9-CM manual."
Hospital- or institutional-acquired pneumonia is common and most likely caused by Staphylococcus aureus. "Pneumonia caused by the staphylococcus bacteria would be coded as 482.4x Pneumonia due to Staphylococcus," says Smith, "with a fifth digit required to specify the strain."
Another type of pneumonia, aspiration pneumonia, results from inhaling solids or liquids and is often common among the elderly due to difficulties swallowing as a result of stroke or the later stages of dementia. "Aspiration pneumonia is coded as ICD-9-CM code 507.x Pneumonitis due to solids and liquids," Smith advises, "with a fourth digit required to specify the inhaled substance."
Of course, this time of year you're likely to see an increased amount of pneumonia due to complications from flu. For influenza with pneumonia, you would use code 487.0.
If, however, the physician's documentation simply states "pneumonia, bacterial, hospital acquired, or community acquired" and does not state the type of bacteria, "you would use code 482.9 Bacterial pneumonia unspecified," concludes Smith.
Latest posts by admin aapc
(see all)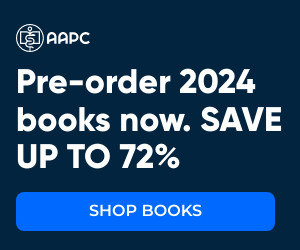 No Responses to "Coding Tip: Pneumonia"