Prostate Cancer Screening Essentials for Coders/Billers
In AAPC News
September 28, 2015
Comments Off

on Prostate Cancer Screening Essentials for Coders/Billers

September is Prostate Cancer Awareness month. Before you absentmindedly produce a claim for prostate cancer screening, take a moment to understand this disease.
Prostate Cancer Basics
Prostate cancer is the most common cancer in American men, according to the Centers for Disease Control and Prevention.
The prostate is a part of the male reproductive system. Its job is to produce fluid that makes up a part of semen. Risk factors for prostate cancer include age, family history, and race.
Symptoms of prostate cancer may include:
Difficulty starting urination
Weak or interrupted flow of urine
Frequent urination, especially at night
Difficulty emptying the bladder completely
Pain or burning during urination
Blood in the urine or semen
Pain in the back, hips, or pelvis that persists
Painful ejaculation
Symptoms or no, the American Cancer Society recommends that men age 50 and older be screened for prostate cancer. The recommended age for screening to begin in men with family history of prostate cancer and black men is 45.
Two tests are commonly used to screen for prostate cancer:
Digital rectal exam (DRE): A qualified healthcare professional inserts a gloved, lubricated finger into the patient's rectum to estimate the size of the prostate and feel for lumps or other abnormalities.
Prostate-specific antigen (PSA) test: This is a blood test that measures the level of PSA, a substance made by the prostate. An elevated PSA could be an indication of prostate cancer.
Coding/Billing for Prostate Cancer Screening
Medicare provides coverage of an annual preventive prostate cancer screening DRE and PSA blood test for all male beneficiaries age 50 and older. At least 11 months must have passed following the month in which the last Medicare-covered screening DRE or PSA test was performed. There is no deductible or coinsurance/co-payment for the PSA text, but there is for the screening DRE under Medicare Part B.
Report HCPCS Level II code G0102 Prostate cancer screening; digital rectal examination or G0103 Prostate cancer screening; prostate specific antigen test (PSA), total, as appropriate, with ICD-10-CM diagnosis code Z12.5 Encounter for screening for malignant neoplasm of prostate (ICD-9-CM V76.44 Special screening for malignant neoplasms, prostate).
For Medicare beneficiaries, code G0103 is paid under the Clinical Diagnostic Laboratory Fee Schedule; and G0102 is paid under the Medicare Physician Fee Schedule.
Note: You may not bill separately for a DRE when performed on the same day as an evaluation and management service (CPT® codes 99201-99456 and 99499).

Source: MLN Matters® article: SE0709
Latest posts by Renee Dustman
(see all)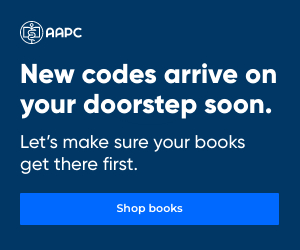 No Responses to "Prostate Cancer Screening Essentials for Coders/Billers"