OCT – Chapter in the Spotlight
By admin aapc
September 30, 2015
Comments Off

on OCT – Chapter in the Spotlight
The Resilient Northbrook IL Chapter
2015 MAYMania at Northbrook LC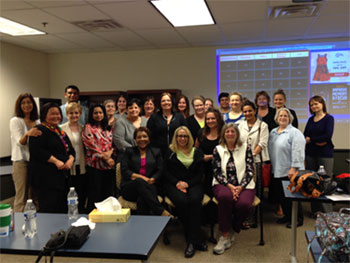 The Northbrook IL local chapter has had a series of shocks this past year, but the resilient chapter officers overcame all the obstacles to emerge victorious.
The biggest difficulty came in 2015, when the chapter abruptly lost three officers at once. In spite of that, the incoming officers were very professional and functioned quite well under pressure. Fortunately, a previous vice president, Laura Matuszak, stepped in as interim treasurer.
The chapter's next challenge was finding a place to hold monthly meetings. The new officers put their heads together and, late in 2014, found a new home at the Midwest Palliative and Hospice Care Center. The center was so impressed by the chapter's mission, vision, and the members' commitment to the coding profession that the chapter was offered use of the facility for the entire year.
In order to better serve local AAPC members, the chapter took the initiative of offering a Sunday exam session to avoid conflicts with many people's work schedules and religious obligations. The exam date was very much appreciated.
Through all this, the officers work very hard to give back to their members by organizing a successful Christmas party as well as contribute to the AAPC Hardship Fund!
One of the Northbrook local chapter's highlights for 2015 was May Mania. Officers prepared challenging yet practical coding questions and offered prizes for members to win if they could successfully solve the problems.
As the chapter prepares for 2016, officers asked regional Board of Directors member (BoD) Faith McNicholas to speak at the chapter's September meeting on the importance of service as officers. Following that meeting, members stepped up and expressed a willingness to serve. It's beginning to look like 2016 will be a better year indeed.
Latest posts by admin aapc
(see all)