OCT – Officer in the Spotlight
Lynn Elks, RN, CPC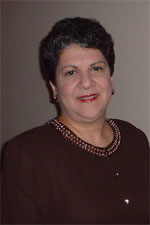 Lynn Elks, RN, CPC, a native of New Orleans, is a registered nurse and Certified Professional Coder specializing in cardiology, an interest she developed in nursing school. After graduating from Southeastern Louisiana University with a bachelor's degree in nursing, she began a career that saw her working nursing positions in emergency rooms, coronary care units, cardiac surgery units and intensive care units at various hospitals.
In the late 1990s, while she was working for a large cardiology center, she was appointed compliance officer, where she realized she could do a better job if she became a medical coder.
In time, she met a healthcare attorney who was also a medical coder, and together they joined to form a business that audited cardiology practices across the country for coding compliance.
In the 2000s, Elks taught medical coding and billing at a Pennsylvania community college for five years. "I realized at that point that I liked to mentor and teach," she said. At that time she first became active in her local AAPC chapter, while working as a consultant for a Pennsylvania cardiology group.
In 2007, she moved with Jeffrey, her husband of 40 years, to Geneva, Illinois. In 2010 she became the coder and compliance officer at Valley Cardiology, in Elgin, Illinois, as well as consulting on coding compliance for other nearby cardiology practices.
Elks started the AAPC chapter in Aurora, Illinois, in 2010, becoming its first president and has worked hard to serve the members ever since.
"I have been able to mentor many people because of my involvement in the local coding chapter. I love mentoring others and paying it forward," she said. Mentoring young people has recently become her passion, and this has joined her passion for her dogs, sunsets, and Louisiana seafood properly prepared, as the things that mean the most to her in life.
Besides coding, Elks enjoys crocheting, scrapbooking, sewing, and home decorating. She is the proud mother of two young women, one of whom is a first-grade teacher and the other researches for a cure for diabetes at the National Institutes of Health. She has a granddaughter and grandson that she adores.
Elks' fellow chapter members confirm her passion and talent for mentoring newer members and making sure all members have a better local chapter experience. "Lynn is a dynamic person who makes guests to our local chapter feel comfortable and welcome with her warm handshake and smile," says Andrea Siekierski, a member and officer of the Aurora chapter.
Therefore, the Spotlight for October 2015 shines on Lynn Elks, RN, CPC, Aurora local chapter president.
Submitted by Faith C M McNicholas, RHIT, CPC, CPCD, PCS, CDC
2013 – 2016 Region 6 Representative
AAPCCA Board of Director
Latest posts by admin aapc (see all)